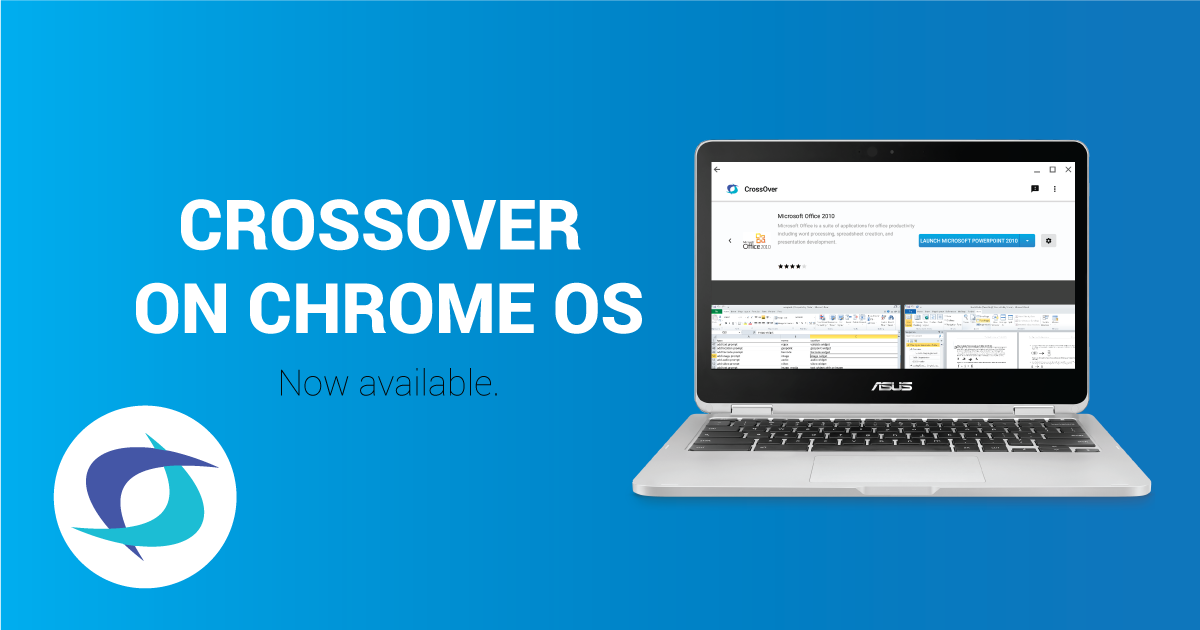 Today is a very exciting day - we have released an open Beta of CrossOver on Chrome OS, which runs on the Android subsystem of Chrome OS and makes it possible to easily and cleanly run Windows applications on an Intel based Chromebook.
This is a particularly satisfying for me, personally. That is, I have always loved technology best when there is are a lot of vibrant options in the market. With the launch of CrossOver, we believe that Chrome OS becomes an even more compelling choice.
And I love this version of CrossOver; I think it's our cleanest and most elegant version yet. It's inspired by the simplicity and elegance of Android and Chrome OS; I think it's by far the best CrossOver we've ever made.
It's been a long journey - we've been experimenting with Android support for the past four years, and it's been ten years since we added a new major operating system (we launched CrossOver Mac in January of 2007). There have been a lot of challenges - and a lot of challenges remain. For example, we poured a lot of energy into making Windows applications work on a variety of Android form factors, including phones and tablets. But the brutal truth is that if I give you, say, Microsoft Word, on your phone, you'll fairly quickly figure out that you don't really want the Windows version of Word on your phone. Your fingers can't operate the menus. The screen isn't big enough, and you don't really want to compose a document with an onscreen keyboard. It didn't help that Intel effectively exited the phone and tablet space, and we really need to run on an x86 compatible processor in order to provide a good experience.
With the announcement of support of Android in Chrome OS, suddenly things made a lot more sense. A Chromebook has a big enough screen. And a keyboard and a mouse. And often, an Intel processor. What's more, it's really handy to have Quicken or Wizard 101 or your favorite Windows application right there.
So we are really hoping that this release is going to open up a new range of possibilities for people looking to adapt the simplicity and security of Chromebooks, whether that's in education or industry or just a kid who really really wants to play Wizard 101!
So grab your Chromebook, and grab CrossOver from the Play Store!
About CodeWeavers
Founded in 1996 as a general software consultancy, CodeWeavers focuses on the development of Wine – the core technology found in all of its CrossOver products. The company's goal is to bring expanded market opportunities for Windows software developers by making it easier, faster and more painless to port Windows software to Mac and Linux. CodeWeavers is recognized as a leader in open-source Windows porting technology, and maintains development offices in Minnesota, the United Kingdom and elsewhere around the world. The company is privately held.
The following comments are owned by whoever posted them. We are not responsible for them in any way.
Julius Schwartzenberg
Posted 2017-11-07 17:33
Congratulations! Having a third OS is really great news. When a simple application is ported to a new OS, that's a common thing. Having a complete compatibility environment ported to a new OS is a really huge achievement! This enables so much; probably hundreds of thousands or likely even millions of applications are now able to work on Chromebooks. It also says a lot about the developers that they managed to achieve something like this. At the same time these same developers are ready provide tips and help when someone less familiar with programming wants to learn more and tries to contribute. While this teaching aspect is undermentioned, I would say it is just as valuable a contribution if not more valuable than the resulting work of the development (Wine and CrossOver) as it gives everybody the opportunity to learn a lot from people that really have a lot of expertise.

Especially for this release I really see bright future. Even a lot of free software that wasn't previously easily available on Android/ChromeOS can now be installed and used. The domains in which Chromebooks are popular already, like education, also tend to have a big library of legacy Windows applications.

With Crossover running on Android/ChromeOS, I would suggest renaming CrossOver Linux to CrossOver GNU/Linux as Android/ChromeOS use a Linux kernel as well. I suspect that it will become very important to have accurate naming for the future with the advent of more platforms being able to run CrossOver. (Regarding the next platform, I envision that Wine will provide 16-bit support on Windows itself sooner or later and possibly enhance compatibility for 32-bit software as well...)

Carlos Rafael Ramirez
Posted 2017-11-07 21:18
Congratulations !!!! I suggest uploading better screenshots for the most iconic Windows applications. Office is amazing but for me is not a good example . You can find an Android version even a web one . Instead upload screenshots of applications never ported to cloud that wouldn't be able in chromebook unless you use a streaming service. For example: Gimp for Windows, Filezilla, 7zip, a good IDE like intellij , Visual Studio Code, any Java application, and a lot a lot of games.

Can be the beginning of a new era, with the exposure of Google Play finally you will emerge from the shadows and be in the mouth of everyone .

A lot of success.

Jarrad Blackshear
Posted 2017-11-08 11:46
Congratulations!!! Great work, I am using CrossOver at this very moment on my Samsung Chromebook. Thanks to you all, I can now use my Chromebook for work and no longer tote around a Windows laptop. I look forward to the refinements that are made as we go along and I wish for continued success to the team. Thanks for all the hours of hard work that went in to developing CrossOver for Chrome OS.