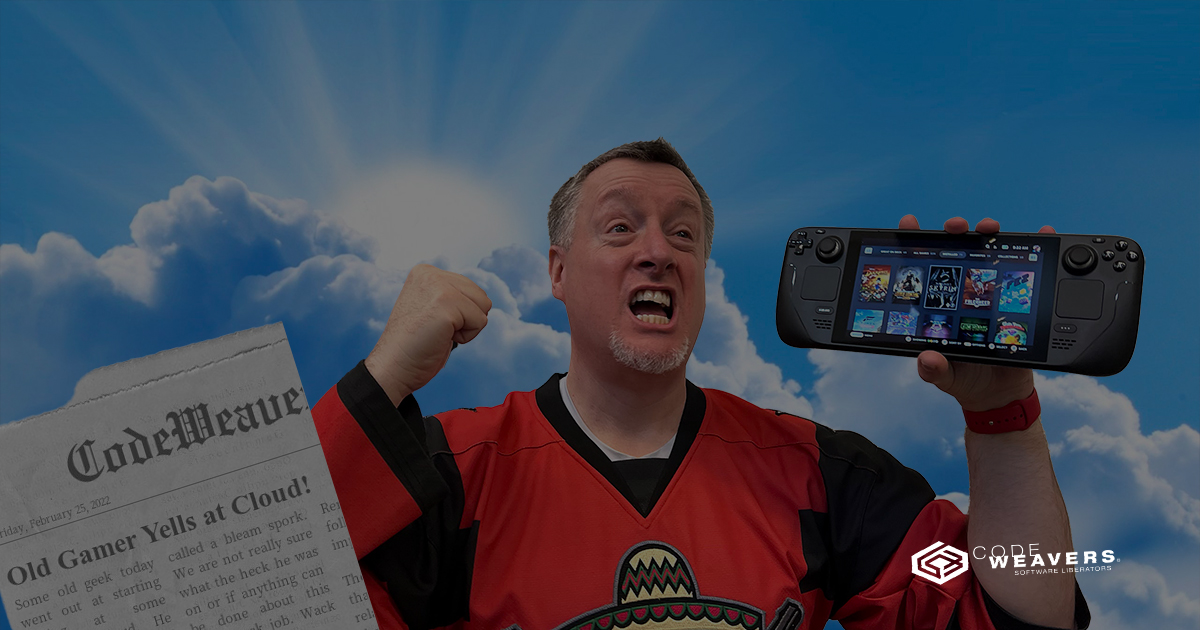 Having been a gamer since the 1970s, being involved in the
Steam Deck
launch is far above and beyond wildest childhood dreams. My love for playing with electronic pixels started the moment a cathode-ray tube blasted my retinas with images of a jagged-edged ball. Oh, how far we have come! From basic black and white blocks to ray-traced polygonal glory. I for one have enjoyed every damn geeky moment of it.
What
Valve
has done is create a perfect amalgamation of console and PC gaming. Plus it is totally portable! It is as easy to use as any console. Navigate a menu or two, click to buy and download game, then game on. Gone is the era of blowing on cartridges (yes, I've done that). Lost to the annals of time is the pilgrimage to the video store to rent the latest games. While I'm nostalgic for both, the technology we have now is better by leaps and bounds. There is no silver bullet, it isn't all sunshine and rainbows. Being a PC, the Steam Deck settings requires some tweaking via an endless array of menus filled with jargon like vsync, texture quality, and anti-aliasing when trying to play older games. It's a PC, not a console, so this will never go away. All is not lost; games are getting better at auto-detecting settings, and for gamers who are less interested in eking out the last bit of performance, often the default setup is sufficient. Fret not tweakers, no-one is coming for your settings menus.
One library to rule them all, and one library to bring them all, and in the darkness bind them. My
Steam Library
is nearing 800 games. Mostly thanks to Steam sales. Having such a vast cache of games available to play on a portable system is mind melting. Never mind the Netflix conundrum… I often can't decide what to play. While making a teaser tech demo trailer for CodeWeavers I tested over 70 games. Nearly all of them played without any issues. Keep in mind these are Windows games running on a Linux platform. The work our team has done with Wine and Proton is nothing short of wiccan magic. When asked how our technology works, the easiest way to answer is to say that Wine developers have rewritten most parts of Microsoft Windows from scratch — without copying or seeing a single line of original source code. But that is just the half of it. They also translate everything to another platform. Moreover, not everything on Linux lines up perfectly with Windows, so we have to get creative and come up with a myriad of brilliant technical solutions (marketing speak for hacks). The fact that even one game works is a modern miracle. Truly, Proton should blow people's minds. It is a big deal. Sadly, if your game doesn't work, you'll likely feel different about it. Mark my words, given time the brilliant diamond-in-the-rough minds behind
Wine
can (and will!) make everything work. Look how far it has come.
5 Things I like about the Steam Deck:
1. Linux
— This opens up a world of tweaking and modding possibilities. I've already loaded
RetroArch
for playing emulated games. RetroArch is available in the Steam store, but that version is limited and does not allow installing of all cores. From the Linux desktop, I was able to SMB mount my file server and copy over my ROMs. No command line use was required.
2. Cloud Saves
— Your progress in many games is saved to the cloud. This means I could just continue where I left off in my games without starting over.
3. Auto Updates
— Updating Windows and drivers has become a chore. While it is partly automatic, It still requires frequent reboots, and Windows is not actually speedy at any of this. SteamOS updates are small, and the system restarts are quick.
4. Proton
— It is just magic! And, it even improves many games that do not run well in Windows. Yes, it is not perfect, and the latest DRM titles are not yet working. They will eventually. The number of technical hurdles stopping this is shrinking. Game developers will start testing against Proton. Once that happens, most things will work on day one.
5. Hardware
— The look, the feel, the sound — All are spot on and a joy to experience. I find the design downright sexy. (That phrase always makes my son laugh.)
5 Things I want the Steam Deck to Improve:
1. Compatibility
— This will happen. Proton is improving at lightning speed. But like many, this is the #1 complaint.
2. Game Settings
— It would be a dream if Steam would auto detect the ideal video settings and set them up for you on a game-by-game basis. Until then, it is a bit of a chore testing and restarting games to find the best frame-rate.
3. Side Loading
— Switching to the desktop to add software outside of the main GUI is a bit of a hassle. So there is that. Oh, and adding things like cover art is not yet possible. This is bound to change.
4. Game Clip Sharing
— Currently, recording and sharing gameplay clips isn't possible. Bummer.
5. Voice Chat
— It works, but it needs some echo cancellation. Nothing irritates me more than hearing my own voice back over the chat. It is annoying having to talk over your own voice. Furthermore, you should not be able to hear the gameplay of the people you are chatting with.
This all said, I'm not at all grumpy about the Steam Deck. I'm actually excited for the future of this device. I cannot wait for more of you to try it out for yourselves. Feel free ask questions in the comments.
Enough blabber, go check out our
Proton Tech demo video
.
About Jeremy Newman
Newman has been the IT Director, Systems Administrator, and Webmaster for CodeWeavers since 2000. He is a Swiss Army Knife of tech. He custom builds servers and workstations. He also codes the website with PHP, JavaScript, and SQL. He also does graphic design, and video editing. Outside of the office he is a lifetime gamer and retro game collector. Learn more about his professional accomplishments on LinkedIn. Follow him on Twitter @laxdragon.