Last week, the news was announced in the New York Times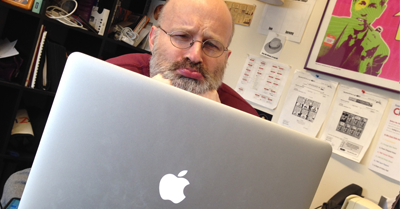 (
http://www.nytimes.com/2015/01/30/business/how-and-why-apple-overtook-microsoft.html
)
that Apple's market capitalization is now double Microsoft's: $683 billion to $338 billion. Riding the wave of strong iPhone 6 sales, Apple is also insanely profitable, generating $30
billion
in free cash flow in just one quarter. Not surprisingly, its stock made a 5% jump, closing in the neighborhood of $120 a share. Today, Apple rules the world of technology, making the days of Microsoft's Borg-like technological hegemony seem but a veiled memory of darkness and dread.
For a guy who's spent the last twelve years of his life working for a tiny software company whose products have pitted it directly against Microsoft, the visible weakening of our mortal enemy feels really,
really
weird. Almost anti-climactic. I'm still trying to get my head around it. Because on the one hand, the ascendance of Apple has been really good for us. But on the other, the decline of Microsoft—the goal which CodeWeavers has fervently wished for all these years—has really been sort of bad. Let me explain.
Our business depends on grumpy Microsoft customers. Customers who are cranky enough that they're willing to depart the PC world and adopt Linux or Mac, yet not
quite
so grumpy that they don't still need a piece of Windows software here and there to make their lives complete. That sort of user needs a solution to let them run those Windows titles on their new platform. And that's us.
Now, let's be honest: the rise of Apple saved CodeWeavers. The introduction of Intel-based Macs back in late 2006 was absolutely transformative for us. We sold a
lot
of CrossOver Mac, and we still do. And it handily outsells the Linux version that had been our bread and butter for the five years prior to that. Big Jonny would not be working in his comfy, renovated office space, complete with grill and beer fridge, were it not for all those Intel Macs out there.
On the other hand, MacOS is becoming less relevant, too. With the increasing prevalence of tablets and smart phones, PC software has become less important to a lot of users. I don't think that PCs and laptops will ever go away, simply because you can't do a lot of higher end tasks on a platform like a tablet. Video editing on a 7-inch screen? Thanks, but no. And the same is true for serious gaming, illustration and page layout, and so on. But for grandma reading her email and surfing the web, a tablet or phablet will do just fine. Meaning my core consumer software market ain't the growth space that it used to be. So, while I don't mourn the demise of Microsoft's ill-gotten monopoly-based OS profits (and their lovely predilection for ruthlessly crushing their opposition), I
do
mourn the loss of all those potential CrossOver sales.
What's the solution for a company like Codeweavers? Continued innovation. There are a lot of PC software houses out there that are facing exactly the same dynamics we are. They're looking to move their existing software solutions onto new platforms, and thereby diversify their own offerings. And who can port them to those new platforms? Ummm, well, that'd be us. And it's not just Mac OS and Linux that we're porting to these days. Android is coming, too. There are a lot of technical hurdles to overcome there, but we're solving those. I've seen it running.
So, look forward to more of what CodeWeavers has always done: dancing nimbly underfoot as the technological behemoths have lumbered around us.