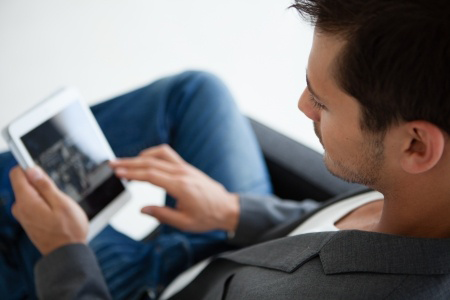 There is no denying that
Android
will impact the future of technology. Like Microsoft Windows in the early 1990's, Android is transforming technology right before our eyes. From how and where we access information, to the hardware and devices we use, to the apps we run, Android is now at the technology epicenter. That's all well and good, UNLESS, you're a gamer. As you know, Android games are really just not that exciting.
If you've spent any time playing Android games, you know (yes, YOU KNOW) that the games are somewhat simplistic and lack real depth. Using your finger to fling a disgruntled bird into a wooden structure is entertaining; however, it starts to
feel a 'bit repetitive' after you've done it ten times or so. The same is true of hacking fruit with your fingers, cutting rope, finding water, or crushing candy. It's hard to get really excited when playing Android games, and I think I know why. Here's
what I think is wrong with today's Android games:
1. No Controller Support or In-Game Controls
Ever try to play Pac-Man on a tablet or phone? You're either guiding Pac-Man around the screen with your finger over his little yellow chomping mouth so you can't see where you're going; or, you're trying to guide Pac-Man using a digital joystick painted at the side or bottom of the screen so you can see where you're going but just can't maneuver there. Both options just suck and take all the fun out of the game. You spend all your time effort and energy working the controls to the point where the game is meaningless. Almost every arcade / console game (which easily fits on a tablet) is horribly crippled in this same way.
2. AI or Not AI
For me, the joy I get from gaming comes from beating my opponent. In most cases, it's outsmarting the artificial intelligence within the game. However, for most Android games, the AI acts predictable and repetitive. Like a well-used movie plot,
there's little excitement or tension when you know where the 'bad guys' are hiding. And it's worse if the bad guys
are hiding in the same spot each and every time you play the game-just kills the replay value. I get that you need to lower your expectations when the entire game resides on less than 100 MB of memory; however, beautiful graphics and incredible sound does not make up for a game that offer little else in regards to competition.
3. Depth of the Games
You know what games work best on Android (at least for me)? Board games. Games like Monopoly, Life, Ticket to Ride,
and Scrabble are all great Android games (minus some AI issues). These types of games, essentially digital
representations of the classic board games, are perfect for this platform because these board games lack depth. Their story is simple, the gameplay is straightforward, and the electronic functionality of the game replaces tedious chores, like banking or moving pieces around the board. These games aren't overly complicated so the challenges are fairly basic as a result which makes for a pleasant game but not an overly exciting game (unless you're trying to tiptoe past Boardwalk and Park Place to slide into property you own).
4. Free to Play is not Free to Play
Sure, the games cost nothing to download. However, most free to play Android games start to feel like a bad experience at the casino after you start playing them. Free to Play feels strongly 'rigged' against the player who chooses not to purchase in-game items. Oh, you want to build a tower to defend your village? That will take 30 hours and all the resources you've acquired this week; OR, you can pay three gems. No gems, no problem. You can buy 500 gems for just $10.00. I get that software developers have to eat but when your game already feels limited due to the nature of Android adding further gameplay restrictions in hopes of making a buck or two just makes the game a grind.

5. Multi-Player?
Many Android games tout 'some' multi-player functionality (you know, play against your friends). But between the connectivity issues of the devices, limited server space, and the limited multi-player functionality within the games,
M.M.O.
feels like a J.O.B. And if getting connectivity to work is difficult, keeping connectivity during the game is almost impossible.
Hope is on the horizon, however.
CodeWeavers
has spent the past year developing an Android compatible version of
CrossOver
that will allow you to run Windows games (and software) on Android devices. Imagine running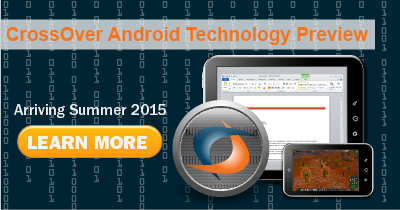 CryENGINE
or
Unreal Engine
on a tablet. Now imagine those same games with full controller support and the ability to be displayed on large HDTVs. You'd have the benefit of portability combined with the capability of running Windows based software in the palm of your hand. We are working on delivering the type of gaming experience that gamers crave regardless of the platform or hardware they're utilizing. And CodeWeavers is far from the only company wanting to deliver those types of experiences. GDC 2015 in San Francisco was full of companies, like
NVIDIA
and
Valve
, making announcements about the future of gaming. Many of these announcements were specifically targeted for the Android platform.
CodeWeavers is planning on releasing a technology preview for
CrossOver Android
sometime this summer. This will give YOU the opportunity to try it out and make suggestions as to how we can improve the CrossOver Android experience and what Windows games and software we should focus our efforts in supporting. Much like
CrossOver Mac
and
CrossOver Linux
, our users will have a voice in the direction of the product. And even more so than CrossOver for Mac and CrossOver for Linux, we believe that this type of technology is incredibly compelling considering that you can't run Microsoft Windows on an Android tablet – at all.
With more focus on making Windows games portable on Android devices, it's possible that a whole new game experience is coming in the not so distant future. Games with depth and real AI and multiplayer functionality that create real excitement for
gamers. I'm excited to see the next evolution of gaming. But hey if that doesn't work, we will always be able to fling disgruntled birds.
Click here to stay informed on CrossOver Android and sign up for an exclusive invitation to the CrossOver for Android technology preview.

About James Ramey
James has been working in the computer software industry for over 20 years. He joined CodeWeavers in 2007 and became the President of CodeWeavers in 2013. Contact James at jramey@codeweavers.com, follow him on Twitter @jbramey and learn more about his professional accomplishments on LinkedIn.
About James B. Ramey
James B. Ramey is President of CodeWeavers. His life long love of video gaming started at the tender age of six with an Atari 2600 and evolved over time to include Nintendo, Super Nintendo, Apple Mac IIc, Windows PC, and MacBook Pro. When not fiddling with technology, James enjoys cooking, travel, debating politics in the office, and spending time with his wife, daughter, and their two rescue dogs. For the past 20 years, James has worked with clients around the world in best implementing technology to maximize a return on their investment. He is a graduate of Moorhead State University and earned his MBA from the University of Phoenix. You can find James on Twitter at @jbramey.