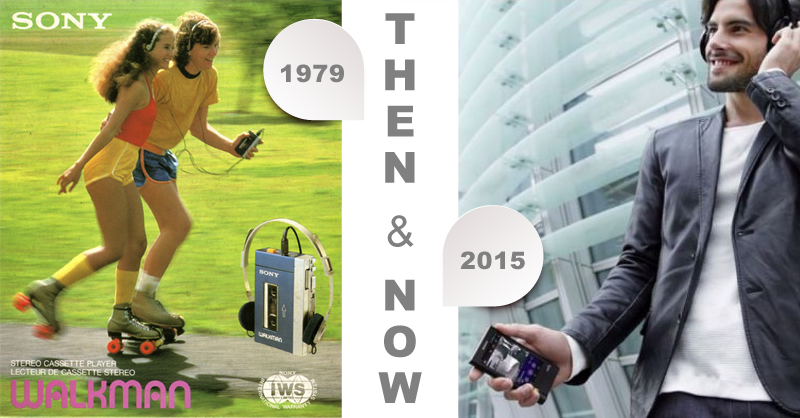 You know what has me on edge a bit lately? All of these newfangled tech gadgets. It seems now that ANYTHING connected to the Internet is considered a useful device. How did we get to the point in the evolution of technology where we think a fitnesstracker is somehow a novel and useful device? having a cooler that can tell me exactly how cold my beverages are via text message to my cell phone useful? What has led people to the understanding that for something to be useful it has to beconnected to the Internet? I'm starting to think that technology has 'jumped the shark' in that we keep producing
'stuff' but the story is starting to feel old and repetitive. Here's what I mean…
In the beginning, we had the computer which was the undisputed king of technology. Over time, people wanted the ability to take their computers with them which led to the development of the laptop. Then, people wanted a device that would allow them to play their digital music without the need of their computers and laptops leading to the development of the MP3 player. Eventually, people wanted to consolidate their music player and their cell phone into one device, which led to the development of the smartphone. As people began yearning for a more 'robust' smart phone experience with better applications, the tablet was 'born' (which is a technology anomaly in that people have wanted smaller and more portable devices whereas a tablet is bigger and a bit less portable). Ultimately, technology developed the smart watch that not only tells time, it also makes the already incredibly portable cell phone somehow even, more portable? (I don't know the jury is still out on smart watches). And smart glasses aside, the next real evolutionary step in technology *SHOULD* be a chip that's implanted in your brain that provides cell phone connectivity; can store 64 GB of music, photos, and / or movies; provide GPS capabilities; and track your fitness. But looking at CES 2015, I'm a bit dumbfounded with all the 'new' devices touted for 2015.
For example Sony announced their new device (wait for it)…the Walkman. WHOA! Sony announced a $1,200.00 (yes, that price
is right) MP3 player. Fortunately, the music is incredibly clear and the bass is solid at all levels. SERIOUSLY? A $1,200.00 MP3 player that isn't a phone or a GPS nor can it run most Android apps is somehow a 'new' device? I had a Walkman that played cassette tapes in 1979. The music was also incredibly clear and the base was solid at all levels and it didn't run apps either. I think I paid $89.00 for it.
Other big announcements at CES included (wait for it)…wireless and internet connected stereo speakers (the Devialet Phantom); wireless headphones (Hearnotes); wireless mobile payment accessory (Hypr-3); wireless and Internet connected plant watering system (Parrot H2O); wireless and Internet connected mouthguard (Force Impact Technologies FitGuard); and (my favorite); the wireless and Internet connected headband monitor (Muse Brain Headband). Do you know what all these devices have in common? Not one of them is part of the evolution of technology. All of these devices simply exist as means to either act as the external output for existing tech gadgets or as a means of acquiring data for existing tech gadgets. Just because these devices work without wires doesn't make them novel or necessarily new. I'm not convinced any of these devices are all that necessary either. My point is that 2015 doesn't appear to be the year that technology took that next steps forward. Which is disheartening and disappointing as it was rather obvious in "Back to the Future Part 2" that 2015 was supposed to be the year of hoverboards, self-tying shoes, video conferencing (ok, we have that), flying cars, and custom fit clothing. While just a movie, "Back to the Future Part 2" painted a vision of the future where technology would be far more integrated into our everyday lives and not as device driven as we see today.
It's also rather obvious that technology gadgets are still very much focused on the entertainment aspects of our lives – music, pictures, movies, and apps. As long as the primary focus remains on infotainment, it may be another decade before we find a device that is as richly satisfying and able to spawn the next generation of technology as the computer. And while
CrossOver
is able to extend the life of your Windows applications by running them on Mac and Linux computers, it simply can't compare to the thought of owning a hoverboard. Seriously, is it wrong to want a hoverboard (cause I want one)?
About James B. Ramey
James B. Ramey is President of CodeWeavers. His life long love of video gaming started at the tender age of six with an Atari 2600 and evolved over time to include Nintendo, Super Nintendo, Apple Mac IIc, Windows PC, and MacBook Pro. When not fiddling with technology, James enjoys cooking, travel, debating politics in the office, and spending time with his wife, daughter, and their three Shar Pei cross dogs. For the past 20 years, James has worked with clients around the world in best implementing technology to maximize a return on their investment. He is a graduate of Moorhead State University and earned his graduate degree (MBA) online from the University of Phoenix. You can find James on Twitter at @jbramey.