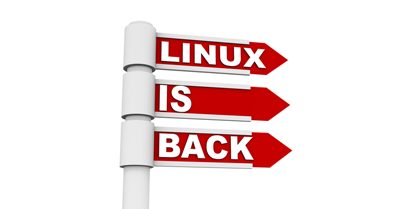 Valve is set to showcased a SteamOS (a Linux based OS) and Steam Machines (their hardware gaming platform running SteamOS) at the Games Developer's Conference last week in San Francisco. The technology pundits are doubtfully pessimistic on whether a Linux based computer can conquer the living room. Personally, I am left to wonder if the technology pundits are wrong yet again.

A Brief History of the Rise and Fall, the Rise and Fall of Linux
Linux has been primed several times in the past 20 years to become the next 'main stream' operating system. In the
early 1990's as the first waves of computer revolution were reaching the business world, technology pundits predicted that Linux (not Microsoft or Apple) would be the operating system of choice for business because Linux was free. What the pundits failed to understand that ease of use always trumps cheap when it comes to workplace technology. In the early 2000's as the computer revolution was spanning the globe to remote and distant lands, the technology pundits again predicted that Linux (again not Microsoft or Apple) would be the operating system of choice because poor countries could not afford expensive operating systems and Linux was still free. And once again the pundits failed to understand that easy to use technology trumped cheap technology in the world market.

Linux and the Great Steam Machine
For those unfamiliar with Valve and their Internet-based digital distribution, digital rights management, multiplayer, and social networking platform, Steam, they are the '800 pound gorilla' of the computer gaming software world. Almost every PC gaming software company distributes their games on Steam, and millions of gamers from around the world use Steam to purchase, catalog, and access their PC based games from any computer with a Steam client. It's a win for everyone. Well, almost everyone that is willing to 'play nice' with Valve. But when Microsoft (and for that matter Apple as well) created an operating system that forced strongly encouraged end users to only access the games and applications available through their App Stores, Valve saw this as a potential threat to their business. Thus, Valve decided in 2013 to create their own operating system, SteamOS, and license appropriate gaming hardware, Steam Machines, as a means to ensure gamers would have an 'independent' platform for playing their games. And if that platform could display games on big screen TVs – like the ones you find in your living room – and use a specialized controller – like the ones you find with comparable gaming consoles – instead of a mouse and keyboard, SteamOS would be AWESOME and THE PLATFORM OF THE FUTURE for gamers. So awesome that 14 PC manufacturers immediately signed up to build Steam Machines. So awesome that even PC gamers, who are notoriously loyal to their Windows based hardware, started touting the idea of a platform optimized for their computer games. Once again, Linux was positioned to 'breakthrough' to the mainstream.

As what normally happens with Linux, the excitement wanes as it becomes evident that Linux is not overtly 'easy'. Over the past two years, the wizards at Valve have learned that getting Wi-Fi and graphics to work in Linux is challenging. And replacing a keyboard and mouse with a single game controller is an equally daunting task. And getting Windows based games to run in Linux is HARD. So when Valve announced that it decided to delay their Steam Machines to 2015, the technology pundits were first to dismiss SteamOS and Steam Machines altogether as being another hollow promise from an operating system with a history of hollow promises (and shattered dreams) that will never be mainstream enough.

The Linux Revolution
However, I completely disagree with the technology pundits on SteamOS. You can never underestimate the buying power and loyalty of a PC gamer. A PC gamer will spend an extra $2,000.00 on a gaming laptop with the latest and greatest video card, high resolution screen, and high fidelity audio. A PC gamer will spend thousands of hours playing World of Warcraft or EVE Online on their home computers eschewing all other hobbies, relationships, and gainful employment (there are several WoW breaking up marriages stories on the Internet). I disagree with the technology pundits because the PC Gamer Market is now ripe for change. Many gamers are still running Windows 7 or even Windows XP as their operating system. And while computers monitors have increased in size over the years, few gamers have a 60" LCD on their computer desk. Fewer have a good enough setup in their living room allowing for use of a keyboard and mouse with their big screen TV (at least not at any competitive level). And even fewer gamers have a dedicated PC in their living room with a high end video card capable of delivering the performance demanded when raiding with your WoW party or blowing up a Titan in EVE. The Steam Machine is the perfect solution for many, if not all, of these real issues.

As someone who makes a living porting Windows games to Linux, it is easy for me to be excited by this technology. It is easy to get excited when you consider that 10 million Xbox Ones were sold in all of 2014 and Dota 2 (a single Steam game) had over 1 million concurrent players on February 15, 2015. Just in sheer numbers you see how potentially HUGE the market is for SteamOS and Steam Machines. If you also consider that Steam Machines are actual computers (not just game consoles), the application for this technology is almost limitless. Imagine reading and responding to your e-mail from your living room. Or accessing all your movies, music, and videos in multiple libraries with a single computer. It's the type of technology that's potentially a 'game changer.' And the reason I am disagreeing with the technology pundits isn't because Linux is poised to make its breakthrough, I am disagreeing with the pundits because this is the first time Linux tapped a market with the resources, desire, (and most importantly) APPLICATION necessary to drive this device into the mainstream. It will be the gamers that will take the computer from the bedrooms, dens, and offices of the house and move it squarely into the living room. And it will be gaming that makes the 'living room PC' the next must have technology.

As previously mentioned, getting Windows based games to run on the Linux platform is HARD. Some companies will have the resources required to take on this challenge in-house. Valve has already ported many of their titles to SteamOS. They are betting, heavily, that millions of PC gamers will be running Linux as their operating system in the coming year(s). If Valve is right, you'll need a Linux version of your game to remain relevant in the gaming industry. CodeWeavers, the makers of CrossOver, ports Windows games to the Linux (and Mac) platform. Our company can work with your game development studio to leverage your existing Windows game for this unprecedented market opportunity. You'll save money in development costs. You'll save money in software maintenance (in not having to support multiple versions of your code). You'll be positioned to offer your title(s) to the millions of Linux gamers in the years to come. And if you're a free to play game, the ability to have your game on potentially more computers will certainly impact your bottom line (being a fixed percentage of gamers tend to buy in-game items). We welcome the opportunity to talk with you about if / how this is possible and the costs involved in doing so.

About James B. Ramey
James B. Ramey is President of CodeWeavers. His life long love of video gaming started at the tender age of six with an Atari 2600 and evolved over time to include Nintendo, Super Nintendo, Apple Mac IIc, Windows PC, and MacBook Pro. When not fiddling with technology, James enjoys cooking, travel, debating politics in the office, and spending time with his wife, daughter, and their three Shar Pei cross dogs. For the past 20 years, James has worked with clients around the world in best implementing technology to maximize a return on their investment. He is a graduate of Moorhead State University and earned his graduate degree (MBA) online from the University of Phoenix. You can find James on Twitter at @jbramey.