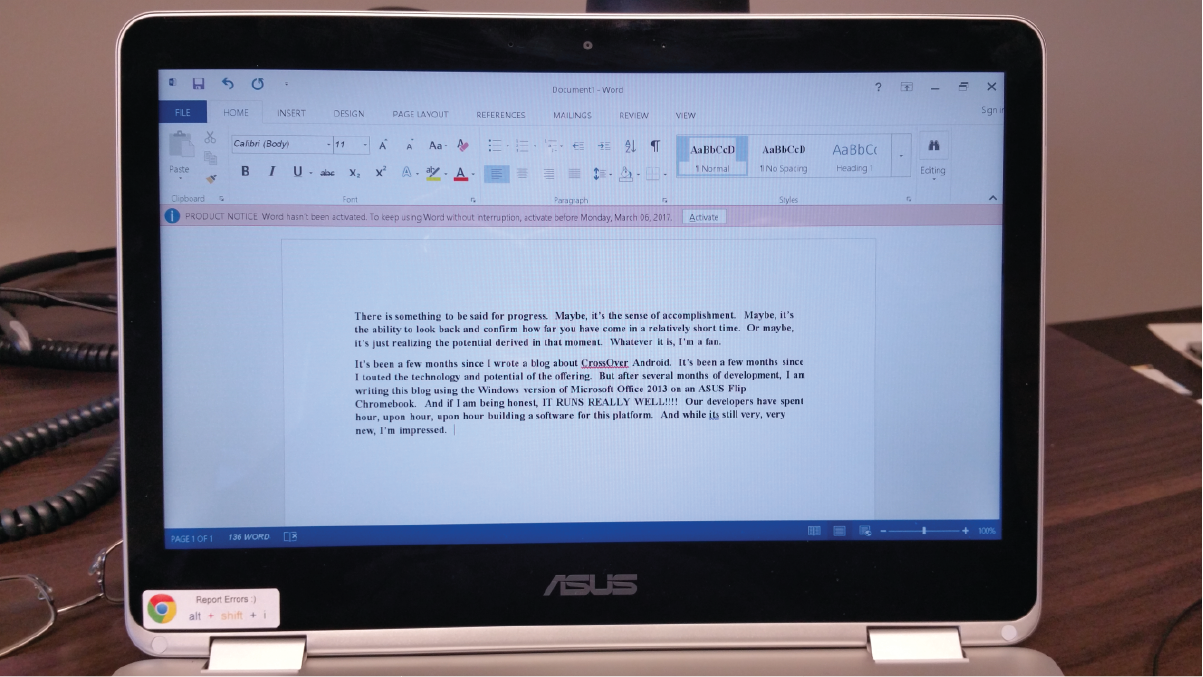 There is something to be said for progress. Maybe, it's the sense of accomplishment. Maybe, it's the ability to look back and confirm how far you have come in a relatively short time. Or maybe, it's just realizing the potential derived in that moment. Whatever it is, I'm a fan.

It's been a few months since I wrote a blog about CrossOver Android. It's been a few months since I touted the technology and potential of the offering. But after several months of development, I am writing this blog using the Windows version of Microsoft Office 2013 on an ASUS Flip Chromebook. And if I am being honest, IT RUNS REALLY WELL!!!! Our developers have spent hour, upon hour, upon hour building a software for this platform. And while its still very, very, very new, I'm impressed. In full disclosure, it's not perfect. There are still many, many, many bugs to polish out of the code. There is functionality to be added. BUT… CrossOver Android is showing considerable promise and steady improvement in a very short timeframe.
>>> Read My Last Blog Post about Android: What Lies Ahead for CrossOver Android
I've often blogged about convergence. If the computer was the first revolution; the Internet the second revolution; then I believe STRONGLY that the next revolution will be an evolution in devices that can support multi-platform applications. No longer will you have to choose between Windows or Linux or web based or Android. You can use a single device that supports all of these types of applications. This would be mind blowing for so many reasons. You'd have the best of all worlds. The portability and functionality of Android / Chrome combined with the consistency and security of Linux combined with the library of Windows applications (and Chrome applications and Android applications). I know that this is coming. You can feel that the planets are going to align in this way. AND… I think that running Windows applications on a Chromebook is the first step in this new technology revolution.
I'm hardly alone in my beliefs about convergence. Wired Magazine has been touting convergence since before 2013. Others would argue that it was Steve Jobs that first demonstrated convergence when he brought the Apple Newton into world in 1993. No matter when convergence became a 'thing' there is some validity that it is the future. Again, I'm a fan and advocate. I believe that before technology can take that next big step (wearables, bio-implants, micro devices) that we will first witness an uncoupling of applications to specific platforms – a kind of any application on any device from anywhere. A type of technology that is not tied to the operating system or to the Internet; but instead, a technology that is more portable and more powerful than today's tools. We may still be months or years away from convergence being a reality, but I would like to think that CrossOver Android is at least the start of that dream coming true.
As for when CrossOver Android is going to be less of a dream and more of a reality for our customers, I am happy to announce that CodeWeavers is planning to release a new Tech Preview of CrossOver Android before the end of this month. This version of the software has a new interface; support for many more applications (including Microsoft Office 2013); and better support for a larger handful of games. Like before, the Tech Preview will be free for those who sign up here. NOTE – this only works on Intel based devices, and its best suited for Chromebooks (but not limited to Chromebooks). We hope you enjoy the opportunity to try CrossOver Android and can provide us with useful feedback on what we can do to improve our software.
Thank you again for all your support and interest in our software. We look forward to witnessing where this leads our company and how this disrupts the technology status quo. I'm a fan!!!
UPDATE: Version 2 of the CrossOver Android Tech Preview has been released. Read the full Press Release now!

This blog post has been translated to Russian. >>> Read It Here
About James B. Ramey
James B. Ramey is President of CodeWeavers. His life long love of video gaming started at the tender age of six with an Atari 2600 and evolved over time to include Nintendo, Super Nintendo, Apple Mac IIc, Windows PC, and MacBook Pro. When not fiddling with technology, James enjoys cooking, travel, debating politics in the office, and spending time with his wife, daughter, and their two rescue dogs. For the past 20 years, James has worked with clients around the world in best implementing technology to maximize a return on their investment. He is a graduate of Moorhead State University and earned his MBA from the University of Phoenix. You can find James on Twitter at @jbramey.