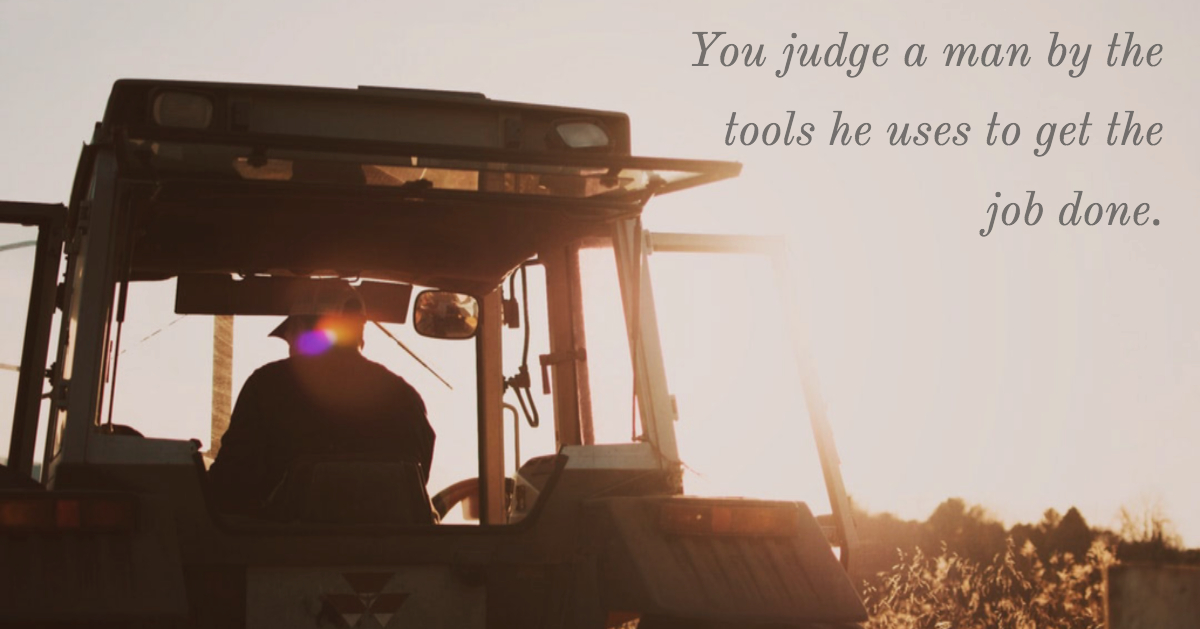 "You judge a man by the tools he uses to get the job done."
My dad shared this wisdom with me when I was 10 or 11. He was a farmer. He grew up and spent much of his life in North Dakota. He was an incredibly hard working man with an endless work ethic. And he was quick at sizing up the people around him. When I inquired as to 'why?', he simply stated that a smart man chooses the right tool for the job and puts that tool to good work. Somehow, someway, this advice has stuck with me for over 35 years, and my dad's wisdom holds true to this day. It's simple but true. A smart man picks the best available tool for the job and puts it to good work by making it an extension of him.
>>> Read More About the Life of James Ramey
When I made the decision to migrate from macOS to Linux, my first decision was finding the 'right tool' for the job. Just like you don't walk into a seafood restaurant and order the steak or walk into a lingerie store to buy a brand new suit, I decided I wasn't going to purchase a Linux computer from a company that sells mostly and mainly Windows hardware. Seems obvious, right? While there are dozens of companies that claim to sell Linux hardware, I found that most sell a SINGLE MODEL or ONE VERSION of an existing line of Windows computers which includes an option for buying with a Linux operating system. That's hardly the same as a hardware company that is solely focused and completely dependent on making Linux work very well for users. And being that I may need all the help I can get in making this a success, I decided to purchase a laptop from System76. Aside from the fact that System 76 sells only Linux solutions, our companies are remarkably similar in many ways. System76 is a small company with a diverse team of extremely hard-core nerds. CodeWeavers is, likewise, a small company with a diverse team of extremely hard-core nerds (myself included, marketing not included). We're both significantly involved in the Linux technology space. We're both based in the Midwest (Denver, Colorado & Saint Paul, Minnesota, respectively). And while we do not have a business-to-business relationship, our companies seem to share a mission to make Linux more accessible to a broader group of users. So, I decided to go all in on System76.
>>> CodeWeavers Corporate Story
Ten years ago, I didn't get to pick out my MacBook. The company had already purchased the MacBook (the one they tempted me with to join the company). And in 2013, the MacBook had largely been productized with limited opportunities for customization. So when I decided to get a new Linux laptop from System76, I WANTED the opportunity to make it mine. If I am being honest, this is one of my favorite aspects of technology. I like customizing my hardware, decorating my avatars, and configuring my settings. It makes me feel that the technology is mine. My home computer is customized for my needs. My Overwatch Hero has all the skins. Even my phone is optimized for me. And for this Linux experiment to be successful, I know that this laptop has to be an extension of myself.
>>> Read Part One of the Series 'Linux — The Final Frontier'
My needs are fairly straightforward when it comes to a laptop – I need everything. I need power, performance, portability, and battery life. I need to be able to connect to the Internet, run business applications, play games, and be as productive while traveling for work as I am from inside the office (and all places in between). Again, I need everything. And to be fair, my MacBooks have met these challenges honorably and have performed fairly well for the past 10 years (for the most part). I've never had an issue with my hardware. No hard drive failures. No issues with the laptop display. CrossOver Mac allows me to run Microsoft Office and many of the games I enjoy playing. My relationship with my MacBook has been good. But when I look to where Apple is taking the MacBook and macOS, I see several possible issues that will make it harder for me to continue using the MacBook as my primary 'go to' computer. Sure, the Touch Bar is gimmicky. The graphics are still underwhelming even though the screen resolution is incredible. My bigger concerns are the eliminating of OpenGL in lieu of Metal (what that will do to games), dropping support for 32-bit applications (and what that will do to games), and the likelihood of switching out Intel processors for a different non-Intel solution (and what that will do for games). AND SURE you can argue that if all I need a computer for is to play games that it should be a Windows computer; but, CodeWeavers is not a Windows software. I believe that as an executive at CodeWeavers that I should eat our 'dog food' so I know what our customers are experiencing firsthand, and I do use my computer occasionally for writing blogs and (occasionally) for work. So while I've been happy with my MacBook Pros these past 10 years, I feel strongly that now is the time to experience Linux. And if I am going to experience Linux, I'm going to do so using the 'right tool' for the job.
>>> 'In-Cider' Info: CodeWeavers Working on 64-bit Support for macOS
It took me about 20 seconds on the System76 website to know that the Oryx Pro would be the perfect laptop for me. I'm not claiming that it was love at first sight (it was totally love at first sight), but it was very obvious that this Linux laptop model checks all of my boxes and meets all of my foreseeable needs. I wanted power, and the Oryx Pro includes the 8th Gen Intel Core i7 – check. I wanted a high end graphics card, and the Oryx Pro includes the NVIDIA Geforce GTX 1060 (you can also configure it with the 1070, but that was outside my budget) – check. I also wanted storage, and I was able to configure my Oryx Pro with a 256 GB SSD and 2 TB solid state hybrid drive – check. I wanted it to be as 'beautiful' as my MacBook Pro, and the Oryx Pro is a gorgeous brushed black aluminum which will show very well in business meetings – check. Add in all the necessary ports (3 x USB Type-A; 2 x USB Type-C, HDMI (with HDCP), 2 x DisplayPort 1.3), BlueTooth, WiFi, a backlit keyboard, and Webcam, and I'm set – check, check, and double check. The Oryx Pro appears to have what I need – which is EVERYTHING.
And now, we wait. The Oryx Pro has just gotten a refresh and is a newly updated model from System76. So new and so refreshed, it's not due to ship until the end of the month. This is fine <he states impatiently> since I still have my MacBook and the refresh makes the Oryx Pro a cutting edge computer ahead of most other hardware models available today. SO, I wait and prepare and anticipate what's to come with my start into Linux. And when my new Linux computer arrives, I'll post a video blog of the unboxing of the Oryx Pro. So stay tuned for the next update in a week or so!
In the meantime, you're welcome to send in any of your questions or thoughts about this blog or CodeWeavers or System76 or Linux or any combination there of. And if you have a helpful tip for people that are transitioning from Windows or macOS to Linux, please share. I'll feature these tips in an upcoming blog post on Linux Tips, Tricks and Helpful Guides. And the person with the best tip will receive a CodeWeavers shirt and other fun items along with full credit for their tip in that blog.
So again, the future awaits. The final frontier is on the horizon. And I am one step closer to realizing the next step in my technology evolution. Like a young Han Solo, 'I have a good feeling about this'!
>>> Follow CodeWeavers on Twitter
>>> Like CodeWeavers on Facebook
>>> Read Other Blog Posts by James
About James B. Ramey
James B. Ramey is the CEO of CodeWeavers. His life long love of video gaming started at the tender age of six with an Atari 2600 and evolved over time to include Nintendo, Super Nintendo, Apple Mac IIc, Windows PC, and MacBook Pro. When not fiddling with technology, James enjoys cooking, travel, debating politics in the office, and spending time with his wife, daughter, and their two rescue dogs. For the past 20 years, James has worked with clients around the world in best implementing technology to maximize a return on their investment. He is a graduate of Moorhead State University and earned his MBA from the University of Phoenix. You can find James on Twitter at @jbramey.