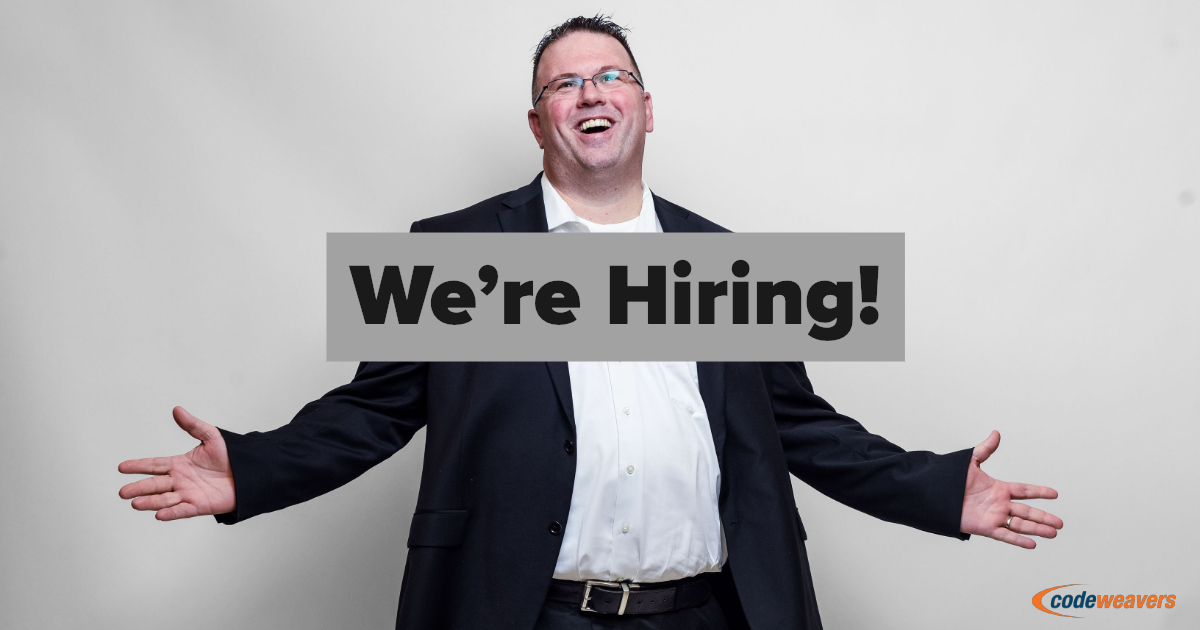 I never imagined that I would be at CodeWeavers for 11 (going on 12) years. When I applied to be the Vice President of Sales in 2007, I was looking for a 'step up'. I had just completed my MBA. My wife and I welcomed a daughter to our family earlier in the year. And I was traveling 35 to 36 weeks a year at my then current position which was creating some home-life challenges. At that time when I looked in the mirror, I really wanted to find an executive level position that validated my newly minted diploma that provided better pay with considerably less time away from home that helped fill out my resume for the 'next big thing'. Instead of some great big job search, I ended up applying for just one position and finding a HOME at CodeWeavers. Maybe, it was fate. Maybe, it was destiny. But for whatever the reason (maybe the shiny MacBook that came with the position), I was drawn to the plucky little software company whose mission was defending Open Source software and making games work on the macOS and Linux platforms.

If we're being brutally honest, I really didn't think CodeWeavers was the place for me. Everyone I met during the interview process was a staunch liberal; I consider myself a fiscal conservative. Everyone was a true, hardcore, 'painfully obvious geek' with real programming cred; I was more of a 'consumer geek' with a passion for computer gaming and no real understanding for how things worked. Everyone was actually really, really, smart; I was trying to act smart to validate my MBA. And everyone at CodeWeavers believed in the good of 'free software'; I believed in the importance of capitalism, profits, and commissions. It really seemed like an 'oil and water' situation, and I left the interview thinking that CodeWeavers would likely find a better fit for the position or I'd find a similar position in a company to which I was more accustomed. I even told my wife that night that I really didn't think this was for me; and to her credit, she advised for me to take a day to hang out in their office and take the time to actually make an informed decision. I called CodeWeavers the next day and asked to spend a day with them. It turns out that taking that advice was one of the best decisions I ever made and led me on an incredible career path that I could never otherwise have imagined.
>>> Pet Project Debunks Myths About Working in Tech
WHY CODEWEAVERS?
Working for CodeWeavers is mind-blowing. Unlike so many other companies in the world today, CodeWeavers has this incredible mission of doing challenging and meaningful work in the area of Open Source technology (mainly Wine). I didn't really understand or appreciate how important it was to have a very clear mission. When you understand what you wish to accomplish as a company, it becomes very clarifying as to what needs to be done. Goals become somewhat obvious. People band tightly together with a sense of unity and purpose. Everyone is truly in it together. Co-workers become close friends. And while CodeWeavers is over two decades old, the company still has the energy of a start-up as a result.
[PRO TIP : energy and excitement are critical ingredients of CodeWeavers' secret sauce]
Many companies claim to want to work with great people. CodeWeavers takes that philosophy a bit further. CodeWeavers seeks to work with people we respect. This includes all our employees, our foreign based contractors, and even our customers. Are you great AND passionate about software? Do you like to be challenged to solve the really hard problems? During my interview, I was both really impressed and really intimidated by how smart everyone was at CodeWeavers. Sure the CEO graduated from Carlton at like 17; the COO was a world renowned World War II author on the Battle of the Midway; many of the developers were (still are) widely regarded as some of the best in the world. Meanwhile, I brought to the table the ability to name almost any song for the 80's (artist, title, and album) and enjoyed watching football on the weekends. Again, I really doubted how I was going to fit into CodeWeavers. But to the company's credit, I was even able to become part of the collective; come to appreciate the mission; and forge a path forward (in my own specialty area – technology sales) to help the company accomplish its goals. And I have found that in working with really smart people, you're able to come up with really great (and creative) solutions. There's a tremendous level of satisfaction that comes with providing customers nearly impossible solutions.
[PRO TIP : job satisfaction is what makes coming to work fun]. When you work with really good, really smart, and really talented people, no one punches a time-clock; no dress codes; people can work remotely (but often prefer the energy and collaboration of being in the office); no middle management; endless banter; and no BS. ]
CodeWeavers believes in having fun at work. I think (and this is me talking) that fun at work starts with being presented with challenging problems. Sounds strange? Indulge me for a minute. How do you feel about easy, routine, and boring tasks? Has anyone ever got excited to wake up day after day to do the same things over and over again? Think about what you feel like when you've been given a challenging problem to solve and you're able to solve it. Imagine solving new and exciting problems on an almost daily basis. Now imagine doing work that almost no one else in the world is doing to solve some of the greatest technical challenges in the software industry today? That's engaging. Exciting. And FUN! And sure, we have an ingenious fun league (you never know what they will come up with next) company BBQ's; a stocked beer refrigerator (and endless sparkling water); all the coffee you can drink (really good coffee too); company events throughout the year (did someone say archery); international travel to developer conferences (to neat places, not like North Dakota); cool hardware – the very latest macOS, Linux, and Chromebooks; even cooler software (stuff no one else has even seen yet); branded swag; an arcade cabinet; video game consoles, and endless sarcasm. We're a software company, and almost every software company has 'cool stuff' to offer. But 'stuff' is not the same as substance. We believe strongly in the mission before us and the people we employ to get us there. If an employee needs a 'tool' to do their work, we get it for them. Standing desks – sure. If an employee needs some flexibility to address a personal matter, we make that happen. Thursday afternoon off to attend a child's elementary school concert – absolutely.
[PRO TIP : work where you are respected and fun is an organic byproduct].
CODEWEAVERS IS HIRING!
The reason for this blog post is that CodeWeavers is hiring.
[PRO TIP : companies that are hiring are more likely to read and review your resume].
We're looking for software developers and quality assurance testers to help us continue our mission. We recently partnered with Valve Software to integrate Wine into the Steam for Linux client as part of the Steam Play (Proton) initiative, and CodeWeavers needs GREAT PEOPLE who are PASSIONATE about software. If you're reading this blog and are thinking that 'I'm great!!! I'm passionate', you might have CodeWeavers' potential. If the thought of solving really hard problems gets you REALLY EXCITED, you might have CodeWeavers' potential. And if the thought of banding together with like-minded people working to accomplish an incredibly fulfilling mission makes you stand up and go HELL YES THAT'S ME, THAT'S ME!!! (or at least think this loudly to yourself without showing any emotion), you might have CodeWeavers' potential. The only way that we'll both know for sure is for you to send us an email to jobs@codeweavers.com. It helps you significantly in the process if you include your resume, any relevant work samples you are able to offer, and tell us a little about yourself (specific programming interests? favorite games? hobbies outside of programming? Star Trek or Star Wars? any relevant feats of strength of skill).
Whether you're looking for a 'step up' or a new place to call 'home', I am certain that CodeWeavers will provide you with the endless challenges and incredible people and job satisfaction that I have found over the past 11 (going on 12) years. If you appreciate being treated with respect and as a grown-up, you'll find the culture at CodeWeavers to be idiosyncratic in an otherwise homogenized industry. And if you are considering making a career change today, we welcome your timing and invite you to reach out to us (if nothing else but to see how we would compare to your many other opportunities). I never imagined all those years ago that I would end up where I am today, and I am so very grateful my path intersected with CodeWeavers.
We welcome the opportunity for you to socially stalk us to learn more about our culture and work.
YouTube
Facebook
Twitter
LinkedIn
About James B. Ramey
James B. Ramey is President of CodeWeavers. His life long love of video gaming started at the tender age of six with an Atari 2600 and evolved over time to include Nintendo, Super Nintendo, Apple Mac IIc, Windows PC, and MacBook Pro. When not fiddling with technology, James enjoys cooking, travel, debating politics in the office, and spending time with his wife, daughter, and their two rescue dogs. For the past 20 years, James has worked with clients around the world in best implementing technology to maximize a return on their investment. He is a graduate of Moorhead State University and earned his MBA from the University of Phoenix. You can find James on Twitter at @jbramey.