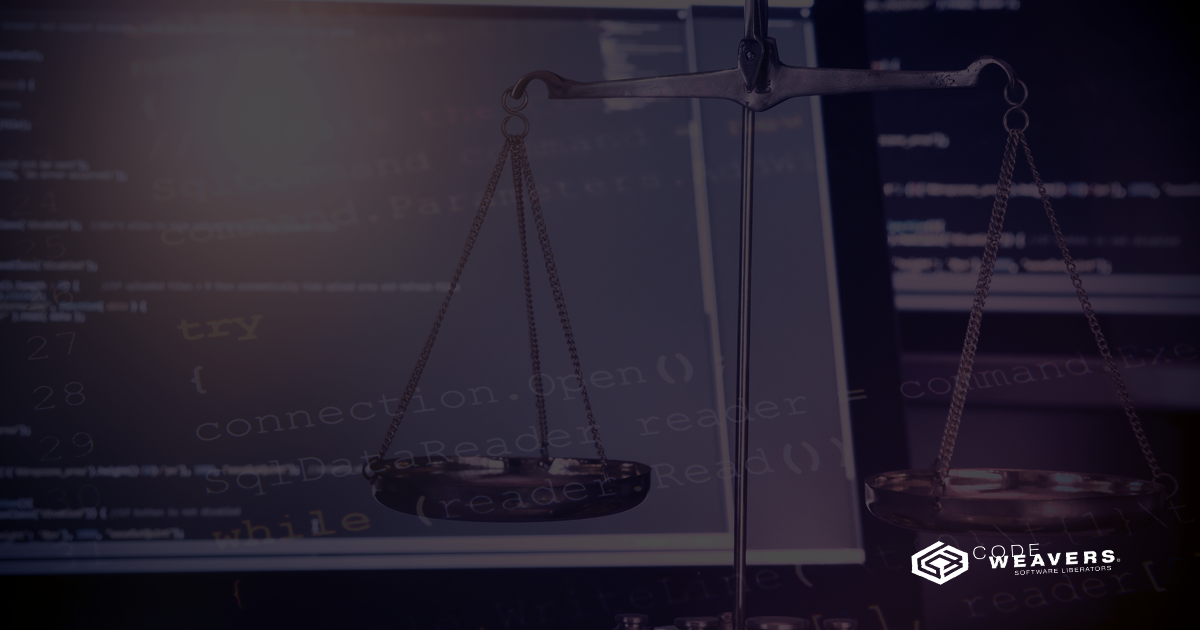 If CodeWeavers is true to its claims of supporting Free and Open Source Software, why isn't CrossOver free? It's an often-asked question from people inquiring about our commitment to Open Source software. "If CodeWeavers supports Free Software, why do they charge money for CrossOver?". That is a very fair question. A very fair question.
In order to answer this question, we need to be clear about a couple of critical points. First, Free Software and Open Source software are not one and the same. Open Source software is software that is created in an open development process, and it typically refers to software that people can modify and share because it's publicly accessible. Open Source software is really about the freedom to change the software without limits. Free Software means software that respects users' freedom to run, copy, distribute, change and improve the software. But Free Software also carries an obligation that if you make an improvement to the software, you must share that improvement with the world. However, the common Free Software licenses have no provision preventing someone from charging money for the software. Something often said about Free Software is that it is not Free as in beer but is Free as in liberty. It's a fine line between Open Source and Free Software, but it is a line none the less.
Second, CrossOver is "mostly" Free and Open Source software. The foundation of CrossOver is Wine, and Wine is Free Software. CrossOver also includes a number of other software products that were provided to us as Open Source software. This means that any user can access and modify the source code. It's "mostly" Free and Open Source as we couple a launcher and other user-friendly tools which are proprietary (and I'll explain why later in this post). When you purchase CrossOver, you're really just purchasing the launcher and other user-friendly tools to Wine. And if you purchase CrossOver Pro or CrossOver Lifetime, you're also purchasing support which includes software updates, software upgrades, and access to our help desk support (to assist you in running Windows applications on non-Windows platforms).
And why do we charge money for our proprietary bits coupled to Wine (coming back to the original question)? We charge for CrossOver to pay for Wine Development. The revenues generated by CrossOver go right back into The Wine Project by paying for software developers and the tools they need to improve Wine. This the why Wine is still as relevant as it is today because it continues to support Windows applications and games that people care about. So when we state, "we are committed to Open Source and Free Software", we are directly doing so with Wine. Our intention is, and has always been, to improve Wine so that it remains a relevant and useful technology. In order to do so, we need to hire and pay some of the most brilliant developers on the planet. And in order to pay for developers, we have to generate revenue which is why we sell CrossOver.
Now, in full transparency, not everyone at CodeWeavers is happy about us selling software to pay for software development. Many of our developers would rather CrossOver be free OR CodeWeavers just provide a supported version of Wine. Maybe at some point in time, CodeWeavers will be able to generate the revenues required to pay for development through other means. OR maybe at some point in time, Wine will be a completed and finished software project. Until that happens, CodeWeavers will continue to support the Open Source community and trumpet Free Software by providing resources to The Wine Project.
>>> Learn more about our commitment to The Wine Project
About James B. Ramey
James B. Ramey is the CEO of CodeWeavers. His life long love of video gaming started at the tender age of six with an Atari 2600 and evolved over time to include Nintendo, Super Nintendo, Apple Mac IIc, Windows PC, and MacBook Pro. When not fiddling with technology, James enjoys cooking, travel, debating politics in the office, and spending time with his wife, daughter, and their two rescue dogs. For the past 20 years, James has worked with clients around the world in best implementing technology to maximize a return on their investment. He is a graduate of Moorhead State University and earned his MBA from the University of Phoenix. You can find James on Twitter at @jbramey.