Tomorrow, three of CodeWeavers bravest souls are starting their trek to Salt Lake City, Utah to represent CrossOver Mac at the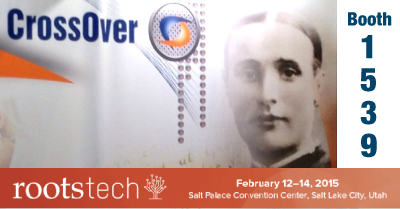 family history and technology conference, known as RootsTech.

Our Mac laptops are locked and loaded with software like, RootsMagic, Legacy Family Tree, Family Historian, Ancestral Quest, Ancestral Sources, GenoPro, GenScriber and GenSmarts 2 ready to show the world of genealogists that they can run their favorite Windows genealogy software on Mac with a little help from CrossOver.

For three days (February 12-14 at booth 1539), we are going to demonstrate to genealogists, ancestresses, family storytellers, pedigree historians, heritage detectives, lineage researchers and descent analysts that they no longer have to be confined to the Windows operation system to successfully research their family history. They can finally cozy up to the superior Mac OS platform and comfortably run their favorite Windows family history software.

CodeWeavers built its reputation on the belief that you should be able to choose the platform you want to run your software on, not the other way around. So if you are looking for an easy, affordable way to run your Windows genealogy software on your Mac, stop by our booth, 1539, for a free demonstration and a special RootsTech discount offer for CrossOver Mac. And as always, download our free trial of CrossOver!

While there are some things in life that you cannot choose, like your family (or your tradeshow team), there are some things you can choose, like the operating system you research your family on or whether or not you are going to attend the keynote speaker at RootsTech, Laura Bush.

Stay up to date on our travels and adventures at RootsTech. Follow us on Twitter @CodeWeavers.

About Jana Schmid
Jana has been working in the marketing profession for over 15 years. She joined the CodeWeavers marketing department in 2010 and has earned oddities such as the Margaritaville Tahiti Frozen Concoction Maker and a lifetime supply of sparkling water for her performance as Marketing Director. Contact Jana at jana@codeweavers.com and learn more about her professional accomplishments on LinkedIn.