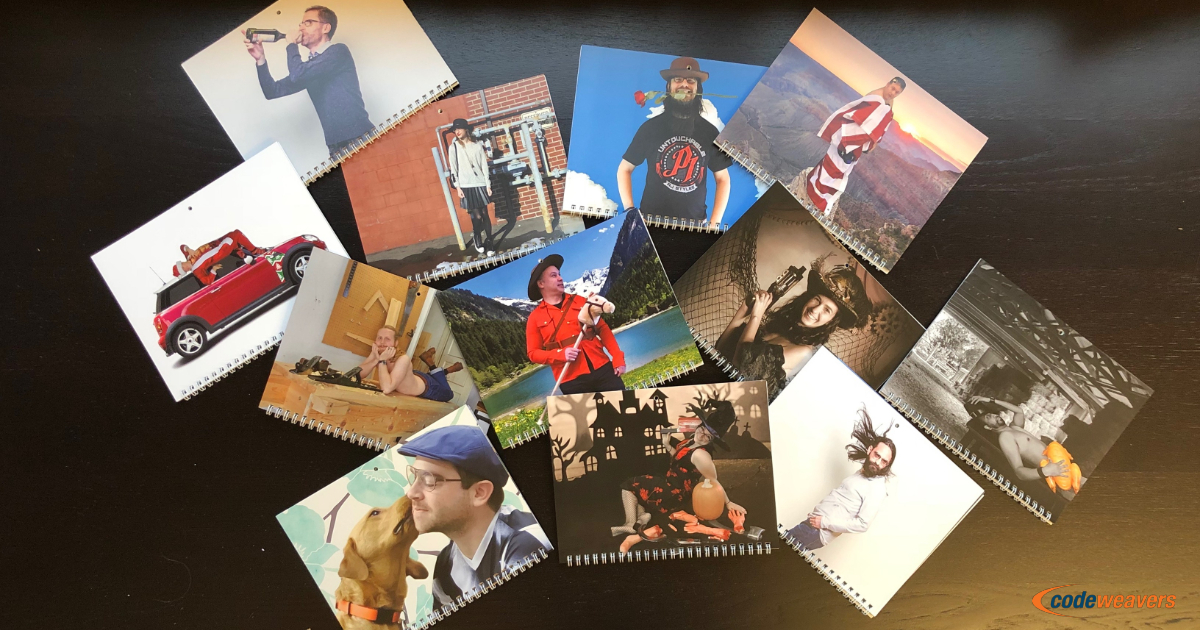 Is working in Tech Company really defined by misogyny, greed and soullessness?
This year, I took on a small creative pet project that started as a beer o'clock joke. When the project was complete, I realized that this one piece of work debunks many of the stereotypes people have about the tech industry and working in tech.
"It's a booming industry filled with endless possibilities. Computer technology has come to define a large part of our culture for the past 20 years. And, of course, it's only getting bigger."[1]
Myth: It's a one-stop shop for making millions
Reality: 90% of all tech start-ups fail
Perhaps the nicest car in our company parking lot (and the most fun) is our System Admin's Mini Cooper. We have been around for over two decades, and we still have to take our garbage to the curb, brew our own coffee and dust our own desks. The brainchild of Jeremy White, has yet to earn him his Maserati.
Myth: Tech is only for young people
Reality: The average age for a CodeWeavers employee is 33.
Okay, so that's not that old, but it's also not that young. Plus, I have a sneaking suspicion that the elders did not answer my survey. When asked I only got 20 answers back, out of the 42 staff member asked. I know, I know, it's rude to ask someone his or her age, but it was done in the name of Science! (This is also coming from someone who strongly believes we should act our shoe size, not our age).
Anywhoo…
Some of our staff came to us right out of college and never left—over twenty years ago. Some of our staff came to us right in college and are still here — ten years later. The brains behind our operation, let's just say he/she is over 49.
Myth: Coding must be your second language if you hope to enter the industry
Reality: Nope, nope and nope.
Our company is full of non-geeks and we need 'em! We have salespeople, marketing gods, accounting wizards, support ninjas and quality assurance engineers, all whom contribute to getting our product out the door and in the hands of the masses. These more personable aspects of our business are also represented in our calendar.
Myth: Everyone is out for themselves
Reality: We proudly declare that we are the island of misfit toys.
Is there much more to say to that? Everyone here at the Ranch is allowed to fly their freak flag as long as it doesn't harm others. We don't have our own personal agendas, but what we do have is one mission—open-source software.
Myth: You have to work in Silicon Valley
Reality: C'mon people. The Ranch headquarters are in Saint Paul, Minnesota.
And it doesn't stop there. Our network of talent is WORLDWIDE. Like, Canada, Russia, Colombia, France, Poland, Switzerland, Brazil, Romania, Netherlands, United Kingdom, Italy and China WORLDWIDE.
Myth: It's devoid of creativity
Reality: We have a marketing department that is more than enough crazy creativity for this bunch…but there's more.
Of our surveyed bunch 19 of our participants defined where they found creativity in their position. Here are just a few of the responses I got, when I asked our people what they found creative about their position.
"I find clever ways to make software old and new run on a wider variety of platforms. Also, I write code, which is in itself a creative act."
"Effective debugging requires being creative. Also, writing code generally leaves you some degree of freedom in the design and implementation (sometimes more, sometimes less)."
"I guess the answer is pretty simple: programming is problem-solving, and that requires creativity—inherently."
"The many different ways I can break things. Also prediction how others may use an application and testing those alternate methods."
Myth: Nerds Only
Reality: People who aren't nerds here get nicknames, like ninjas, pirates, weasels, knights and Chief non-geek. You're better off here being branded a nerd.
Myth: People Who Work in Tech are Soulless
Reality: The only people in our company that are really soulless are in the marketing and sales departments.
Myth: No girls allowed
Reality: To date, CodeWeavers has more female staff than ever recorded in our history.
We are proud to have five women who have a combined experience of over 30 years. 60% of these women hold senior positions in their departments, 2 of these women are heads of their departments.
In an industry riddled with stereotypes, this creative project wasn't set out to debunk the myths about working in tech. But when the project was complete, it was clear that we could debunk the 10 biggest stereotypes in tech with…wait for it…
Drum Roll…
A Calendar!
Introducing the first ever Cuties of CodeWeavers Calendar! It's not called, Men of Game Development (which was 100% our inspiration) or Command Line Studs or Hot Dude Developers or Git Hubba Hubbas — because at our company it takes more than men, more than twenty-somethings, more than being located in Silicone Valley, more than nerds, more of everything we're not stereotyped to be to make the company go 'round.
So how do you get your hands on this physical system of organizing days, weeks and months of 2019? You purchase a Lifetime subscription!
>>> Get Your Lifetime Subscription and Calendar now!


[1] 10 Biggest Stereotypes in Tech https://www.complex.com/pop-cu...
About Jana Schmid
Jana has been working in the marketing profession for over 15 years. She joined the CodeWeavers marketing department in 2010 and has earned oddities such as the Margaritaville Tahiti Frozen Concoction Maker and a lifetime supply of sparkling water for her performance as Marketing Director. Contact Jana at jana@codeweavers.com and learn more about her professional accomplishments on LinkedIn.