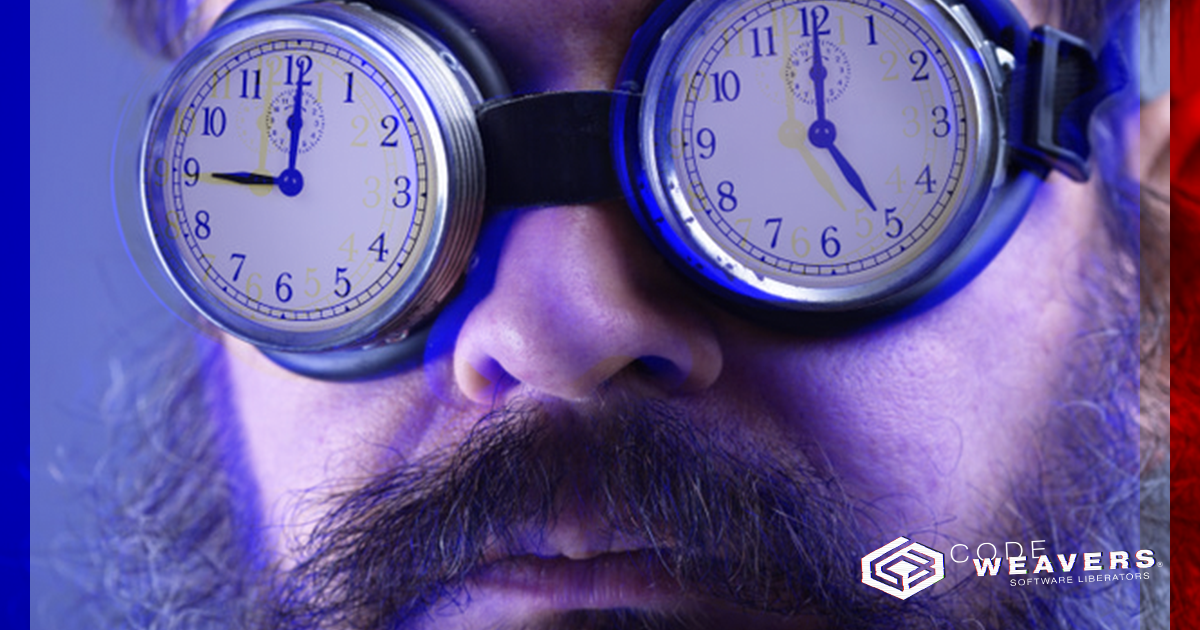 Question: What happens when a lowly marketing director takes advantage of a corporate platform while under the influence of muscle relaxers?
Answer: A post that has nothing to do with the capabilities of CrossOver, no insight on the current (or future) endeavors of CodeWeavers. A shameless, possibly pointless (unless you are paying in USD) plug for an itsy-bitsy price change.
Directions for Use: Take with a grain of salt; inflation is out of control, and the CrossOver price drop is only $0.95. Stop taking if you experience a strong nostalgia for the year 1995... or you know what... perhaps that is what we all need right now, a measly ninety-five cent price drop and a few highlights from that fabled year.
Possible Side Effects: Brief distractions from various and unwelcome news cycles concerning the continued effects of climate change and the slow fall of democracy.
"Hey Siri, play meditation music."
Walk with me as we take a trip down memory lane to 1995 (known as '95 to the hip kids... take that ought-five!). The JNCO jeans were baggy; the bucket hats were shapeless, and
LiveScript is renamed JavaScript, and the internet is changed forever.
eBay is founded.
The Grateful Dead announces their breakup. (No, we don't blame Yoko for that one.)
Pixar releases Toy Story, the first wholly computer-generated film.
Michael Jordan quits baseball and returns to the NBA.
OJ Simpson is found innocent.
Play Station hits the United States (who played the original Tekken!?!).
The National Science Foundation Network (NSFNET) is decommissioned, and the last restrictions on commercial internet traffic are removed.
The yearly average on a 30-year mortgage is 7.93%, and the average cost of a new house is $113,150.
People were loving Mariah Carey (wait, has that changed?!?).
Model Kendall Jenner and quarterback Patrick Mahomes are born.
Jessica and Michael are the most popular baby names.
The 1995 World Aerobic Championships take place in San Diego. (Yes, you should locate the videos on YouTube.)
Whew! That felt more like a sprint than a walk.
I hope you caught your breath because we aren't stopping here.
In 2022, you can't buy much at the $0.95 price point. However, you'd be surprised what you could buy with $0.95 in years past:
1945: B-29 Boeing Super Fortress Bomber model kit, $0.95
1948: Men's belt, $0.94
1951: Baseball cap, $0.95
1950: 1 pound of round steak, $0.94
1960: Tights/nylons, $0.94
1962: 1 yard of fabric, $0.94
1965: 1 gallon of milk, $0.95
1966: 1 pound of sliced bacon, $0.95
1990: 1 share of Microsoft, $0.94
2003: 1 pound of white bread, $0.95
2004: 1 share of Apple, $0.94
2006: 1 pound of Naval oranges, $0.95
2012: 1 therm of piped gas, $0.95
I mean, who really cares that the price of CrossOver for mac, Linux, and Chrome OS is going down by $0.95. In the age of inflation, is a savings of 1.5% noteworthy? If you are reading, maybe it is. Perhaps it isn't.
I will leave you with this: According to this inflation calculator, an item that cost $0.95 in 1995 would cost $1.80 in 2022, a cumulative inflation rate of 89.7%.
Now, for $1.80, you can buy… I'll save that thought for the next post.
Thanks for playing,
Jana

About Jana Schmid
Jana has been working in the marketing profession for over 15 years. She joined the CodeWeavers marketing department in 2010 and has earned oddities such as the Margaritaville Tahiti Frozen Concoction Maker and a lifetime supply of sparkling water for her performance as Marketing Director. Contact Jana at jana@codeweavers.com and learn more about her professional accomplishments on LinkedIn.