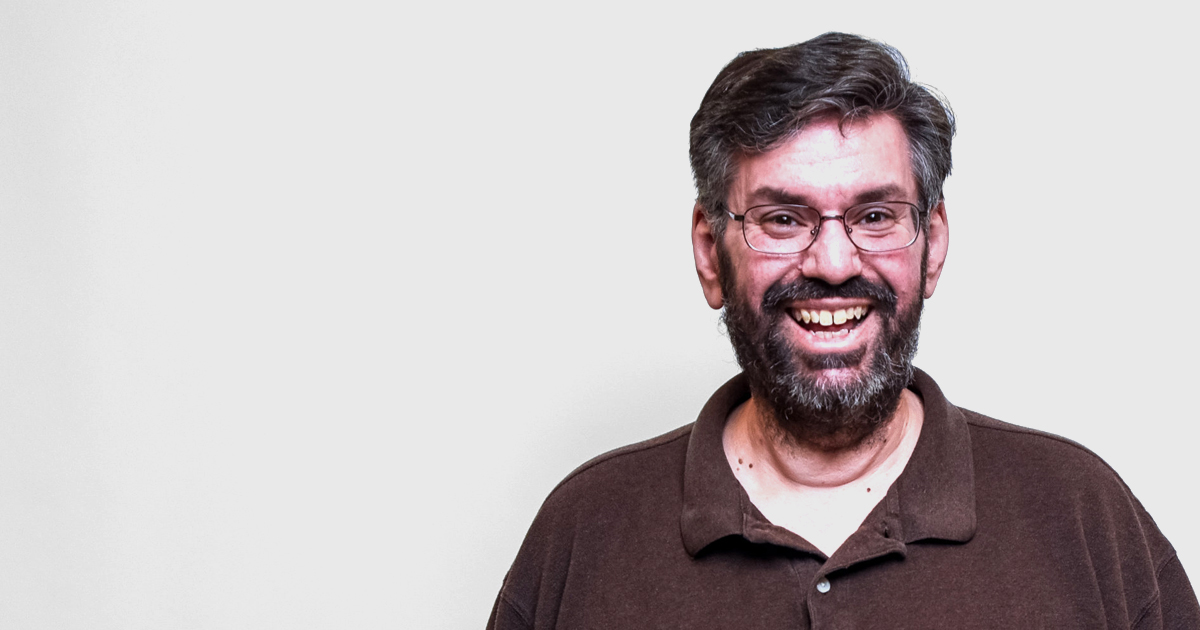 On December 23rd, Ken Thomases, our core macOS developer, died of kidney cancer. He was 51.

This was not a surprise; we've spent the past several months worried for Ken and hoping that medical science would pull out a miracle on his behalf. It's been a long and deeply sad set of months. Ken was much loved and will be sorely missed.
Ken was unique in a company full of unique people. My friend Chris first introduced Ken to me by telling me that, despite being younger, Ken was smarter than me. Now that stung my pride a bit, and for many years, I resisted that comparison. But after 27 years, it is clear to me that Chris was right.

Ken was first and foremost an incredibly capable and knowledgeable software developer, with a deep passion and interest in technology, particularly where it concerned macOS. In my career, I never found a technical problem that he could not solve. As an example, when Apple presented us with the puzzle of how to provide support for 32 bit applications on an OS without 32 bit libraries, Ken single handedly created a framework for that support. It was a mighty labor, which he undertook even as he struggled with the cancer. It took a long time, but when he finally delivered it, it pretty much worked 'out of the box'. That was Ken.
Josh summarized it well: "Ken stood out for having a deep mastery of his craft. In fact, not only a deep mastery of that thing, but one of the deeper masteries of anything I have ever personally seen another person achieve."
Ken always marched to the beat of a very different drummer. There was a famous moment in our company history, when James, then new to the company, was struck by Ken's work schedule. It was sort of a 20 hours on / 20 hours off pattern. In response, James declared that our company was comprised of misfit toys, a label we cheerfully embrace to this day.
Ken had a sarcastic and often snarky sense of humor. We tend to enjoy a somewhat darker blend of humor, and Ken was often our ringleader. A large percentage of the laughter I have had in my life comes from his wit.
He also was very insightful, often picking out not only technical challenges, but business challenges as well. We have a cultural preference to watch out for the pitfalls in group think. Ken was always the first and clearest in pointing out that the Emperor had no clothes. This sometimes led him to have a reputation as a sort of Marvin the Paranoid Android, a reputation he embraced and milked for all the humor it could bring.
With all that, Ken was also incredibly kind, generous, and thoughtful. We gathered stories about Ken as he entered hospice, and one theme ran through them all: Ken was kind, thoughtful, patient, and explained everything well. That is, he would quietly observe someone struggling, or not quite understanding, and then he would spend time with them privately making sure they understood completely. He always did it with care and kindness. He also actively lurked on our forums, and would often reach out to customers with help and advice.
Ken was a deeply private man, and claimed he had no abiding hobbies or outside interests. I do know that he contributed significantly to Stack Overflow; I am certain his wisdom will be missed there. He enjoyed watching television, but had an odd sort of fixation with watching only on his old television. He entertained us with his tales of using his 19" CRT TV long after the conversion to HD had swept everyone else into a new television. He also entertained us by keeping a car many years past the point where any rational person would keep it. Ken could be relied on to lead a lunch train, but you'd always have to worry about the strange sounds his 20+ year old car would make as he drove to lunch.
For providing the world with high quality contributions to Wine, for helping our company have a product that enabled many more of us to also contribute to Wine, for offering kind and powerful advice, for being thoughtful in pointing out problems, and for doing all of this with humor and grace, for all of these reasons and more, Ken was beloved by me and everyone who knew him.
It was an honor and a joy to work with you, Ken.
Rest in Peace, my android friend.