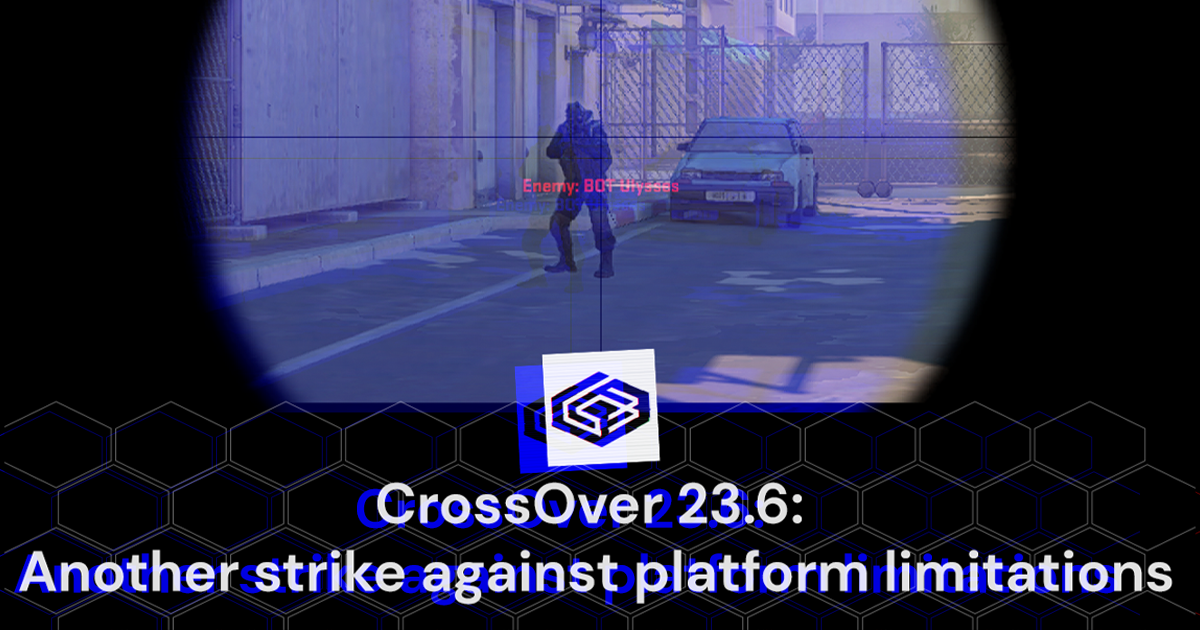 When we've got something good, we simply can't wait to share. Hot on the heels of CrossOver 23.5, we proudly present the latest and greatest CrossOver 23.6.
Counter-Strike 2
The shiniest feature of this release is support for Counter-Strike 2 on Mac. We made a few tweaks to get this game working well out-of-the-box: just search for
Counter-Strike 2
within CrossOver and click Install! We tested the game on macOS Ventura and Sonoma with both Silicon and Intel hardware.
Furthermore, we are committed to continuing to make fixes and improvements to make sure Mac gamers can reliably run Counter-Strike 2 seamlessly through CrossOver now and in the future.
Warframe
Warframe
is also now running well through Steam with CrossOver 23.6; no tinkering required. We recommend macOS Sonoma running on a Silicon machine for the best experience.
Important fixes
CrossOver 23.6 also includes a couple of important fixes:
- Printing now works on macOS Sonoma.
-
Quicken
no longer crashes after the latest update.
How to get it
Customers with active support entitlements will be prompted soon to upgrade to CrossOver 23.6. Alternatively, you can download the latest version here.
If CrossOver asks for registration, use your codeweavers.com email address and password to register and unlock CrossOver. Email info@codeweavers.com if you need more help.
About Meredith Johnson
Meredith has been with CodeWeavers since 2019, and currently wears both the QA Manager and CrossOver Product Manager hats. After getting her PhD in linguistics, she somehow stumbled into the Free and Open Source Software world. When she isn't testing CrossOver, she's probably perfecting yet another bean stew, jogging slowly, buying even more linen tunics, doing a face mask or doting on her perfect chunky baby.