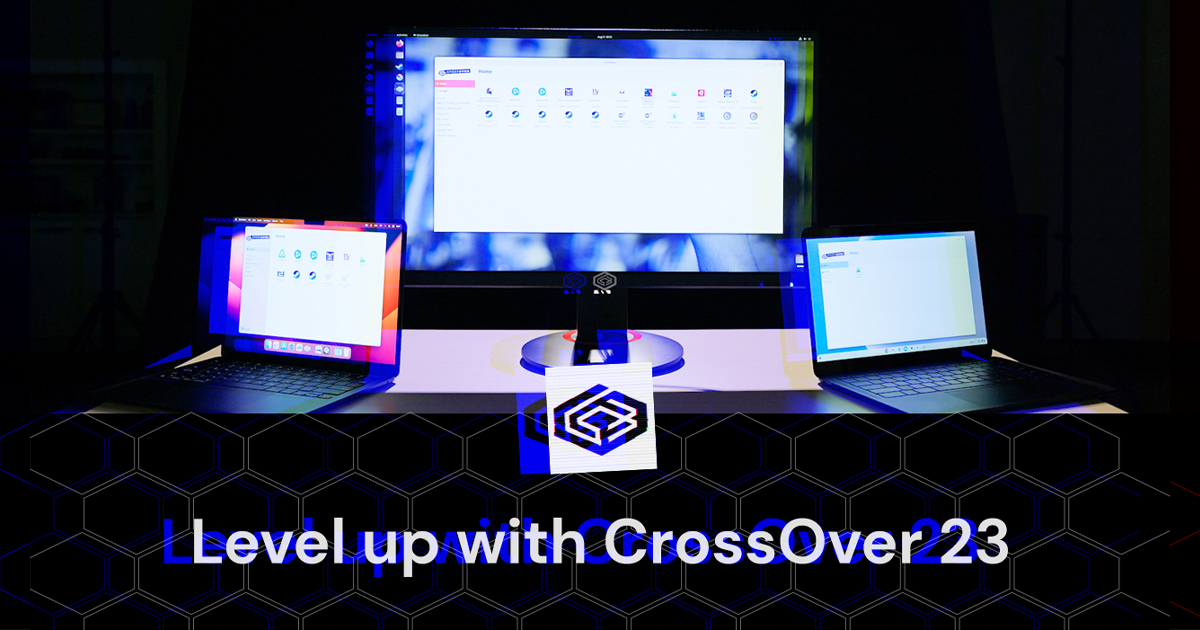 CrossOver 23 is chock-full of features to level up your experience running Windows games and applications on macOS, Linux and ChromeOS. Read on to learn all about what CrossOver 23 has to offer, and use the deal code LEVELUP23 to save 23% off the price of CrossOver+ until August 31, 2023.*

DirectX 12
Our most exciting feature is initial DirectX 12 support on macOS. Diablo II Resurrected and Diablo IV are currently running well on macOS Ventura, making them the first DirectX 12 games working on a released macOS version.
This breakthrough was the culmination of years of development, and we look forward to continuing to aggressively pursue support for even more DirectX 12 titles.

Diablo IV is also newly working on Linux with the CrossOver 23 release.
Geometry shaders
This release also includes initial support for geometry shaders and transform feedback on macOS. This unlocks many games that previously suffered from missing graphics or black screens in-game.

Risk of Rain 2, TEKKEN 7, Octopath Traveler, Street Fighter V, Astroneer, MechWarrior 5: Mercenaries and Trailmakers are just some of the titles that are now running on CrossOver 23. Note that using wined3d instead of DXVK will produce the best results for games using geometry shaders.
EA App
EA App is now running on both macOS and Linux with CrossOver 23. Many EA App games are now working, including The Sims 4, Titanfall 2 and Mass Effect Legendary Edition. If you are running EA App games through Steam, make sure to install EA App for Steam into your bottle: that CrossTie installs needed dependencies.
Uninstall

One of the most requested features we get for the CrossOver GUI is the ability to uninstall applications, and that is now possible with CrossOver 23.
Uninstalling is now a quick operation: simply go to the Bottle Details at the bottom of the right sidebar for your bottle and right-click on the application listed under Installed Software to find the uninstall option.
Updates galore
CrossOver 23 includes an update to Wine 8.0.1, bringing with it over 5,000 changes that offer improvements to a variety of applications.
This release also includes an update to Wine Mono 7.4.0, vkd3d 1.8, DXVK 1.10.3 and MoltenVK 1.2.3.
Oodles of fixes
Of course, this release also contains important bug fixes, including fixes for the latest Quicken, Steam, Rockstar Games Launcher, Age of Empires II Definitive Edition and Ubisoft Connect updates that caused those applications to stop working with CrossOver.

How to get it
Customers with active support entitlements will be prompted soon to upgrade to CrossOver 23. Alternatively, you can download the latest version here.
If CrossOver asks for registration, use your codeweavers.com email address and password to register and unlock CrossOver. Email info@codeweavers.com if you need more help.

What's coming next
CrossOver 23 currently runs on the macOS Sonoma beta, but there are known issues. We are working on fixes, and we plan to release an update that will be fully compatible with it. We will post updates on our progress, so make sure to
subscribe
to stay in the loop.
*
LEVELUP23
not valid on renewals or purchases of CrossOver Life.
About Meredith Johnson
Meredith has been with CodeWeavers since 2019, and currently wears both the QA Manager and CrossOver Product Manager hats. After getting her PhD in linguistics, she somehow stumbled into the Free and Open Source Software world. When she isn't testing CrossOver, she's probably perfecting yet another bean stew, jogging slowly, buying even more linen tunics, doing a face mask or doting on her perfect chunky baby.