How to Create a Log File of an Application Installation

1) Install a simple text editor

We choose
Simple Text Editor
from the Google Play Store.
2) Create a file named "winedebug" and save it to your Downloads folder.

In Simple Text Editor, click on the three dots in the upper right hand corner.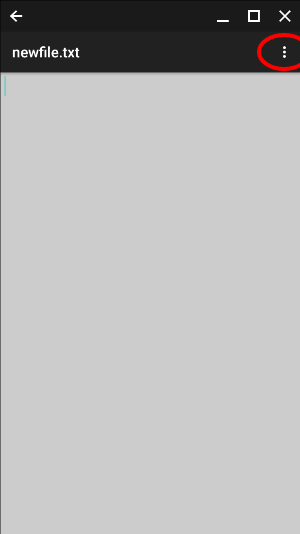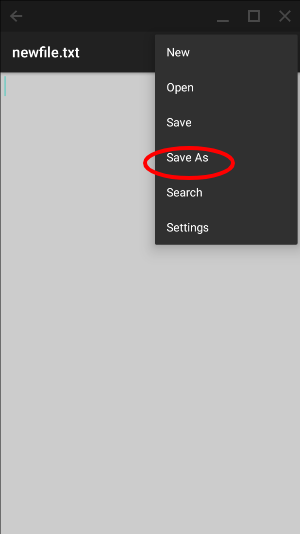 Save the file as winedebug in the default Downloads folder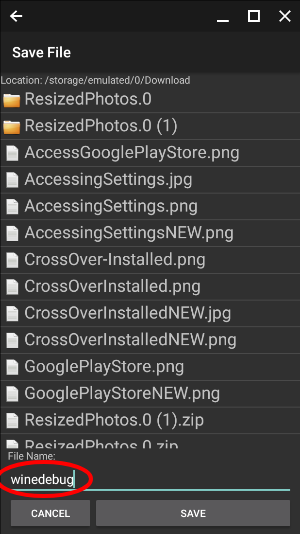 3) A file called cxlog will automatically be created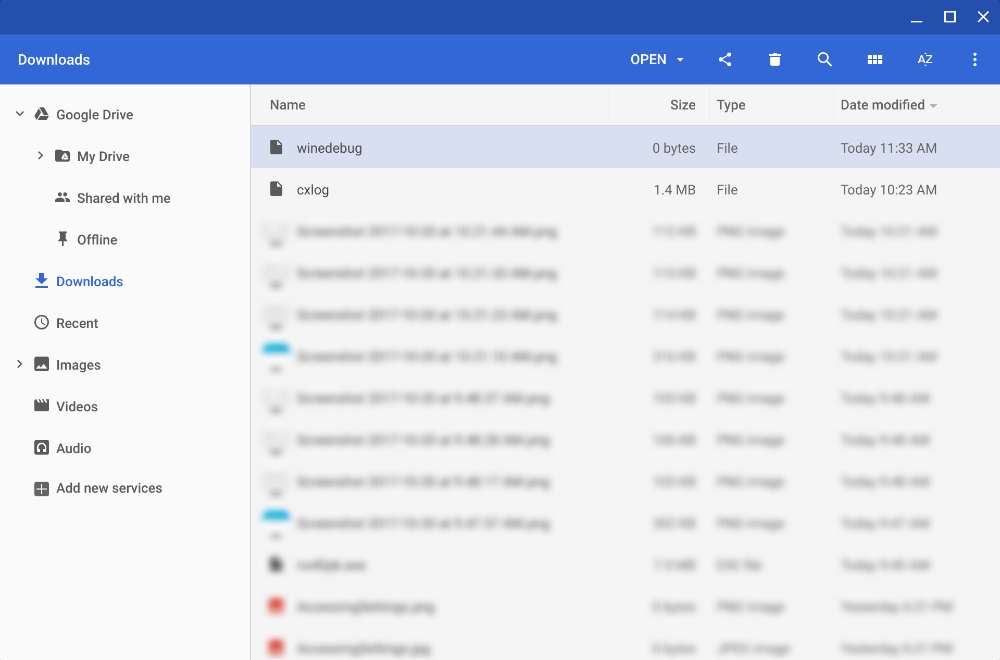 4) To save an installation log, run the installation after creating the winedebug file, then save the cxlog file to a new name.

The cxlog will be created the next time you run CrossOver after creating the winedebug file.

CrossOver will automatically write information to the cxlog file.

To add logging channels, edit the winedebug file to include the channels in the format "+seh,+android". If you are working with our support staff to resolve a problem, CodeWeavers support may suggest log channels for you to use.

To start a new log, rename cxlog to a different name. The information you have gathered will be saved under that name, and a new cxlog will automatically be created.

To stop logging entirely, delete the winedebug file from your downloads folder. (Note that log files generated this way can cause CrossOver to become slow, so it is important to remove your winedebug file when you are done gathering a log.)

Last modified on
2017-10-20 17:04:43
by
Josh DuBois
Are you sure you want to delete this page?
Note: Any nested pages that are under this one will be moved up one level. Any attachments tied to this page will be deleted.
Move / Rename Page
---
Unknown Error, unable to move!
That page exists already!
One or more of the parent pages specified in new path do not exist!
/support/wiki/
/support/wiki/chromeos/debuginstallation
Please Wait...
eyJjb3VudHJ5IjoiVVMiLCJsYW5nIjpudWxsLCJjYXJ0IjowLCJ0enMiOi02LCJjZG4iOiJodHRwczpcL1wvbWVkaWEuY29kZXdlYXZlcnMuY29tXC9wdWJcL2Nyb3Nzb3Zlclwvd2Vic2l0ZSIsImNkbnRzIjoxNjEzMDgzMjMxLCJjc3JmX3Rva2VuIjoibjd2ektDa2RYQUNrZnUzNSIsImdkcHIiOjB9