Manually set VideoMemorySize
Select the bottle containing your game and click Run Command. Enter regedit in the Command field and click Run.

In the Registry Editor, click HKEY_CURRENT_USER > Software > Wine > Direct3D. Right-click on Direct3D, and click New > String Value.

Enter VideoMemorySize in the Name field and 512 in the Data field.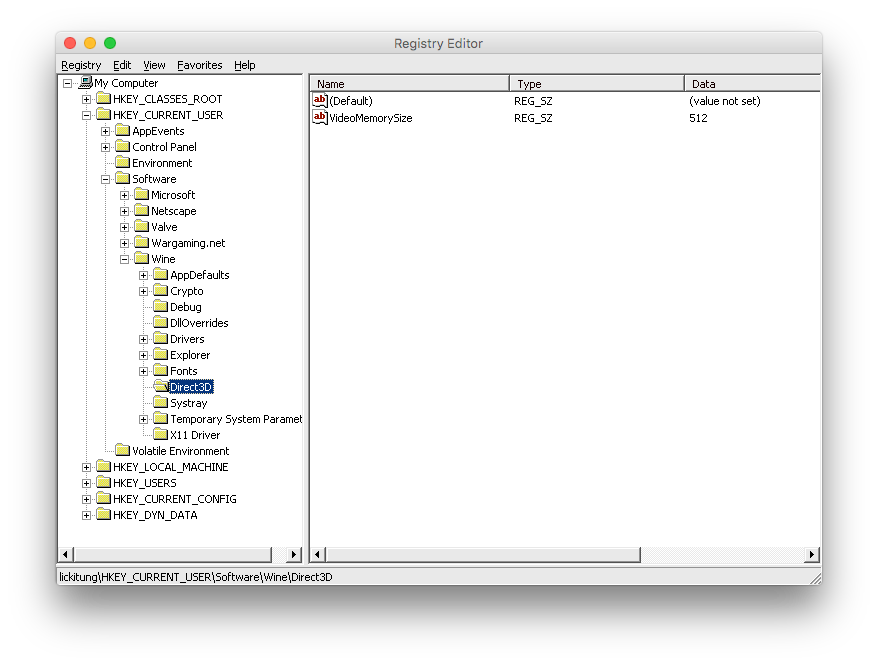 Note: If the Direct3D folder doesn't exist, you can create a new key. Right-click on the Wine folder, click New > Key, and rename it Direct3D.
See also, Editing a Bottle's Registry Keys.
Last modified on
2022-08-29 08:52:24
by
CJ Silver
Are you sure you want to delete this page?
Note: Any nested pages that are under this one will be moved up one level. Any attachments tied to this page will be deleted.
Move / Rename Page
---
Unknown Error, unable to move!
That page exists already!
One or more of the parent pages specified in new path do not exist!
/support/wiki/
/support/wiki/linux/faq/videomemorysize
Please Wait...
eyJjb3VudHJ5IjoiVVMiLCJsYW5nIjpudWxsLCJjYXJ0IjowLCJ0enMiOi01LCJjZG4iOiJodHRwczpcL1wvbWVkaWEuY29kZXdlYXZlcnMuY29tXC9wdWJcL2Nyb3Nzb3Zlclwvd2Vic2l0ZSIsImNkbnRzIjoxNjg0ODczOTEzLCJjc3JmX3Rva2VuIjoiNm54d1NuQTYyYmQ2QVllVyIsImdkcHIiOjB9