Create a launcher for a windows program in Crossover Linux

Note: the program used in this tutorial is a demo copy of "Editor" by Serenity Software, which is an unsupported app that our developers did not test, but installs and works well in Crossover just like hundreds of other programs.
Sometimes the installation doesn't correctly generate the launcher icon, even though a program has been installed. You can try to launch your program by going to Crossover's main menu, highlighting the bottle that contains the program, and clicking on "Run Command":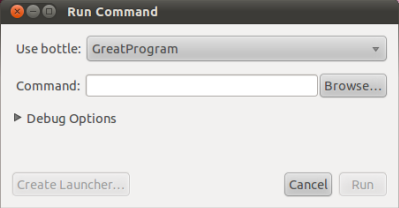 Select the bottle that contains the Program, and then click on "browse". The finder opens up to show the contents of the bottle, itself. From here, you'll browse around to find the .exe file that launches your program. You'll typically find it inside "Program Files". Many programs have more than one .exe file, so you'll need to guess as to which .exe file launches the program. There may be some "trial and error", here.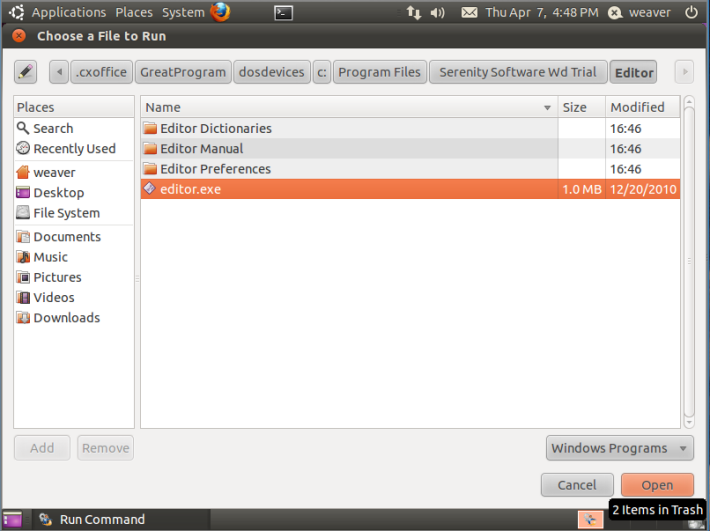 After selecting a file and clicking "open", click on "Run". If the program launches, you found the correct .exe file.
Close the program, and then back in Run Command click on "Create Launcher". In the dialog that pops up you can choose if you want to create the launcher on your Desktop, or in Crossover's Windows Applications menu (i.e. "Start Menu").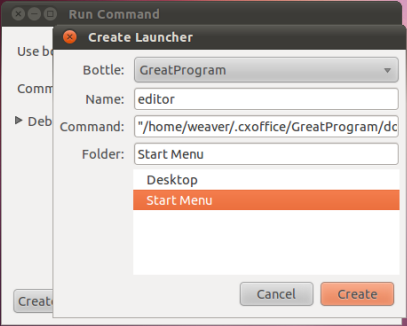 Last modified on
2012-12-12 11:00:09
by
Jack Phinney
Are you sure you want to delete this page?
Note: Any nested pages that are under this one will be moved up one level. Any attachments tied to this page will be deleted.
Move / Rename Page
---
Unknown Error, unable to move!
That page exists already!
One or more of the parent pages specified in new path do not exist!
/support/wiki/
/support/wiki/linux/linuxtutorial/create_launcher
Please Wait...
eyJjb3VudHJ5IjoiVVMiLCJsYW5nIjpudWxsLCJjYXJ0IjowLCJ0enMiOi01LCJjZG4iOiJodHRwczpcL1wvbWVkaWEuY29kZXdlYXZlcnMuY29tXC9wdWJcL2Nyb3Nzb3Zlclwvd2Vic2l0ZSIsImNkbnRzIjoxNjMxNzI3MzA0LCJjc3JmX3Rva2VuIjoiTGRhRnhaUENGSGZHUUpjTCIsImdkcHIiOjB9