Advanced Settings in CrossOver 23.5
Here is some additional information on the Advanced Settings toggles available in CrossOver 23.5.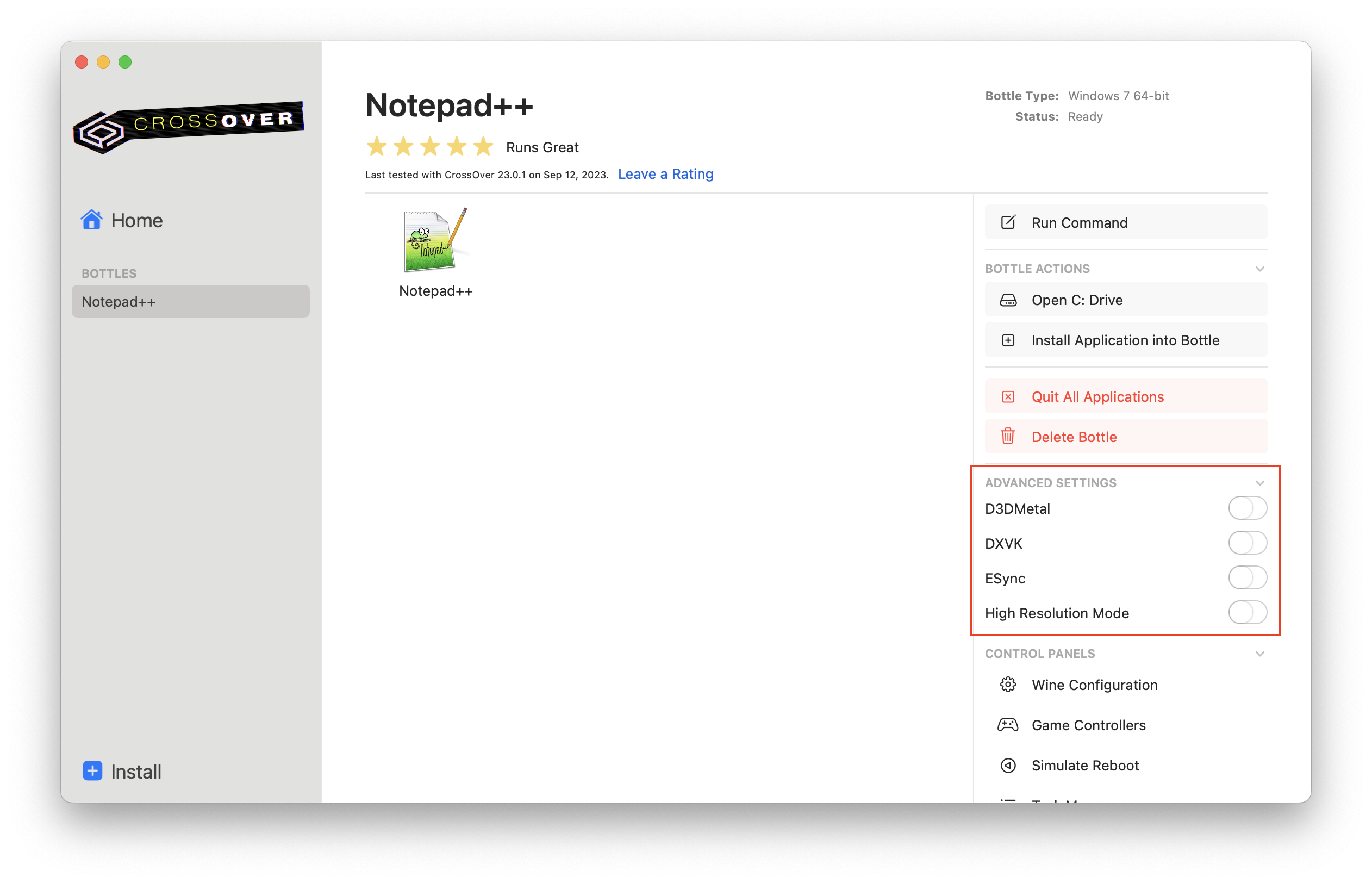 D3DMetal - D3DMetal is a graphics API translation layer from the game porting toolkit supporting DirectX 11 and DirectX 12 games. When enabled, D3DMetal is used instead of DXVK or the wined3d default.

DXVK — DXVK is a Vulkan-based translation layer for Direct3D 10 and 11. When enabled, DXVK is used instead of the wined3d default. Some games run better with DXVK, while others run better with wined3d.

ESync — Eventfd-based synchronization. Some applications run with better performance with ESync enabled, some applications show no difference, and some applications are broken by ESync.

High-Resolution Mode — High-resolution mode switch. When enabled in CrossOver Mac, pixel doubling is turned off, and CrossOver reports a high-resolution (192 DPI) to the application. If the application handles this correctly, graphics display in more detail. Not all applications render correctly in high-resolution mode.
Last modified on
2023-09-27 09:04:27
by
Andrew Balfour
Are you sure you want to delete this page?
Note: Any nested pages that are under this one will be moved up one level. Any attachments tied to this page will be deleted.
Move / Rename Page
---
Unknown Error, unable to move!
That page exists already!
One or more of the parent pages specified in new path do not exist!
/support/wiki/
/support/wiki/mac/faq/cxoffice235advanced
Please Wait...
eyJjb3VudHJ5IjoiVVMiLCJsYW5nIjpudWxsLCJjYXJ0IjowLCJ0enMiOi02LCJjZG4iOiJodHRwczpcL1wvbWVkaWEuY29kZXdlYXZlcnMuY29tXC9wdWJcL2Nyb3Nzb3Zlclwvd2Vic2l0ZSIsImNkbnRzIjoxNzAwMTUwMjM1LCJjc3JmX3Rva2VuIjoidGZSQ1ZIUWhIWjdoWHVrNyIsImdkcHIiOjB9