Use the Windows Command prompt in Crossover
You can access the windows command prompt for a given bottle in Crossover, though almost any action you'd want to take within will be unsupported, and your mileage will vary.
To do so, go into Crossover "Bottles" in the left column of the Crossover window, select the appropriate bottle, right click, hold the "Option" key down on your mac. The Run Command will switch to Open Shell. Click on "Open Shell" which will launch a terminal that automatically sets the necessary environment variables for wine to function in a Mac OS X terminal.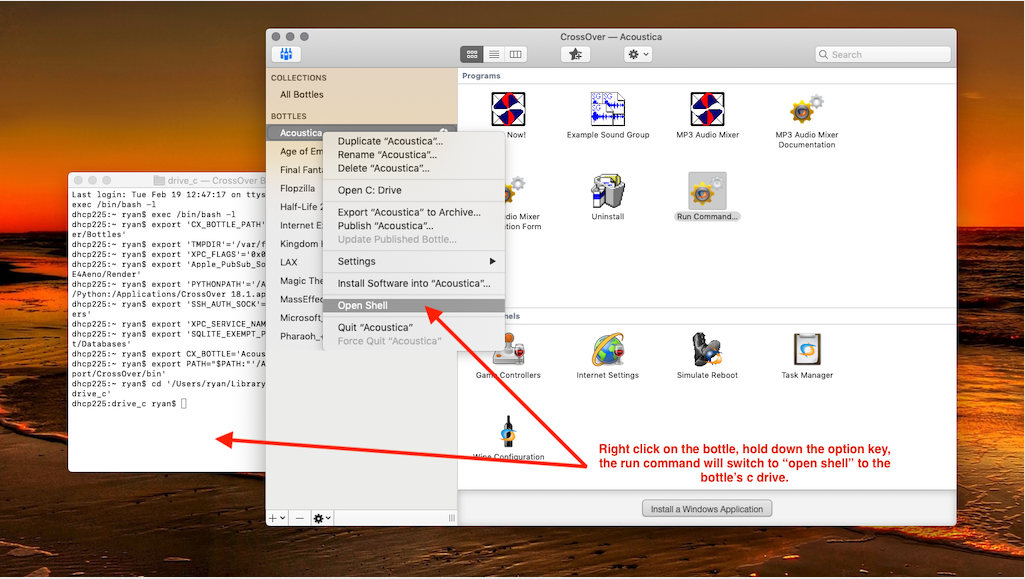 When the variables have finished populating, enter the following to access the command prompt:
wine cmd
Last modified on
2019-02-22 11:31:44
by
Ryan Abhiram
Are you sure you want to delete this page?
Note: Any nested pages that are under this one will be moved up one level. Any attachments tied to this page will be deleted.
Move / Rename Page
---
Unknown Error, unable to move!
That page exists already!
One or more of the parent pages specified in new path do not exist!
/support/wiki/
/support/wiki/mac/faq/maccmdprompt
Please Wait...
eyJjb3VudHJ5IjoiVVMiLCJsYW5nIjpudWxsLCJjYXJ0IjowLCJ0enMiOi01LCJjZG4iOiJodHRwczpcL1wvbWVkaWEuY29kZXdlYXZlcnMuY29tXC9wdWJcL2Nyb3Nzb3Zlclwvd2Vic2l0ZSIsImNkbnRzIjoxNjg0ODczOTEzLCJjc3JmX3Rva2VuIjoicjlUYzl0cUZuVmcyRldnUyIsImdkcHIiOjB9