Printing documents from applications within Crossover
Sometimes Crossover is not able to translate a print job from the Windows program running in Crossover to the native Mac printer driver for your printer. This more frequently happens with inkjet printers that aren't postscript-compatible. A workaround we've discovered is to install a virtual PDF printer called PDFWriter on your Mac. Once installed you can print to PDFWriter from within your Windows program, and then open the resulting PDF file in the native Mac program Preview and then print it out successfully.
Double-click or right click (CTRL + Click) on the .dmg to open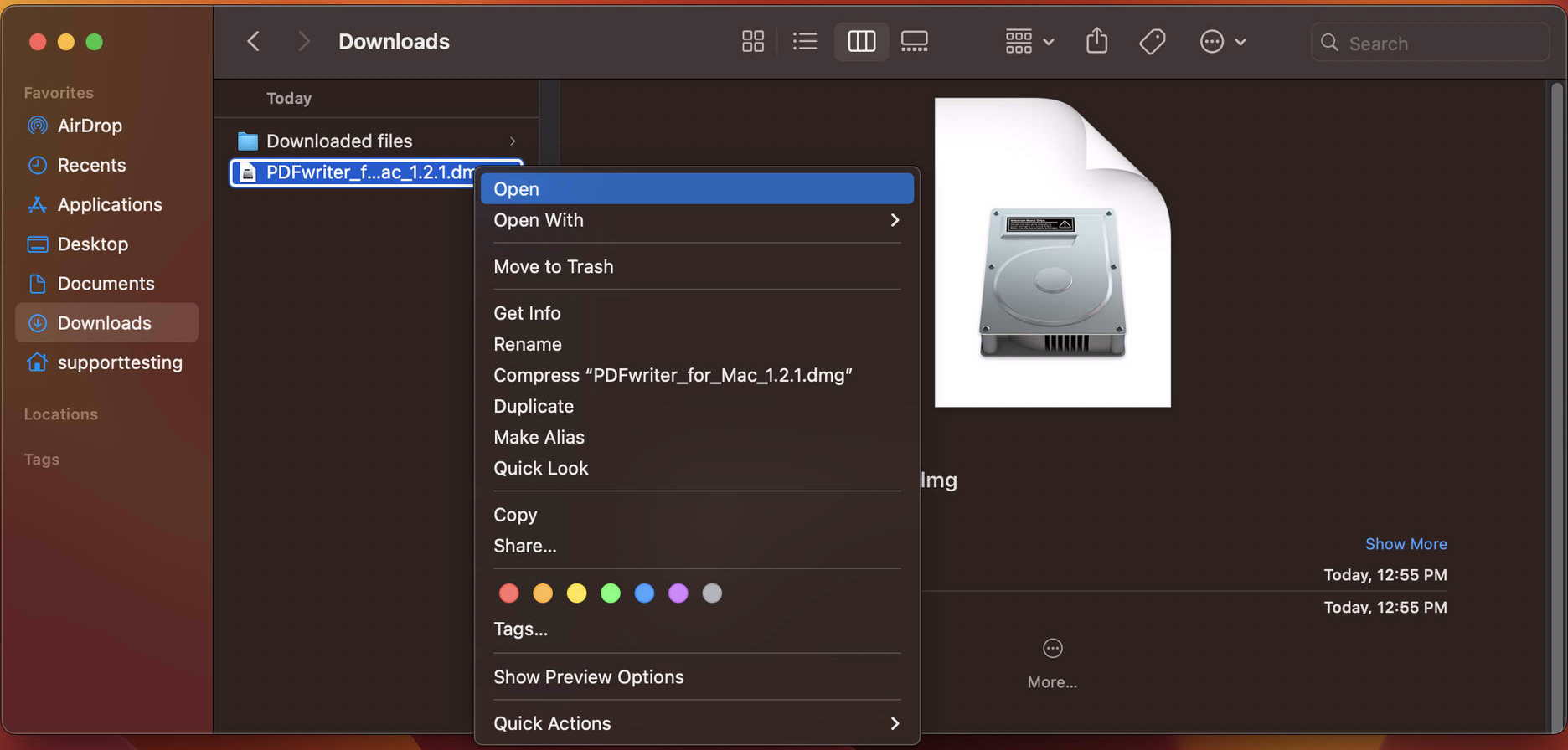 Double-click the package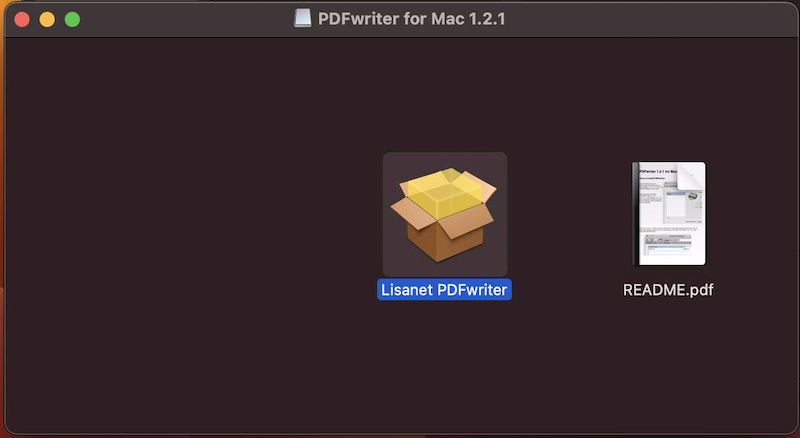 If there's a security warning go back and right-click/control-click Open the package.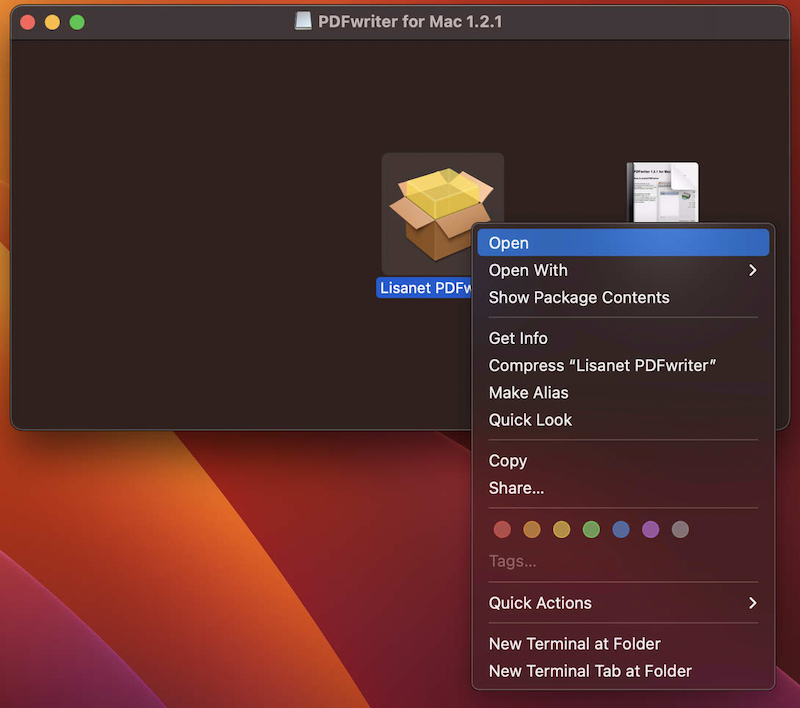 Go through and complete the installer.

After it finishes open System Preferences>Print & Scan and Add the printer.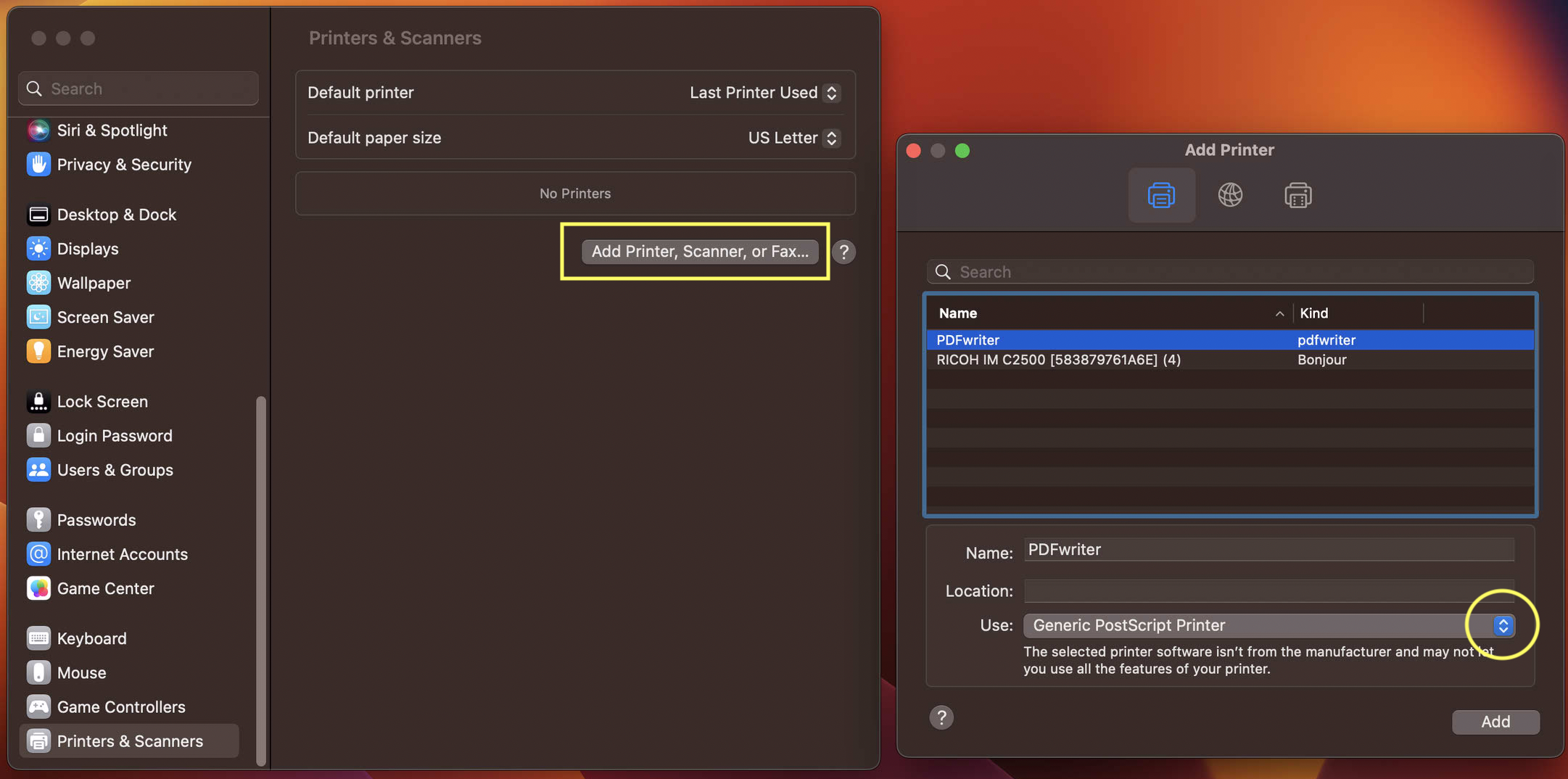 Now in your Windows program when you go to print you'll see a new printer named PDFWriter.
When you print to that a PDF file will be created in
/Macintosh HD/Users/Shared/PDFWriter/(your username)

Double-click to open that PDF file and print it to your regular Mac printer.
Getting zero (empty) size PDFs?
In some cases on MacOS, if the wrong PPD is selected this can cause blank PDFs. Delete and re-add PDFWriter from System Preferences>Printers, but instead of using the Generic Postscript Printer pick Other.. and navigate to /Library/Printers/Lisanet/PDFwriter/pdfwriter.ppd and select that.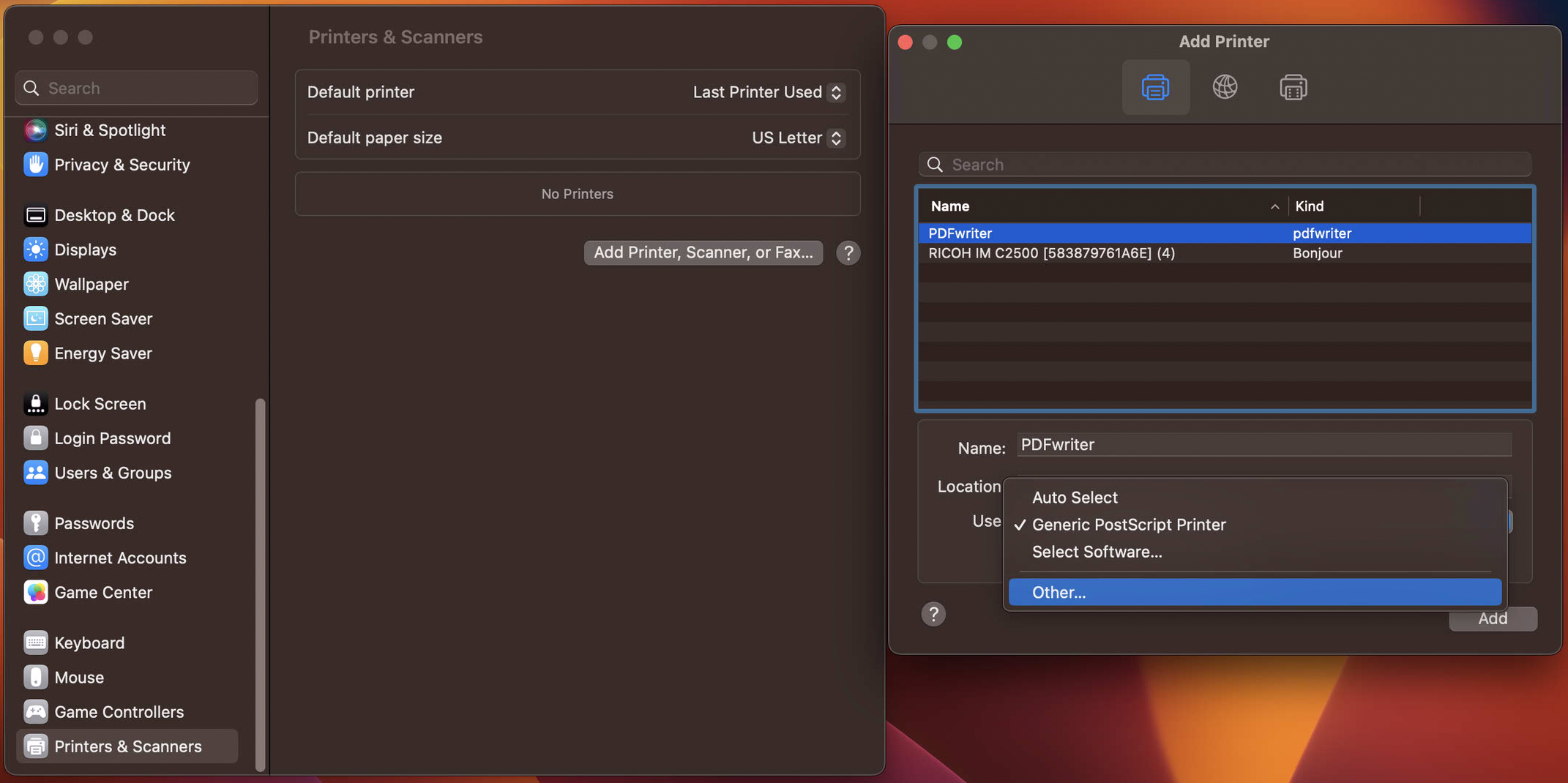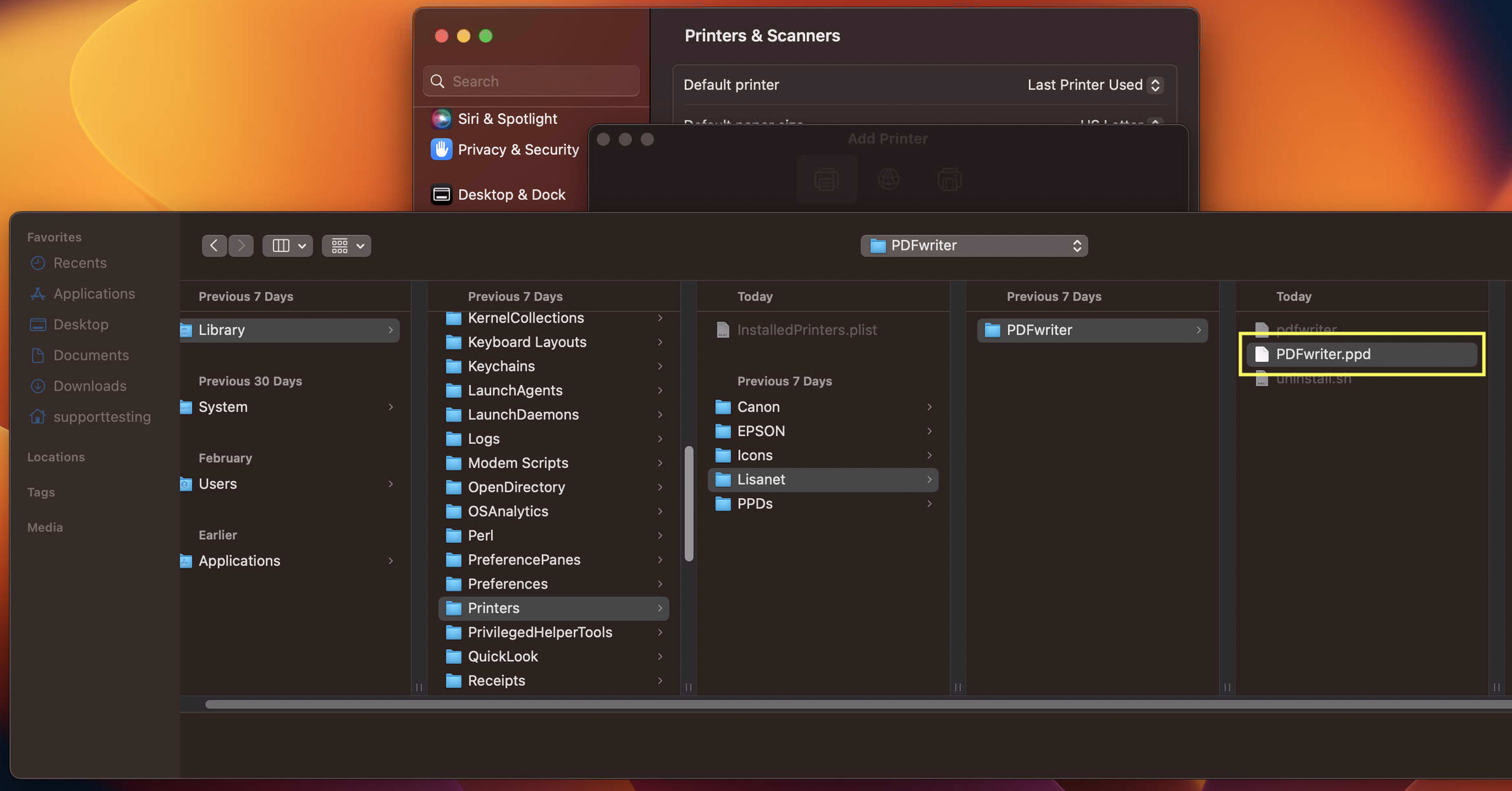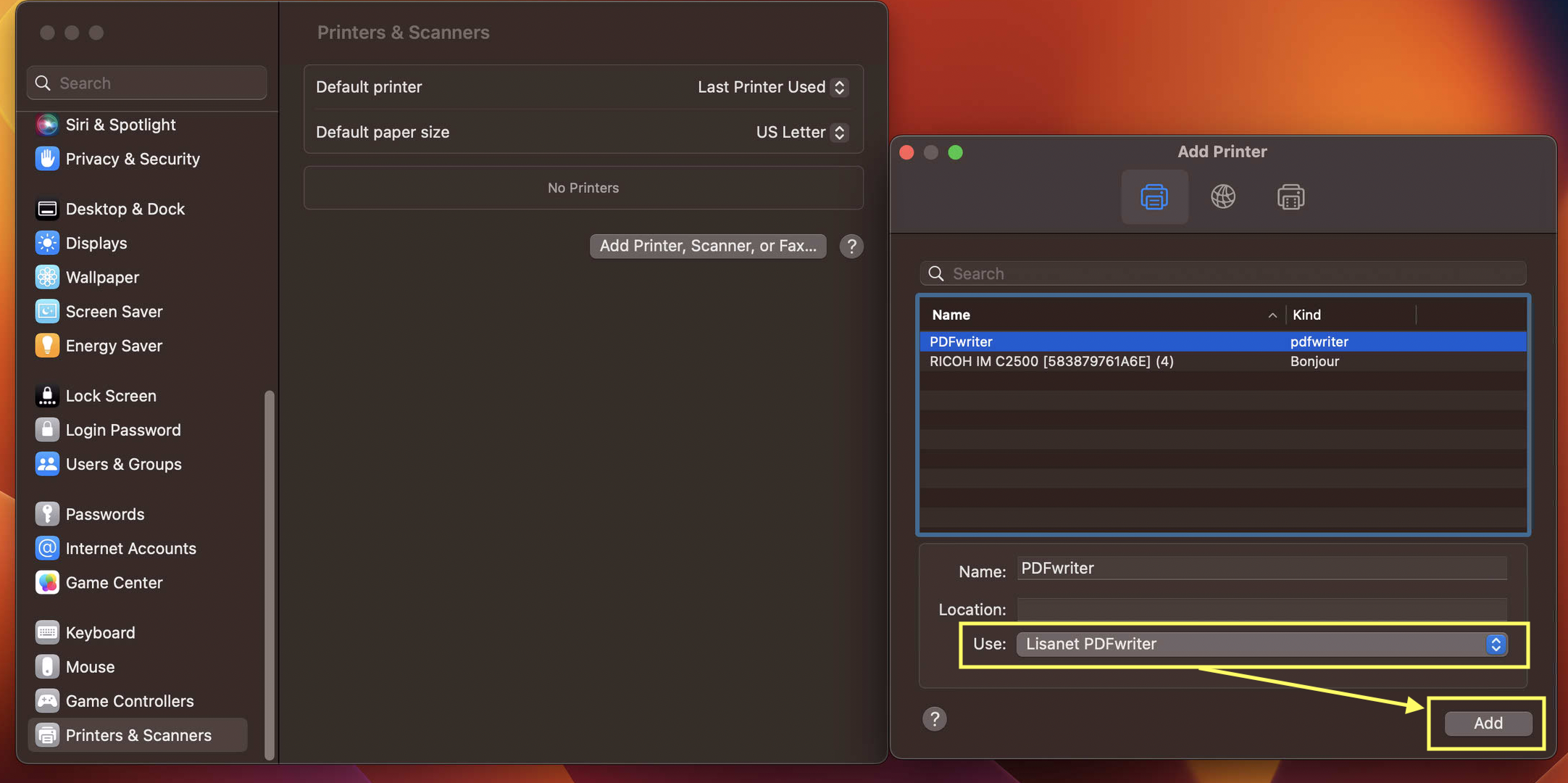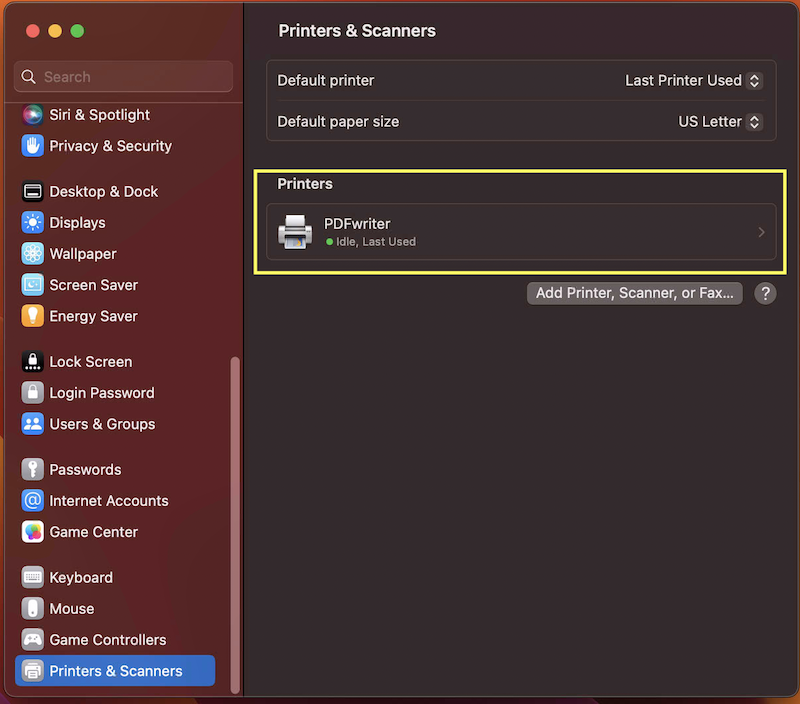 Last modified on
2022-11-18 14:20:21
by
Ryan Abhiram
Are you sure you want to delete this page?
Note: Any nested pages that are under this one will be moved up one level. Any attachments tied to this page will be deleted.
Move / Rename Page
---
Unknown Error, unable to move!
That page exists already!
One or more of the parent pages specified in new path do not exist!
/support/wiki/
/support/wiki/mac/faq/printfromcrossover
Please Wait...
eyJjb3VudHJ5IjoiVVMiLCJsYW5nIjpudWxsLCJjYXJ0IjowLCJ0enMiOi02LCJjZG4iOiJodHRwczpcL1wvbWVkaWEuY29kZXdlYXZlcnMuY29tXC9wdWJcL2Nyb3Nzb3Zlclwvd2Vic2l0ZSIsImNkbnRzIjoxNzAwMTUwMjM1LCJjc3JmX3Rva2VuIjoic0JiV3FoYUZYQktVTVFoWCIsImdkcHIiOjB9