Creating a Launcher for a Windows Application
Sometimes an application is successfully installed, but CrossOver doesn't create a launcher icon. When this occurs, accessing the Run Command option allows you to not only launch the application but also to create an icon.
1. Access C: Drive
Select the bottle containing the program and click Run Command.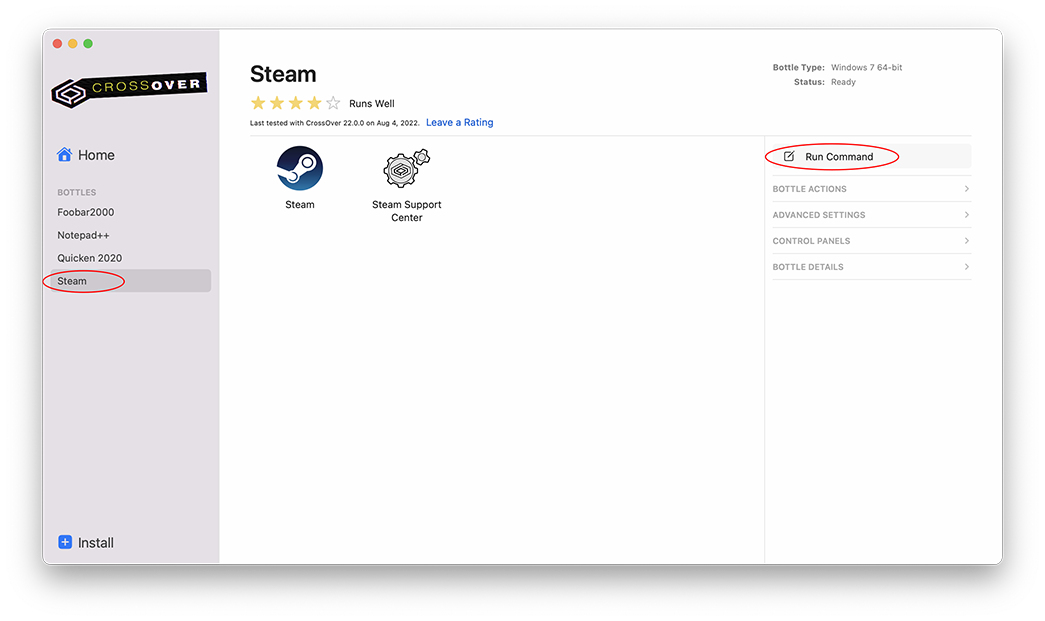 In the Run Command dialog, click Browse to access the contents of the bottle's C: drive.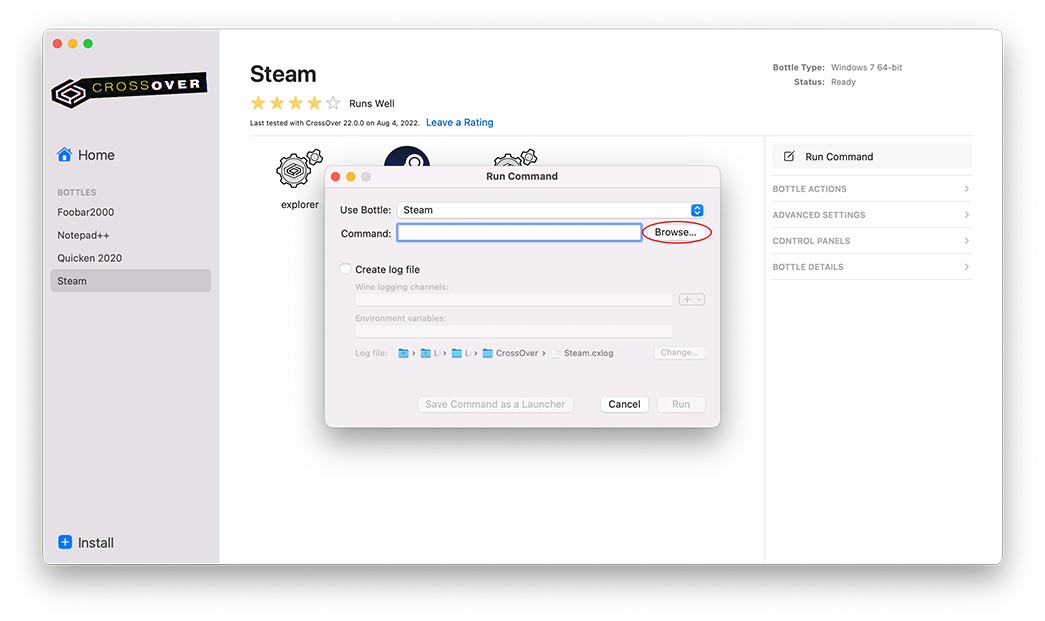 2. Locate the .exe File
Browse the C: drive for the program's .exe file. If the program has more than one .exe file (not uncommon), you may need some trial and error to find the correct file.
An excellent place to start looking is in Program Files. Once you have located and selected the .exe file, click Open.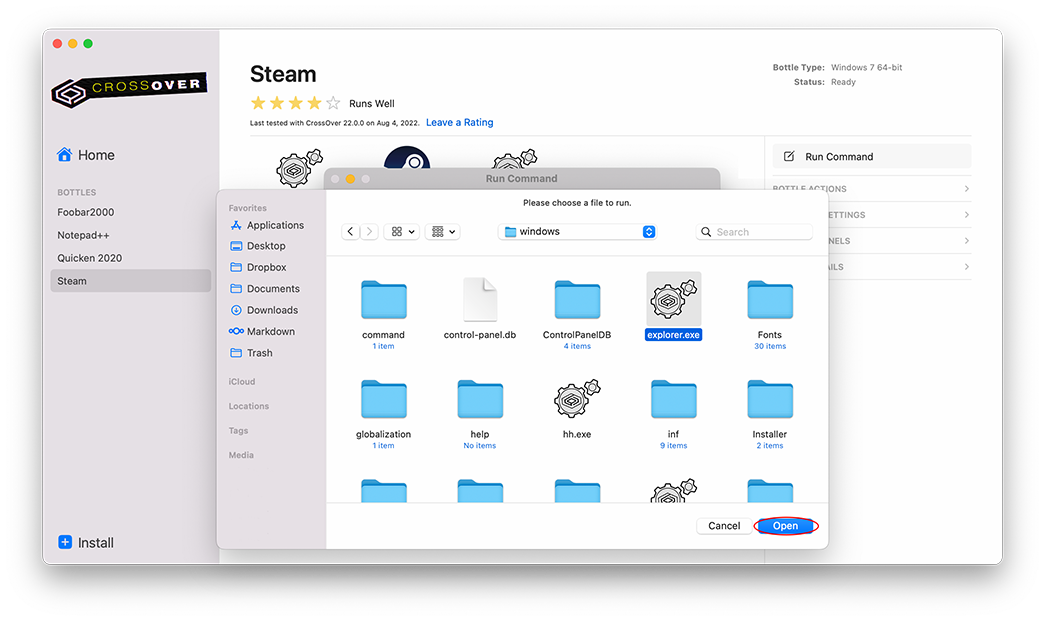 3. Create Launcher
If you are sure the file you selected is correct, click Save Command as a Launcher.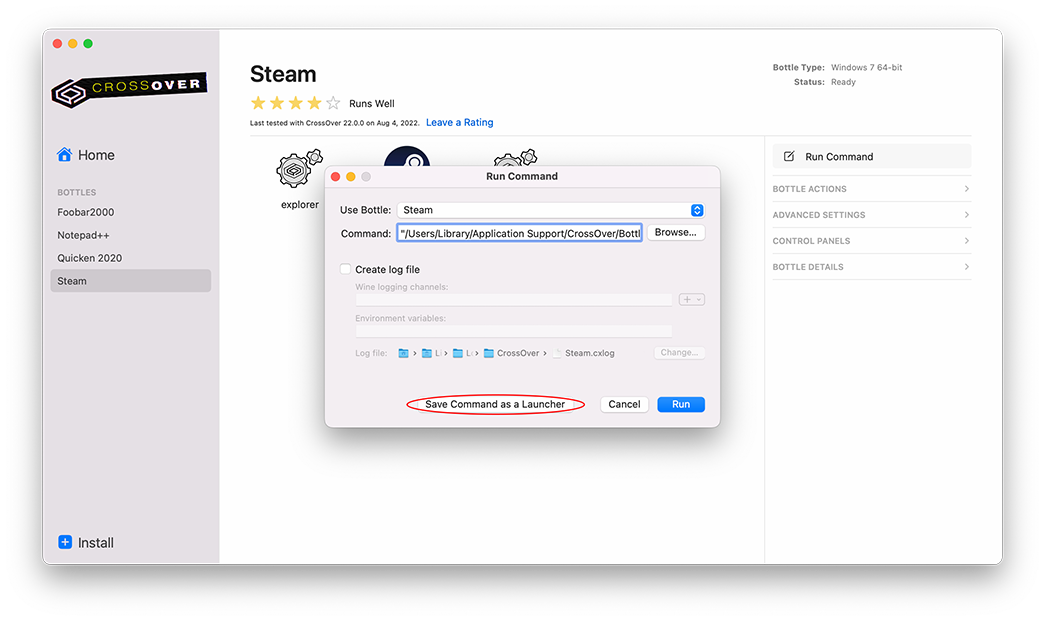 Note: You can always click Run to see if the selected file launches the program before creating a launcher.
CrossOver displays a launcher icon for the selected file.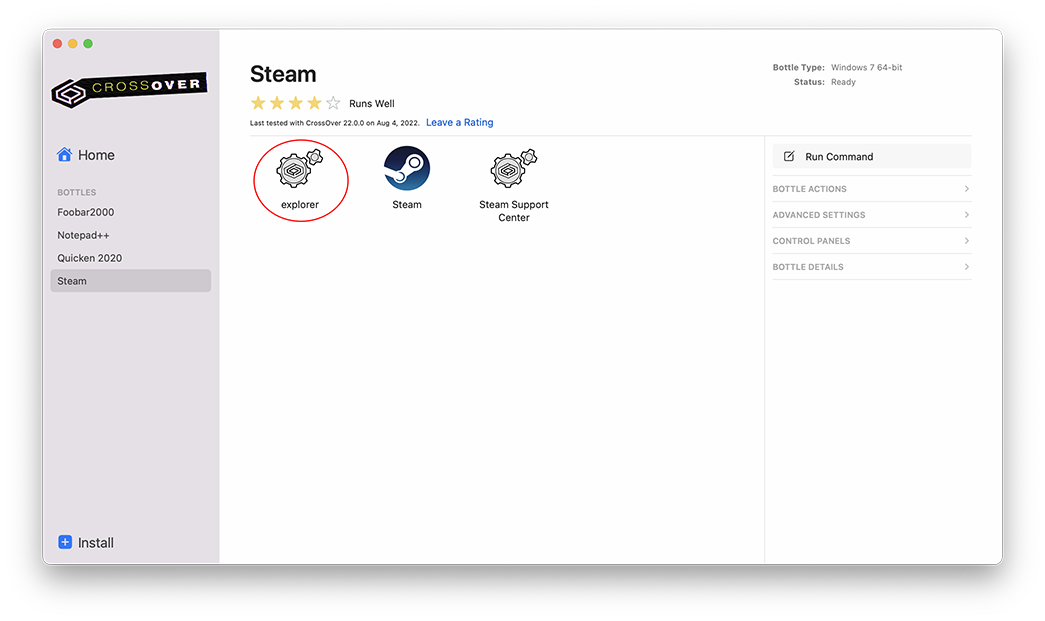 Related Articles
Launch app creation guide for CrossOver 14.x and earlier
Last modified on
2022-08-24 20:13:28
by
CJ Silver
Are you sure you want to delete this page?
Note: Any nested pages that are under this one will be moved up one level. Any attachments tied to this page will be deleted.
Move / Rename Page
---
Unknown Error, unable to move!
That page exists already!
One or more of the parent pages specified in new path do not exist!
/support/wiki/
/support/wiki/mac/mactutorial/create_launcher
Please Wait...
eyJjb3VudHJ5IjoiVVMiLCJsYW5nIjpudWxsLCJjYXJ0IjowLCJ0enMiOi01LCJjZG4iOiJodHRwczpcL1wvbWVkaWEuY29kZXdlYXZlcnMuY29tXC9wdWJcL2Nyb3Nzb3Zlclwvd2Vic2l0ZSIsImNkbnRzIjoxNjg0ODczOTEzLCJjc3JmX3Rva2VuIjoiTDYyZTRSdDdxVjl3cEo1NyIsImdkcHIiOjB9