Heroic Games Launcher in CrossOver
If you already have a bottle for the Heroic Games Launcher and GTA V is hanging on the loading screen, open the Rockstar Games Launcher from the CrossOver bottle before launching GTA V.
1. Create a New Bottle
From the CrossOver menu, select Bottle > New Bottle.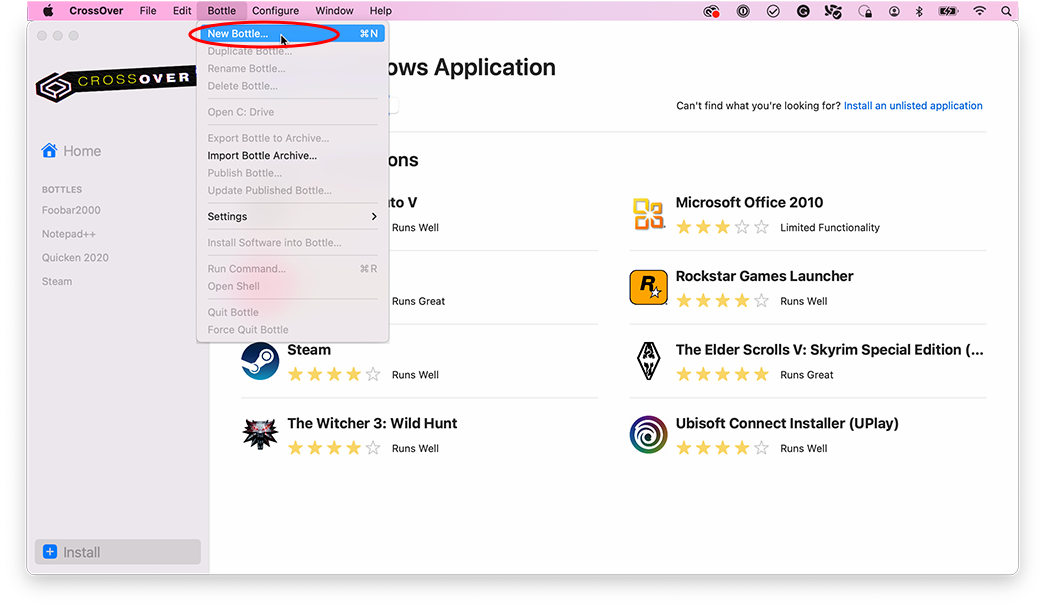 Enter a name in the New Bottle Name field.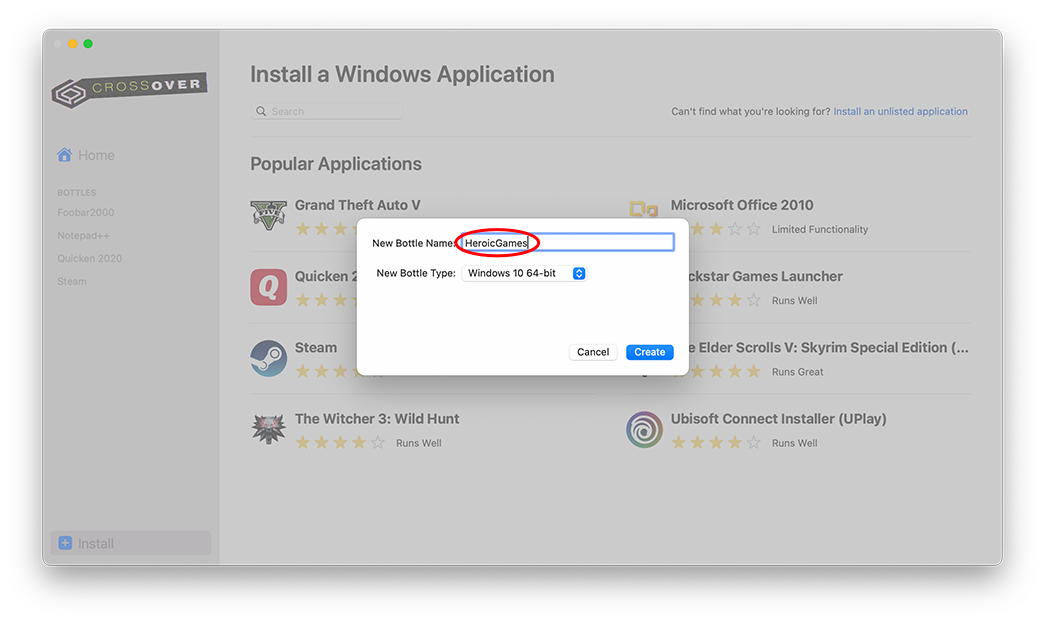 Select Win7 64-bit from the New Bottle Type list and click Create.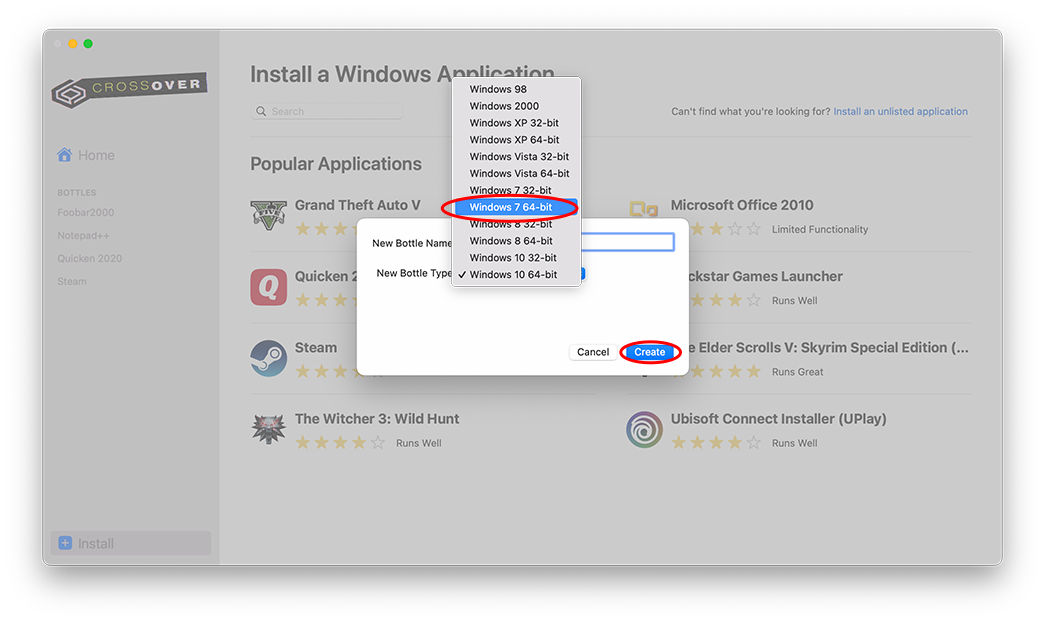 2. Enable DXVK in Heroic Bottle
Select your new bottle in CrossOver and expand the Advanced Options menu in the right sidebar.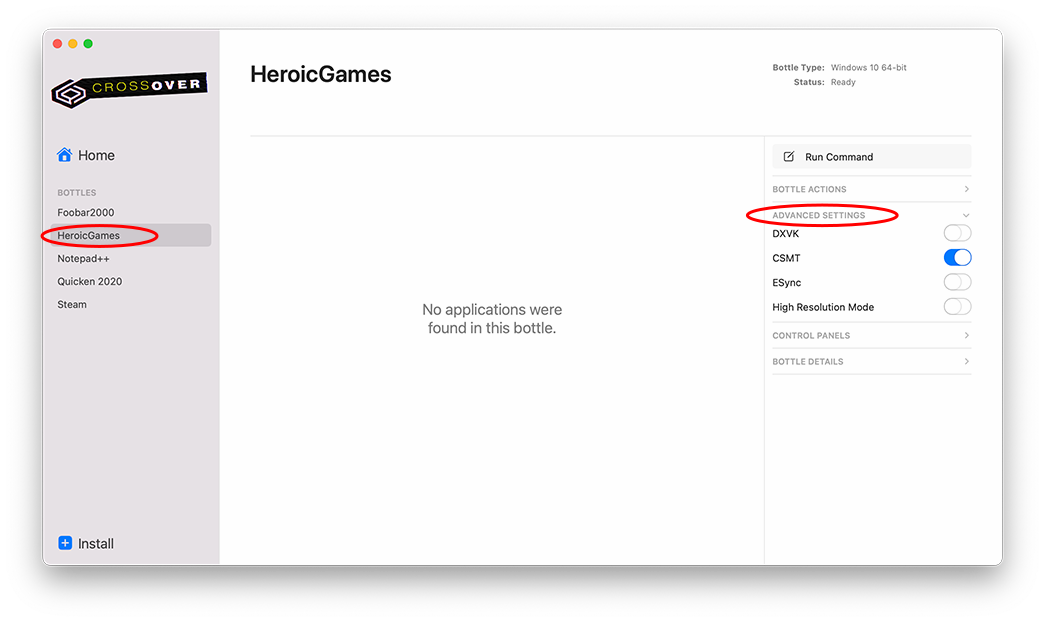 Click the DXVK button to enable it.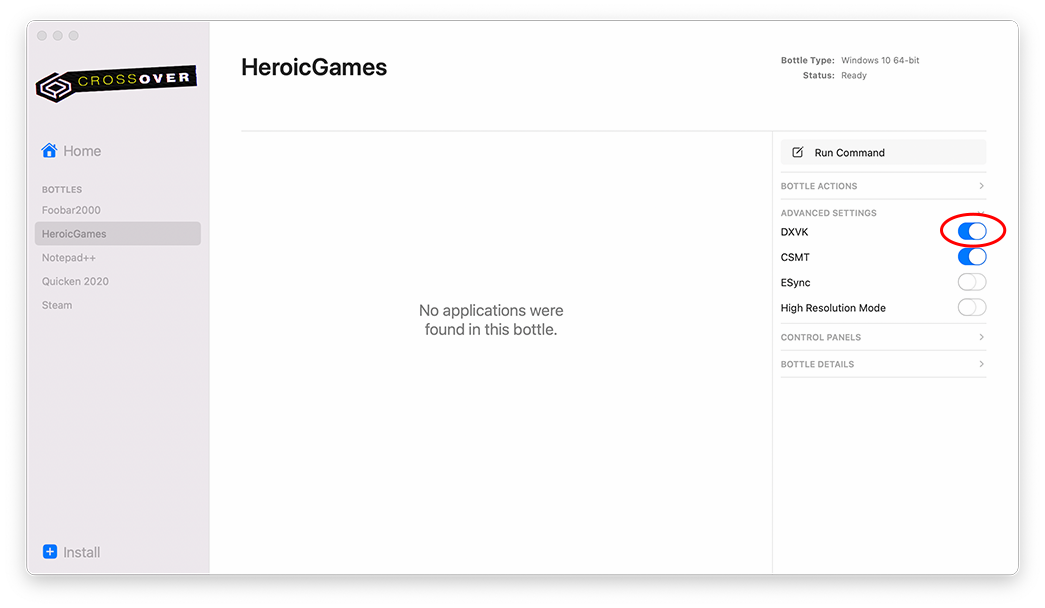 3. Open the Heroic Games Launcher
If you have not downloaded the Heroic Games Launcher (v 1.10.3 or later), you can do so here. Once installed, open the Heroic Games Launcher, and follow the prompts to link your Epic account.
4. Configure Heroic's Wine Settings
In Heroic, navigate to Settings > CrossOver. Select your CrossOver installation from the CrossOver Version list and ensure the CrossOver Bottle is the Heroic bottle you created in CrossOver.
5. Install and Launch Titles in Heroic
Now that Heroic is installed and linked with Epic, you can install and run titles directly from the Heroic Games Launcher. Consider yourself heroically epic!
Last modified on
2022-08-26 10:06:00
by
CJ Silver
Are you sure you want to delete this page?
Note: Any nested pages that are under this one will be moved up one level. Any attachments tied to this page will be deleted.
Move / Rename Page
---
Unknown Error, unable to move!
That page exists already!
One or more of the parent pages specified in new path do not exist!
/support/wiki/
/support/wiki/mac/mactutorial/heroiclauncher
Please Wait...
eyJjb3VudHJ5IjoiVVMiLCJsYW5nIjpudWxsLCJjYXJ0IjowLCJ0enMiOi01LCJjZG4iOiJodHRwczpcL1wvbWVkaWEuY29kZXdlYXZlcnMuY29tXC9wdWJcL2Nyb3Nzb3Zlclwvd2Vic2l0ZSIsImNkbnRzIjoxNjg0ODczOTEzLCJjc3JmX3Rva2VuIjoiZ0FoTkZhdHJrd050Q3h0RyIsImdkcHIiOjB9