Install a known application from an installer file

In order to install Windows applications you will first need to install Crossover.
1. Launch Crossover Install Software

Double-click on the
Crossover
icon in your Applications folder.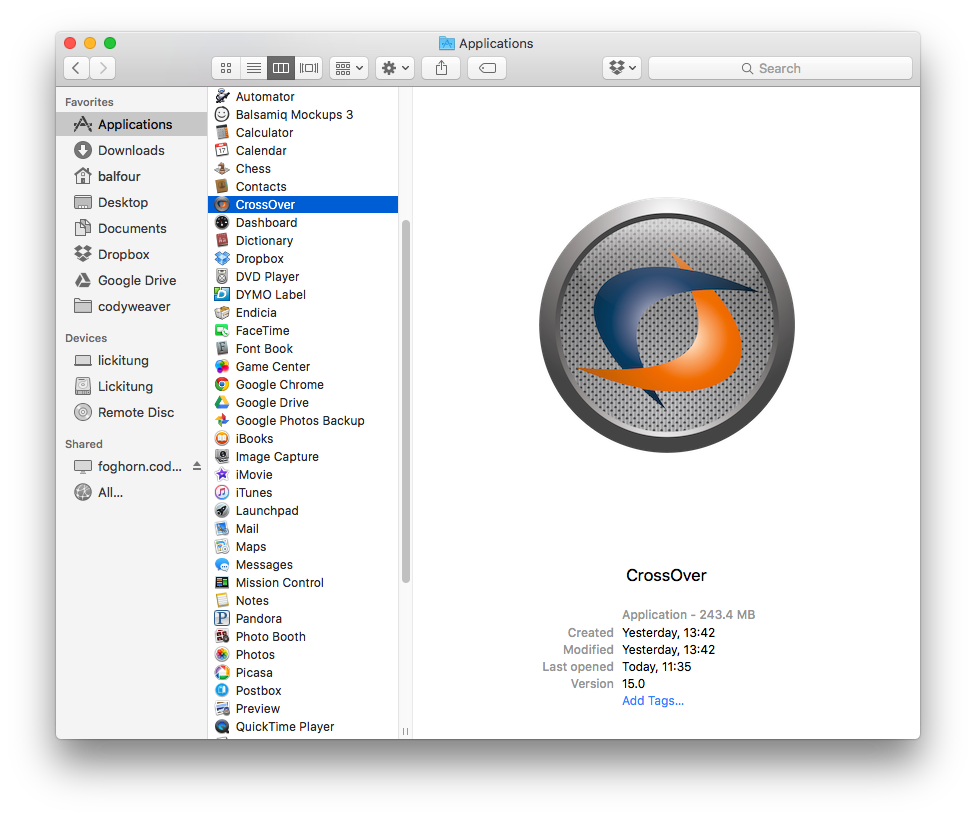 Click the
Install a Windows Application
button to begin.
2. Select your application

Search for and select your application from the Install Software list.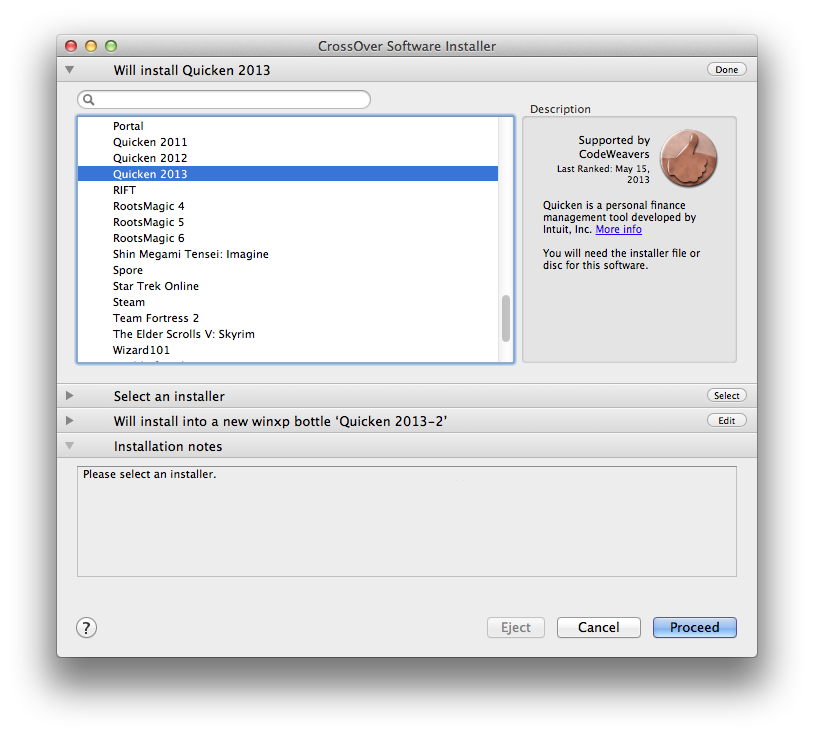 Expand the
Select an installer
section and click on
Choose Installer File...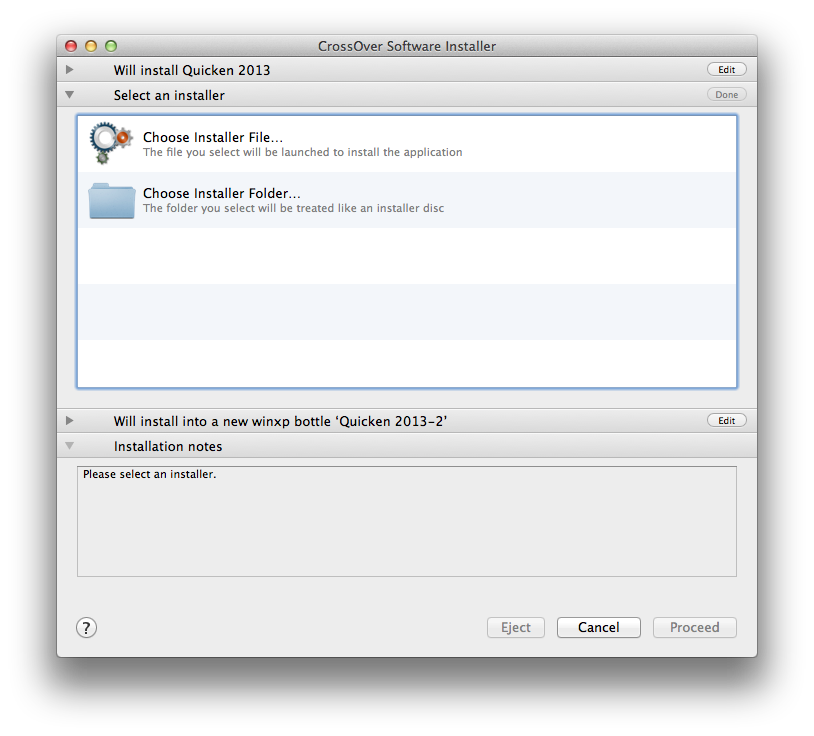 Navigate to and select the .exe/.msi installer for your program. Usually it's in your Downloads folder.
Highlight the file and click on
Use this installer
.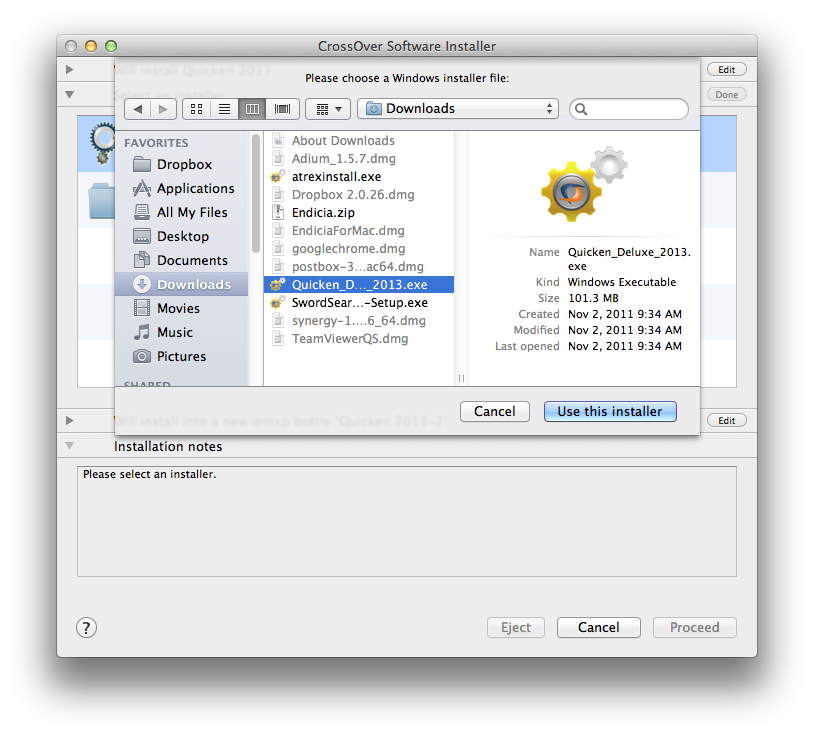 And now click
Install
to begin.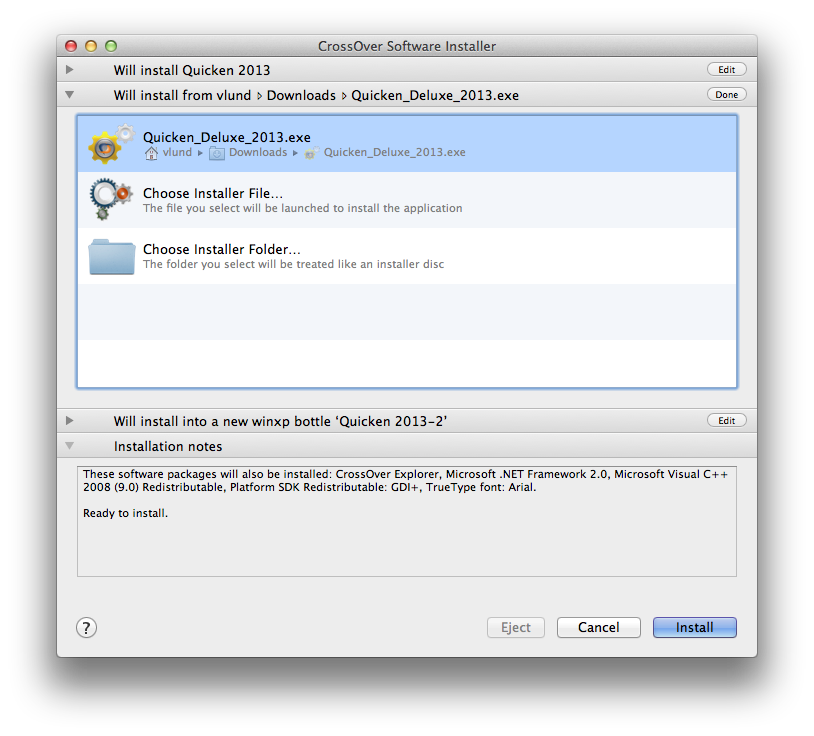 3. The installation process

Crossover starts by downloading necessary dependency packages. Approve the installation of these dependencies.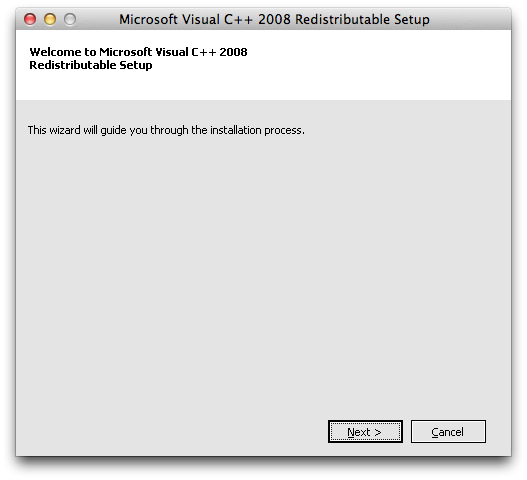 After the dependencies are loaded the installer for your application will appear.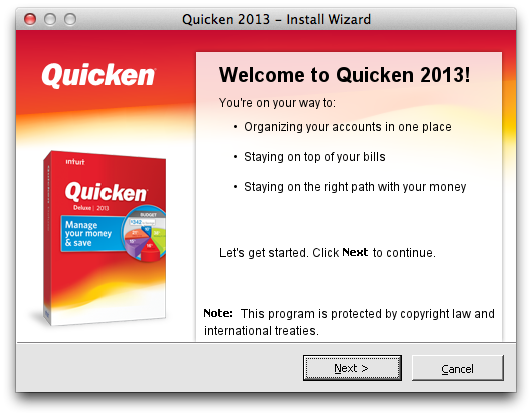 Go through the installer for your Windows application. Follow all of the defaults and don't change the default install location.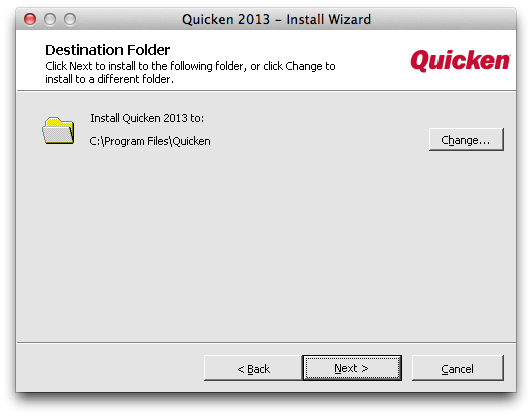 If you see a checkbox to launch your application
uncheck
that option.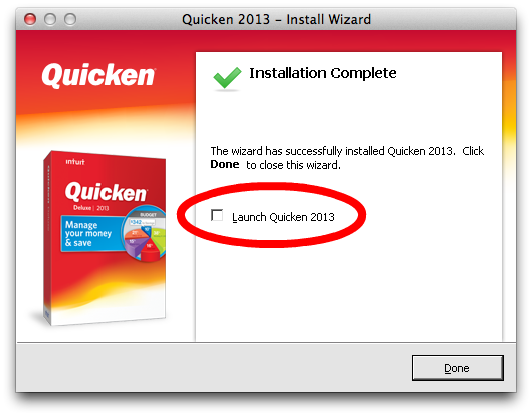 Click
Done
on Crossover's Install Software window.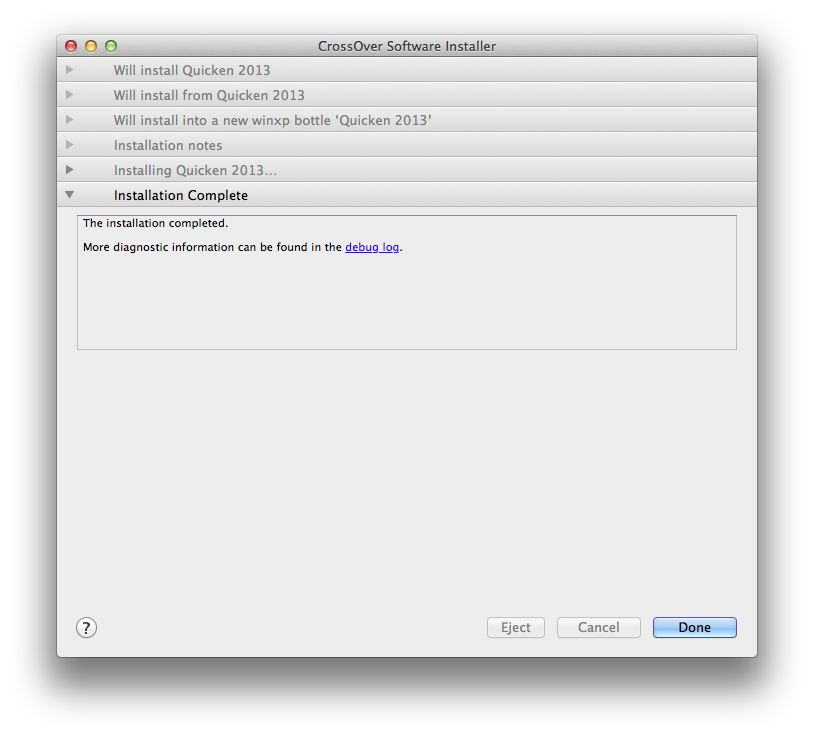 4. Launching your program

A Finder window should appear with the app launcher icon for your program.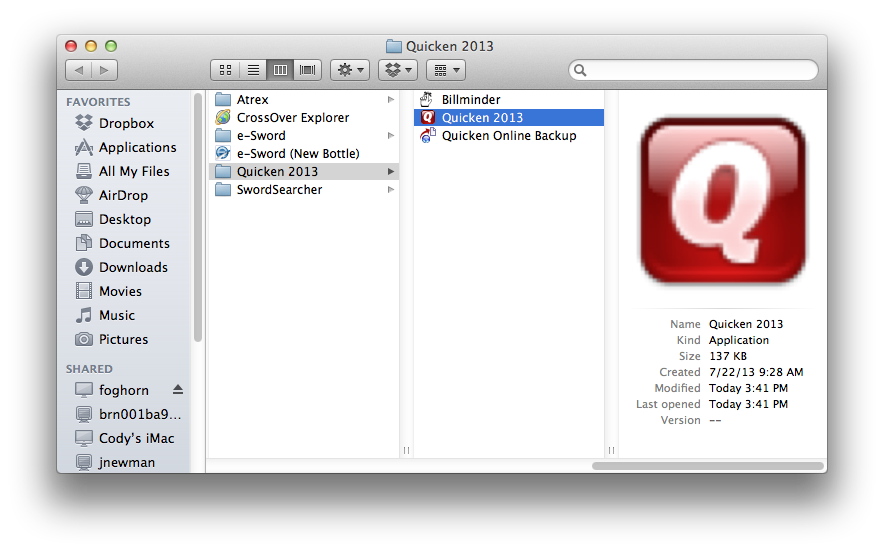 Or you can double-click your application's icon in Crossover.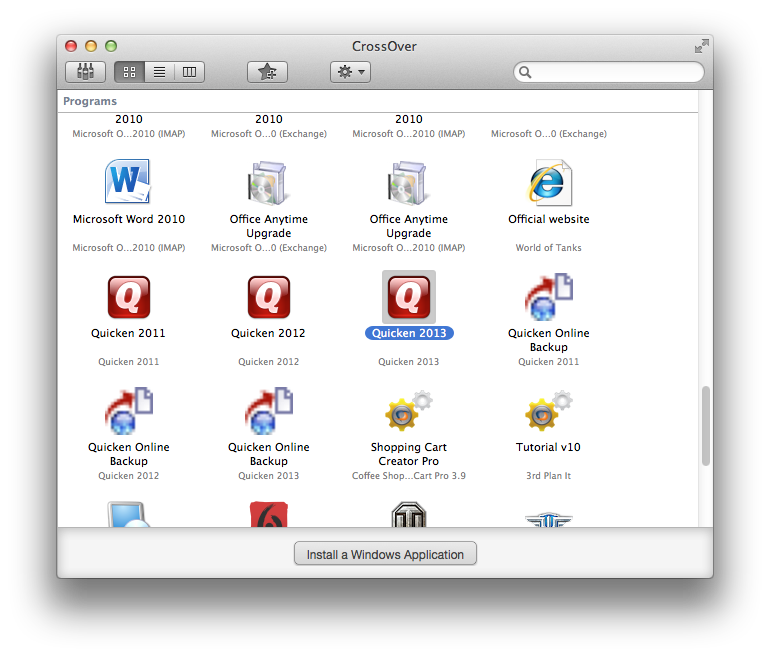 Last modified on
2015-12-10 14:24:46
by
Andrew Balfour
Are you sure you want to delete this page?
Note: Any nested pages that are under this one will be moved up one level. Any attachments tied to this page will be deleted.
Move / Rename Page
---
Unknown Error, unable to move!
That page exists already!
One or more of the parent pages specified in new path do not exist!
/support/wiki/
/support/wiki/mac/mactutorial/supported_file_14
Please Wait...
eyJjb3VudHJ5IjoiVVMiLCJsYW5nIjpudWxsLCJjYXJ0IjowLCJ0enMiOi02LCJjZG4iOiJodHRwczpcL1wvbWVkaWEuY29kZXdlYXZlcnMuY29tXC9wdWJcL2Nyb3Nzb3Zlclwvd2Vic2l0ZSIsImNkbnRzIjoxNjExMTgzNjI5LCJjc3JmX3Rva2VuIjoiTlZFa2RncExZSjZ3VFdjeiIsImdkcHIiOjB9