Connecting a USB Device in CrossOver 17x and Later
PLEASE NOTE - These steps are a potential workaround and are not 'guaranteed' to work. Do not contact support for assistance with device connections, as they are not equipped to troubleshoot effectively the device/devices in question.
CrossOver can't connect directly to hardware ports or devices on your computer. This can cause problems if the Windows program you're trying to use needs to communicate with a USB device. A potential workaround is to manually map a device entry from the native OS to a symlink in the bottle containing your Windows app, and then hope that the Windows app sees the COM port and can use it to connect to the device.
The first thing you need to do is discover which /dev entry is being created when you connect the USB device to the computer. Disconnect the device from your computer and run the following commands in a Terminal:
cd /dev
ls > ~/disconnect.txt
Connect the device, wait a moment for your computer to recognize it, and run the command:
ls > ~/reconnect.txt
Now compare the difference between the two file listings to see what /dev entry was created.
diff ~/disconnect.txt ~/reconnect.txt
If there is a new device entry listed use that name as (device-entry) in the following steps.
An example of what the device-entry name will look like:
tty.usbserial-DN014TJU
Open CrossOver, select the desired bottle and click Run Command.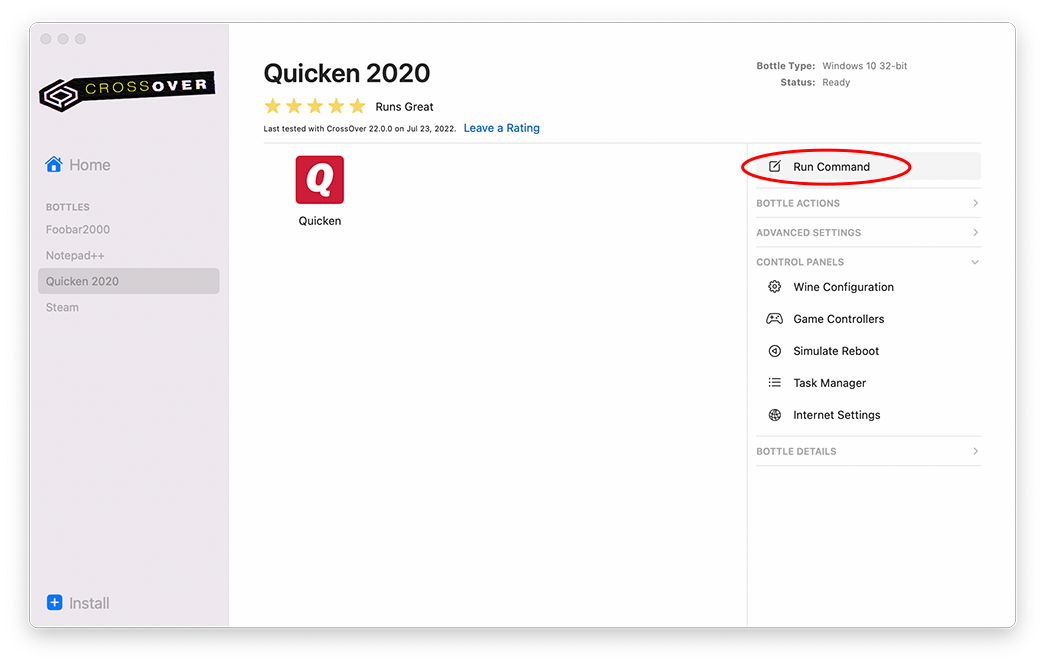 Enter regedit in the Command field, then click Run.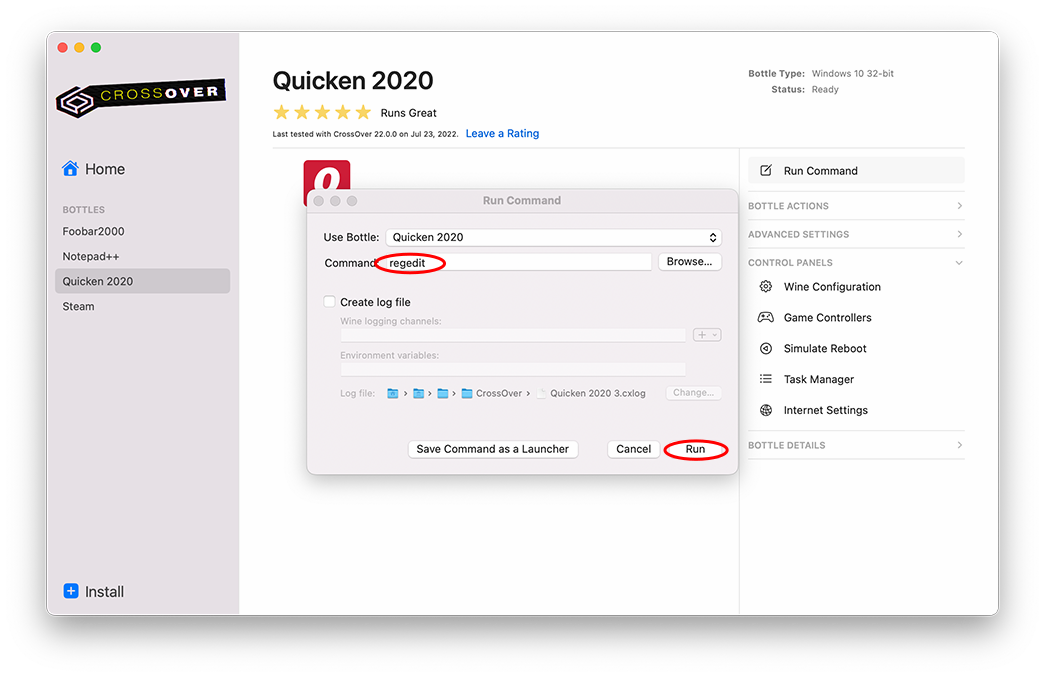 Inside Regedit, navigate to HKEY_LOCAL_MACHINE > Software > Wine.
From here, create a new key called Ports.
Right-click inside the new Ports folder and add a string with a value of /dev/(device-entry) .
Rename the new entry 'Com1' (see example below).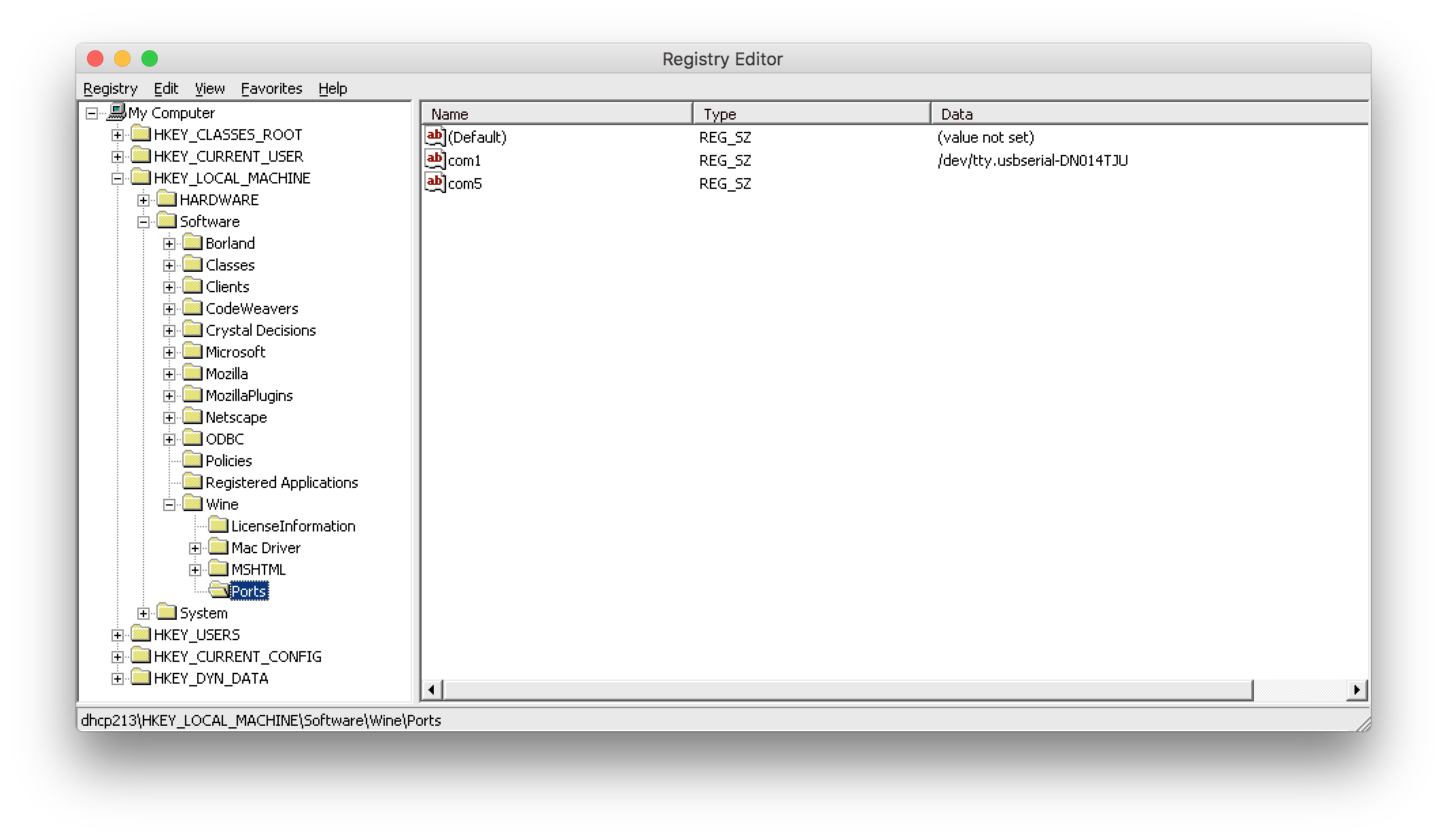 Close Regedit, and open your software.
With any luck, your software should now see your USB device!
Last modified on
2023-03-30 09:06:50
by
Ryan Abhiram
Are you sure you want to delete this page?
Note: Any nested pages that are under this one will be moved up one level. Any attachments tied to this page will be deleted.
Move / Rename Page
---
Unknown Error, unable to move!
That page exists already!
One or more of the parent pages specified in new path do not exist!
/support/wiki/
/support/wiki/mac/mactutorial/usbtoserial2
Please Wait...
eyJjb3VudHJ5IjoiVVMiLCJsYW5nIjpudWxsLCJjYXJ0IjowLCJ0enMiOi01LCJjZG4iOiJodHRwczpcL1wvbWVkaWEuY29kZXdlYXZlcnMuY29tXC9wdWJcL2Nyb3Nzb3Zlclwvd2Vic2l0ZSIsImNkbnRzIjoxNjg0ODczOTEzLCJjc3JmX3Rva2VuIjoidU1tWDl3VUNUNnBkeE4yRSIsImdkcHIiOjB9