Screensharing Download

Step 1

Right Click or ( Control + Click ) the blue button and 'Open in a new TAB ' to download the screensharing client.
Step 2

If you are using Safari you will see the Download animation go to the top right of the window with a progress bar.
When completed you should see the Teamviewer icon on the bottom in the dock of the Downloads folder.
Step 3

Go to the Downloads folder in Finder and locate the Teamviewer icon.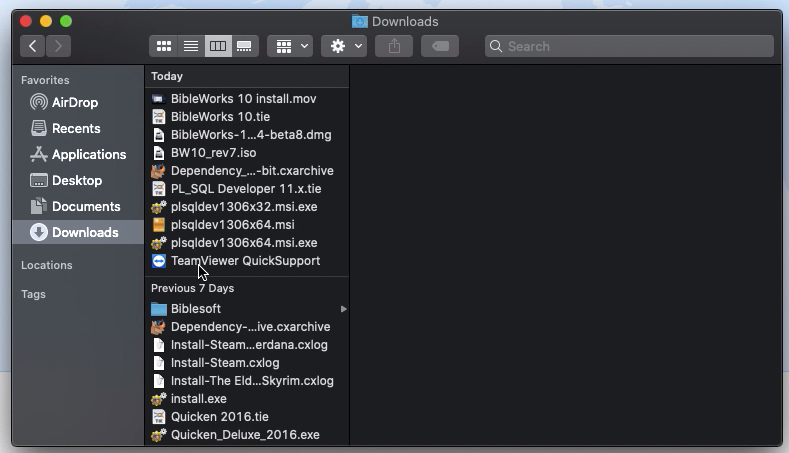 If you double click on it you will be presented with the gatekeeper warning notice below.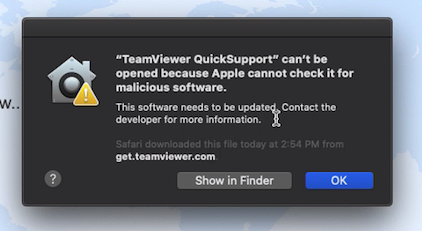 Click on Show in Finder and it will bring you back to the Downloads folder.
This time 'right click' or CTRL click on the Teamviewer icon and then 'Open'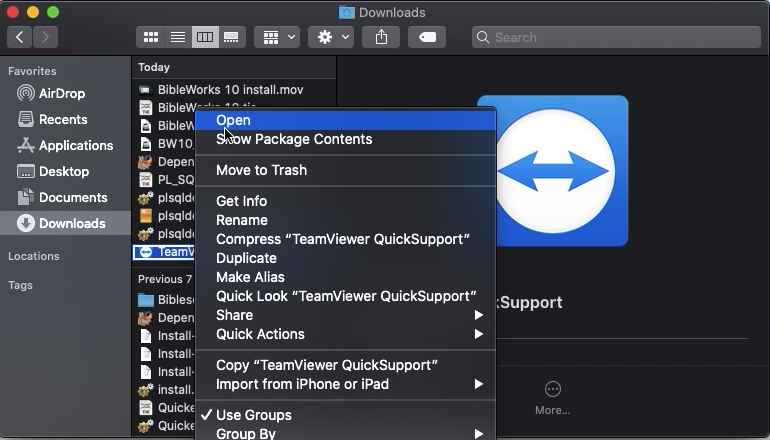 Step 4

You will get a similar pop up gatekeeper warning window, but this time with the 'Open' option. Go ahead and open it.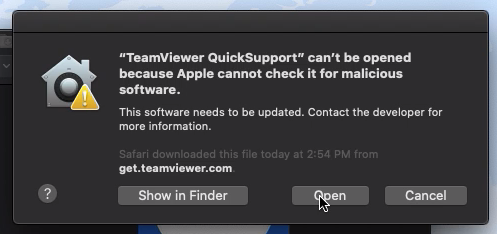 Step 5

You will now be presented with the Teamviewer box with an ID. Tell support the ID.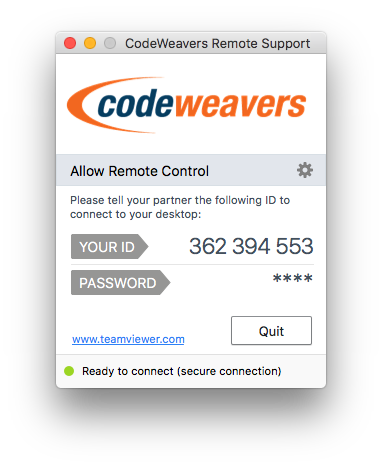 On Catalina, additional steps after Support connects!

When support connects to your machine they will only see the desktop background of your machine, and will not be able to navigate on your machine.
Teamviewer will need to be allowed in the System Preferences.
1. You will get the pop up window below when support connects. Click 'Open System Preferences'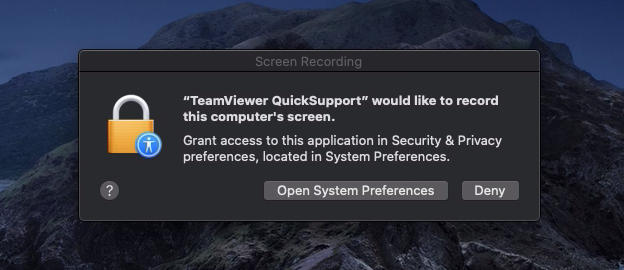 2. This will bring you to System Preferences > Security & Privacy > Privacy tab. Click the padlock to the bottom left of the window and enter your computer password to unlock.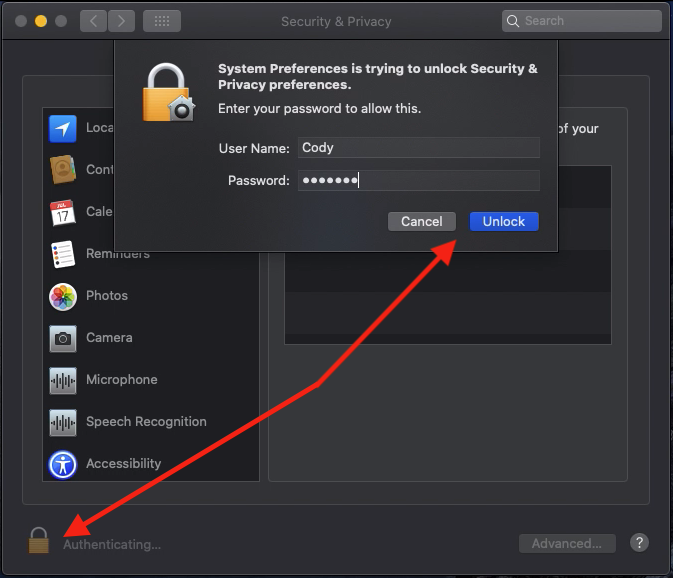 3. In the left column of the window, Screen Recording is selected and Teamviewer is listed in the right pane. Make sure to check the box next to TeamViewer.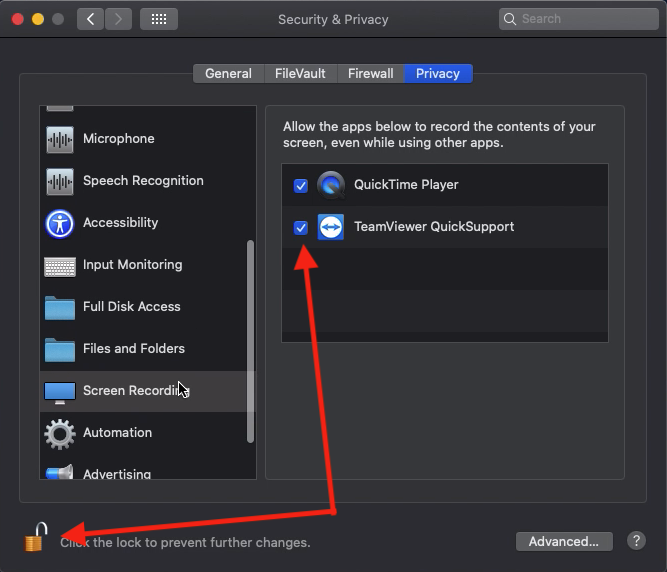 4. A drop down window will appear, click on 'Later'. Now support will be able see your screen.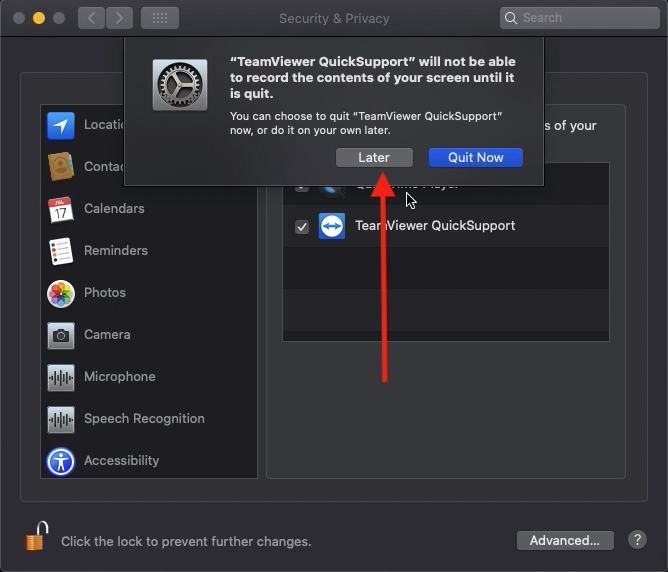 5. With support being able to see your screen, navigation on your machine still needs to be allowed. In the left column scroll and locate Accessibility.
In the right pane click the ' + ' at the bottom.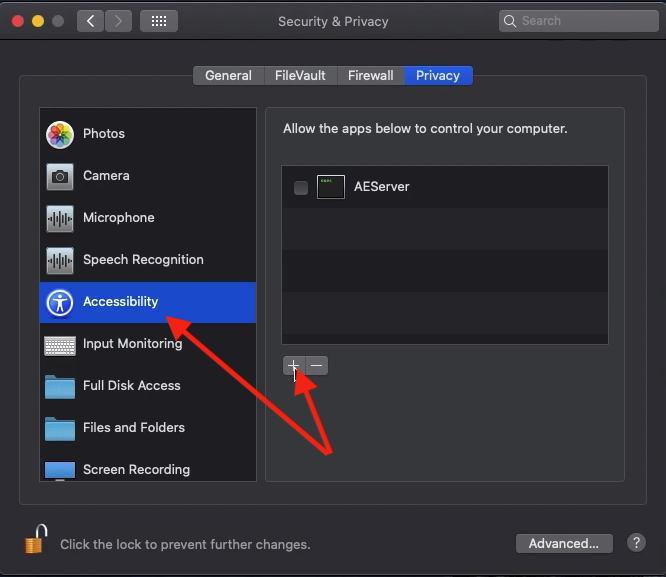 6. A finder drop down windows will appear. Go to the Downloads folder > locate and select Teamviewer> then click 'Open'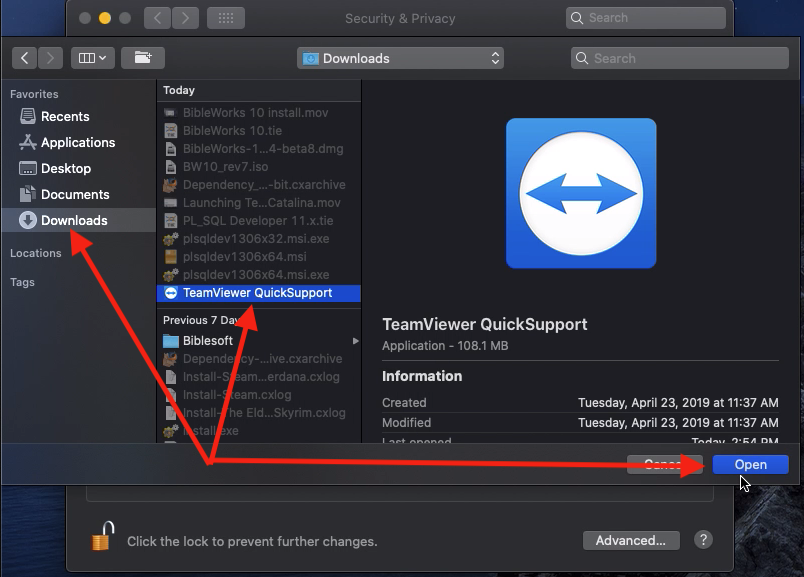 7. Lastly you will see Teamviewer added in Accessibility, make sure to check the box next to TeamViewer.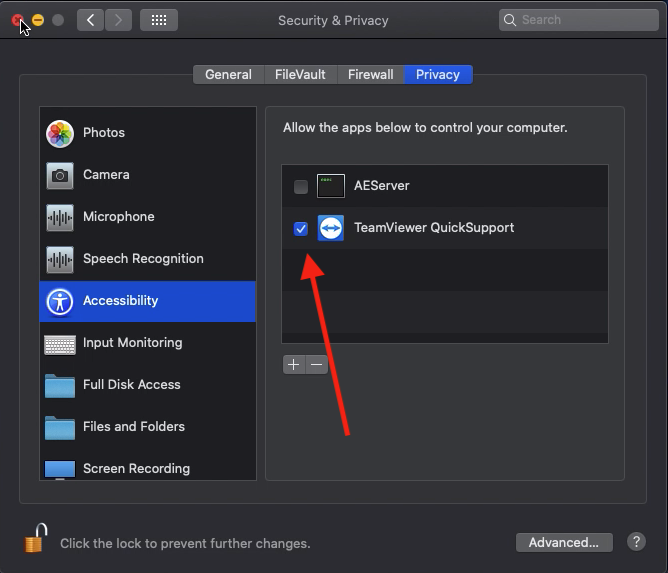 Support can now assist with your issue.

You can also download and view the demo videos on how to Launching/Setup Teamviewer and Allow TeamViewer so support can better assist you.

Launching/Setup TeamViewer -
https://www.codeweavers.com/xfer/Dependency_archive/Launching%20Teamviewer%20on%20Catalina.mov
Allowing TeamViewer -
https://www.codeweavers.com/xfer/Dependency_archive/Allowing%20teamviewer%20on%20Catalina.mov
the access code is. 'demo'
Last modified on
2021-03-24 13:24:04
by
Brian Mathieu