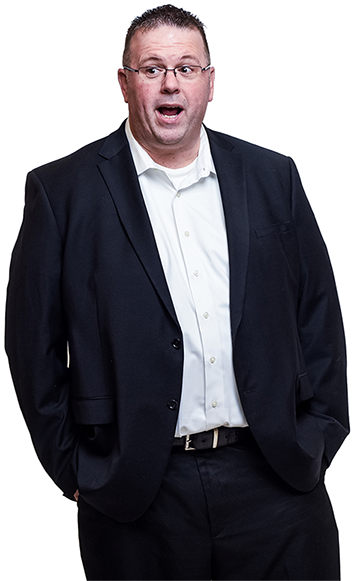 Name: James Ramey
Title: President
Birthplace: Tarrytown, NY
Currently Lives: Bloomington, MN
In His Own Words: I grew up in Linton, North Dakota. Attended college at Moorhead State University in Moorhead, Minnesota. Graduated with Bachelor of Science in Business Administration with majors in Marketing and Management in 1994. Received my MBA in 2006 from University of Phoenix. Married my wife, Angie, on March 20, 2002. We live in Bloomington, Minnesota with our daughter, Grace Kelly (12) and dog Charlie. I enjoy cooking and traveling. When I am not in the kitchen or on the road, you can find me on my computer playing video games.
What do you do at CodeWeavers?
Plot the world domination of CodeWeavers and otherwise keep the company financially viable.
What website do you visit most often?
ESPN

What will finally break the Internet? A new reality series that combines Game of Thrones with The Hunger Games that pits the Kardashians and their tribes against one another.
What is your spirit animal?
Wolverine
If you could turn the ocean into a liquid other than water, what would it be?
Dasani Sparkling Water - Blood Orange
If you could learn one skill what would it be?
Photographer
What was your favorite book as a child?
Where the Red Fern Grows
What is one thing you cannot live without?
Coffee (air is a close second then water).
If you had to be allergic to something, what would it be?
Tofu, onions, or mayonnaise
What would you name your boat if you had one?
Dreadnought
What would you do if you found a penguin in the freezer?
Slowly close the freezer and check my medications for side effects.
If you were a pizza deliveryman how would you benefit from scissors?
To 'cut' the price of pizzas.
How would you sell hot cocoa in Florida?
By creating a cocktail that combines Hot Cocoa with Spiced Rum, Kailua, Butterscotch Liqueur, and Irish Cream. I'd call it the 'Hot Buttered Belgian'.
>>>Learn more about James by reading his Blog