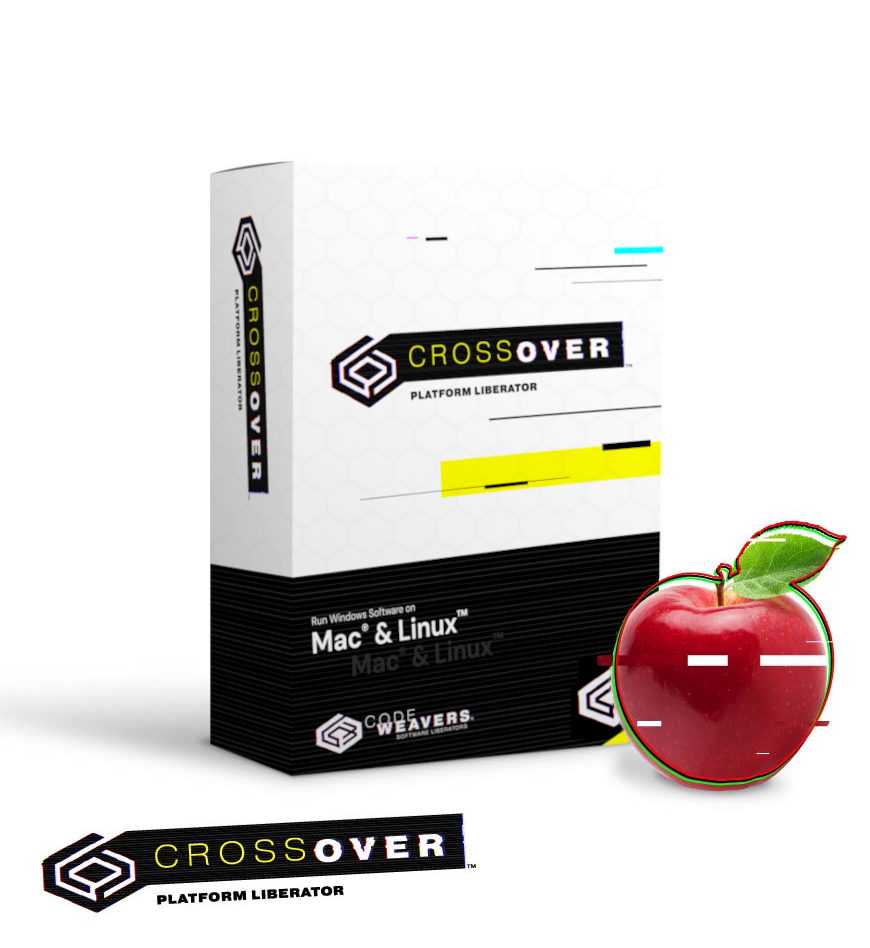 CrossOver® Mac
Do you like buying Windows® licenses? You do? Great. You do you. For the rest of humanity, CrossOver is the easiest way to run many Microsoft applications on your Mac without a clunky Windows emulator. (Seriously, have you tried emulators? Do you like how they run on your Mac?) CrossOver works differently. It's not an emulator. It does the work of translating Windows commands into Mac commands so that you can run Windows software as if it were designed native to Mac.
CrossOver works with all kinds of software - productivity software, utility programs, and games - all with one application.
Faster. Better experience. No license. Simple as that.
How to Install CrossOver® Mac
Installing CrossOver Mac is super easy-peasy. Check out this pre-recorded live stream for a quick how to. Otherwise, for more in-depth detail refer to the following links:
Pssst! Did you get the FREE TRIAL yet?
CrossOver® Linux
You are the noblest of the noble running Linux. You don't want the despair of running a Windows OS on your finely minted machine. You don't want to sell your soul for a Windows license or squander away your hard drive shekels running a virtual machine. Dual-boot? I think not! But the heart wants what the heart wants. Thousands of Windows games and programs to run on your favorite Linux distro (Ubuntu, Mint, Fedora, Debian, RHEL and oh so many more). Oh the conundrum.
CrossOver Linux doesn't have ye 'ole overhead of a Windows operating system or virtual machine, which means ye 'ole Windows apps will run at native speed, play games at full fps all while maintaining the Linux OS integration. Simply magic!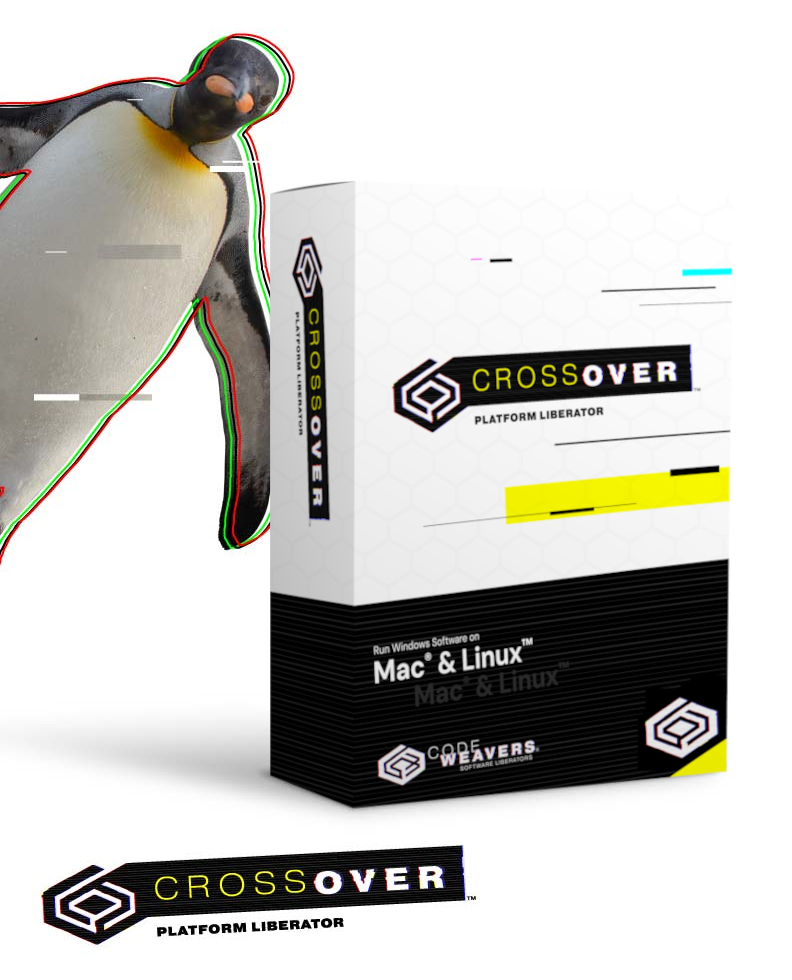 How to Install CrossOver® Linux
Getting CrossOver Linux installed on your Linux machine is a simple process. Take a look at this pre-recorded live stream for the deets. If you need more help, use the following links:
Yo! Did you get the FREE TRIAL yet?
CrossOver® ChromeOS
So you're a ChromeOS user, you say? You've taken the grand escape from a sluggish PC, but you want to use your Chromebook for more than email, social media and general internet. You want to run full featured Windows software. Impossible they said! Hold our beer. Introducing CrossOver ChromeOS! Run Windows programs that are not available in the Google Play store alongside mobile apps. Scrap remote sessions with multiple users. Run utility software like Quicken and Microsoft Office, or DirectX games, like Wizard101. And bonus: Games from your Steam library will run with CrossOver ChromeOS at native speeds. Roger that!
How to Install CrossOver® ChromeOS
Performing an install of CrossOver on ChromeOS is a task we just know you can handle. Put your eyeballs to this pre-recorded live stream to get yourself in the know. If you want even more knowledge, use these links:
Pardon me, but did you get the FREE TRIAL yet?
Up and Running in Minutes
One Click Installation
Increase Your Productivity
Run Windows Applications Without Rebooting
Forget Dreaded Software Lag
Windows Software Runs at Native Speed
Just Another Icon
Seamlessly Integrates with Your Desktop Environment
Saves You Money
Can run Windows apps without Windows OS
Give Beyond Yourself
Contributions (and code) go back to Open Source Community
What Our Customers are Saying
Our customers are our biggest supporters. CrossOver Mac and CrossOver Linux have helped hundreds of thousands of people run Windows software on Mac and Linux worldwide. See what people who have actually purchased and used CrossOver think. They say great things. Have something nice to say about CrossOver, email us, we'd love to hear from you.
"Plugin did exactly what you said it would do, right away. I ran the script, clicked a few buttons, and it worked. Talk about good work!"

- Joe G.
It was so easy to use. Thank you for creating such value in the world, your team is creating and contributing to real quality and value in the world!

- David
"Codeweavers has a sterling reputation..and the CrossOver app works beautifully with Morse Runner, my chosen Windoze app."

- Larry
Know your cross-platform options.
CrossOver™

Dual-Booting

Virtual Machine Solutions

Run Windows Applications Without Rebooting
Windows Software Runs at Native Speed
Can run Windows apps without Windows OS
Runs All Windows Applications
Price

$74.00
and no Windows OS

$119.99 for Win10 Home or $199.99 for Win10 Pro

$79.99 for Parallels, plus cost of Windows OS
CrossOver Mac System Requirements
Intel or Apple Silicon1 based Mac running macOS
(note: CrossOver Mac will not run on iPads or iPhones)
1 GB of free disk space and space for installed Windows applications.
CrossOver
Version 2
Ventura
(13.0)
Monterey
(12.0)
Big Sur
(11.0)
Catalina
(10.15)
Mojave
(10.14)
High Sierra
(10.13)
Sierra
(10.12)
22

21

20

19

18

17
Beta or unreleased versions of macOS are not supported.
1 Apple Silicon (M1 or better) requires at least macOS 11.1 or better and CrossOver 21 or better.
2 Compatibility shown is for the most recent version of that release series.
---
CrossOver Linux System Requirements
x86 compatible PC system
1 GB of free disk space and space for installed applications
Python >= 3.5
Gtk >= 3.18
PyGObject >= 3.20
X.org with XRender and GLX support
64-bit Linux distribution
CrossOver is likely to work on any 64-bit distribution of Linux that meets the requirements above, and is tested on the current stable version of:

Ubuntu
Debian
Fedora
Red Hat Enterprise Linux (RHEL)
Newer or Beta versions of distributions released after the most recent CrossOver version are not guaranteed to work.
---
CrossOver ChromeOS System Requirements
Chromebook with an Intel processor (2019 models and later )
1 GB of free disk space and space for installed applications
2GB System RAM and memory required by applications
CrossOver ChromeOS uses the Linux subsystem (also known as Crostini). This must be enabled prior to installing CrossOver.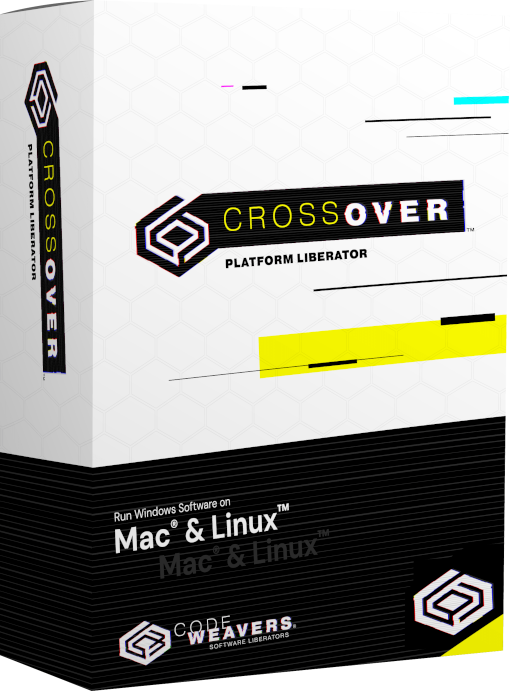 Check to see if the Windows software you want to run is compatible with CrossOver

Buy CrossOver™. Support Open Source.
95% of the Wine code base we develop for CrossOver gets released back
into the Wine project for the open source community
Learn How CodeWeavers Supports Open Source
See CrossOver Change Log CrossOver EULA
Need Additional Help?
We pride ourselves here at CodeWeavers for delivering what we feel is some of the friendliest, most knowledgeable technical support in the business. For all your CrossOver support needs, we offer a variety of help solutions.
Partnership Opportunities
CodeWeavers does half its business overseas, and we are constantly looking for opportunities to address the needs of local markets with our products. Want to support open source and earn some revenue? Consider becoming a reseller or affiliate.
CodeWeavers or its third-party tools process personal data (e.g. browsing data or IP addresses) and use cookies or other identifiers, which are necessary for its functioning and required to achieve the purposes illustrated in our
Privacy Policy
. You accept the use of cookies or other identifiers by clicking the Acknowledge button.
Please Wait...
eyJjb3VudHJ5IjoiVVMiLCJsYW5nIjpudWxsLCJjYXJ0IjowLCJ0enMiOi01LCJjZG4iOiJodHRwczpcL1wvbWVkaWEuY29kZXdlYXZlcnMuY29tXC9wdWJcL2Nyb3Nzb3Zlclwvd2Vic2l0ZSIsImNkbnRzIjoxNjg0ODczOTEzLCJjc3JmX3Rva2VuIjoiVVByTG51N0MyaFlOUjk5QiIsImdkcHIiOjB9