Type
Staff Member Salesmen BetterTester
Added
2007-09-20 15:46:14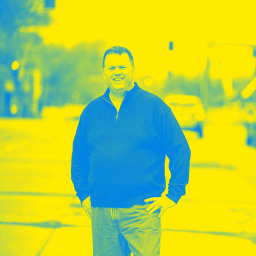 About James B. Ramey
James B. Ramey is President of CodeWeavers. His life long love of video gaming started at the tender age of six with an Atari 2600 and evolved over time to include Nintendo, Super Nintendo, Apple Mac IIc, Windows PC, and MacBook Pro. When not fiddling with technology, James enjoys cooking, travel, debating politics in the office, and spending time with his wife, daughter, and their two rescue dogs. For the past 20 years, James has worked with clients around the world in best implementing technology to maximize a return on their investment. He is a graduate of Moorhead State University and earned his MBA from the University of Phoenix. You can find James on Twitter at @jbramey.
My bio.... Born James B. Ramey on August 26, 1971. Grew up in Linton, North Dakota (60 miles southeast of Bismark on the Missouri River). Exceptional high school career which included: Two-Time All-State Football; Two-Time State Wrestling Champion; State Medalist in Debate; State Finalist in Speech; Senior Class President; graduated with honors.

Went to college at Moorhead State University in Moorhead, Minnesota. Started and lettered four years on college football team; All-Conference; All-District in 1993. Resident assistant for two years. Graduated with Bachelor of Science in Business Administration with majors in Marketing and Management in 1994. Received Masters of Business Administration in 2006 from University of Phoenix.

Married my wife, Angie, on March 20, 2002. We moved to Savage, Minnesota in 2004 and recently relocated in Bloomington, MN this past Spring. We have one daughter, Grace Kelly (8) and two dogs, Charlie and Trixie. My wife and I enjoy both cooking and traveling. Our favorite place to go is Las Vegas. We don't gamble, but we do enjoy the food, the shows, the weather (in winter), and the people watching. When I am not in the kitchen or on the road, you can find me on my computer. My favorite game is Command & Conquer, but I am well versed at Quake, Duke Nukem, Castle Wolfenstein, and more.